Covid-19 infection gives immunity for five months, UK study suggests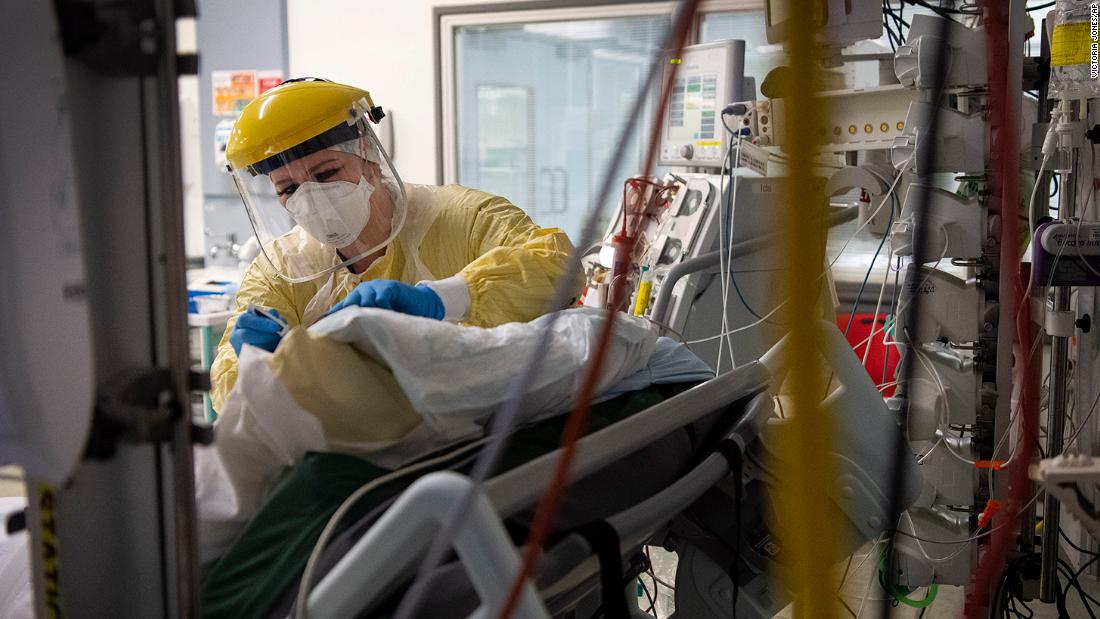 The SIREN study examined the impact of the infection on more than 20,000 volunteer health workers from across the UK and a pre-print study found only 44 cases among 6,614 people.
Two groups of people, one without evidence of previous infection and the other with evidence of infection in the past, were followed for up to six months.
The study – which has not yet been reviewed by colleagues – concluded that past infection reduces the chances of catching the virus again by 83% for at least five months.
The group was tested regularly for Covid-19.
"About 6,000 of the health care workers were people who had evidence that they were infected with SARS-CoV-2 … and about 14,000 of the health care workers were people who had no evidence of a previous SARS-CoV-2 infection." Tom Wingfield, senior clinical lecturer at the Liverpool School of Tropical Medicine, told the Science Media Center in the UK.
"The findings suggest that re-infection rates in the positive group were 83% lower than the negative group during the follow-up period."
But the researchers warned that the protection was not total and that it was unclear how long any immunity would last. It is also possible that those who have a degree of immunity to the virus may still be able to transmit it to others.
"We now know that most people who have had the virus and developed antibodies are protected from re-infection, but this is not total and we still do not know how long the protection lasts," said Susan Hopkins, senior medical counselor at PHE and co-leader of the study, said according to Reuters.
"Even if you believe you have already had the disease and are protected, you can be sure that you are not likely to develop serious infections. But there is still a risk that you may acquire an infection and pass it on to others." , said Hopkins.
Hopkins raised the issue during an interview with the BBC's Today program on Thursday.
"[Infection] reduces your risk by at least 80% …. but does not eliminate it, "she said.
"We have found people with very high amounts of the virus in nasal and throat swabs, which would be easily in the range that would cause transmission levels to other individuals." Hopkins stressed that people who had previously caught Covid-19 still had to obey the rules of social distance to avoid transmitting the disease.
England is currently under a strict national blockade as cases increased during the holiday period. The UK has registered more than 3.2 million cases of infection.
"What [the study] the real emphasis is that immediately after infection you probably have a high level of protection but this will break down over time, "Niall Ferguson, a leading epidemiologist at Imperial College London, also told the BBC.
"Transmission is now slower than it would have been in the absence of people becoming infected, and those people who have had the virus before have a lower risk of becoming infected – and this is cumulatively slowing the spread."
"This study supports the hypothesis that primary infection … provides a high degree of immunity to recurrence of infection in the short and medium term; with similar levels of symptomatic infection prevention as currently licensed vaccines for working-age adults," PHE report notes.
"Primary infection also reduces the risk of asymptomatic infection and thus transmission; this is especially important in [that]… health care was seen as a potential driver for the continued transmission of Wave 1 community in the UK ".
Researchers will continue to study antibody responses to infection and the impact of Covid-19 vaccines.
What Are The Main Benefits Of Comparing Car Insurance Quotes Online
LOS ANGELES, CA / ACCESSWIRE / June 24, 2020, / Compare-autoinsurance.Org has launched a new blog post that presents the main benefits of comparing multiple car insurance quotes. For more info and free online quotes, please visit https://compare-autoinsurance.Org/the-advantages-of-comparing-prices-with-car-insurance-quotes-online/ The modern society has numerous technological advantages. One important advantage is the speed at which information is sent and received. With the help of the internet, the shopping habits of many persons have drastically changed. The car insurance industry hasn't remained untouched by these changes. On the internet, drivers can compare insurance prices and find out which sellers have the best offers. View photos The advantages of comparing online car insurance quotes are the following: Online quotes can be obtained from anywhere and at any time. Unlike physical insurance agencies, websites don't have a specific schedule and they are available at any time. Drivers that have busy working schedules, can compare quotes from anywhere and at any time, even at midnight. Multiple choices. Almost all insurance providers, no matter if they are well-known brands or just local insurers, have an online presence. Online quotes will allow policyholders the chance to discover multiple insurance companies and check their prices. Drivers are no longer required to get quotes from just a few known insurance companies. Also, local and regional insurers can provide lower insurance rates for the same services. Accurate insurance estimates. Online quotes can only be accurate if the customers provide accurate and real info about their car models and driving history. Lying about past driving incidents can make the price estimates to be lower, but when dealing with an insurance company lying to them is useless. Usually, insurance companies will do research about a potential customer before granting him coverage. Online quotes can be sorted easily. Although drivers are recommended to not choose a policy just based on its price, drivers can easily sort quotes by insurance price. Using brokerage websites will allow drivers to get quotes from multiple insurers, thus making the comparison faster and easier. For additional info, money-saving tips, and free car insurance quotes, visit https://compare-autoinsurance.Org/ Compare-autoinsurance.Org is an online provider of life, home, health, and auto insurance quotes. This website is unique because it does not simply stick to one kind of insurance provider, but brings the clients the best deals from many different online insurance carriers. In this way, clients have access to offers from multiple carriers all in one place: this website. On this site, customers have access to quotes for insurance plans from various agencies, such as local or nationwide agencies, brand names insurance companies, etc. "Online quotes can easily help drivers obtain better car insurance deals. All they have to do is to complete an online form with accurate and real info, then compare prices", said Russell Rabichev, Marketing Director of Internet Marketing Company. CONTACT: Company Name: Internet Marketing CompanyPerson for contact Name: Gurgu CPhone Number: (818) 359-3898Email: [email protected]: https://compare-autoinsurance.Org/ SOURCE: Compare-autoinsurance.Org View source version on accesswire.Com:https://www.Accesswire.Com/595055/What-Are-The-Main-Benefits-Of-Comparing-Car-Insurance-Quotes-Online View photos
picture credit
to request, modification Contact us at Here or [email protected]