UK bans Travelers from South America and Portugal on a new variant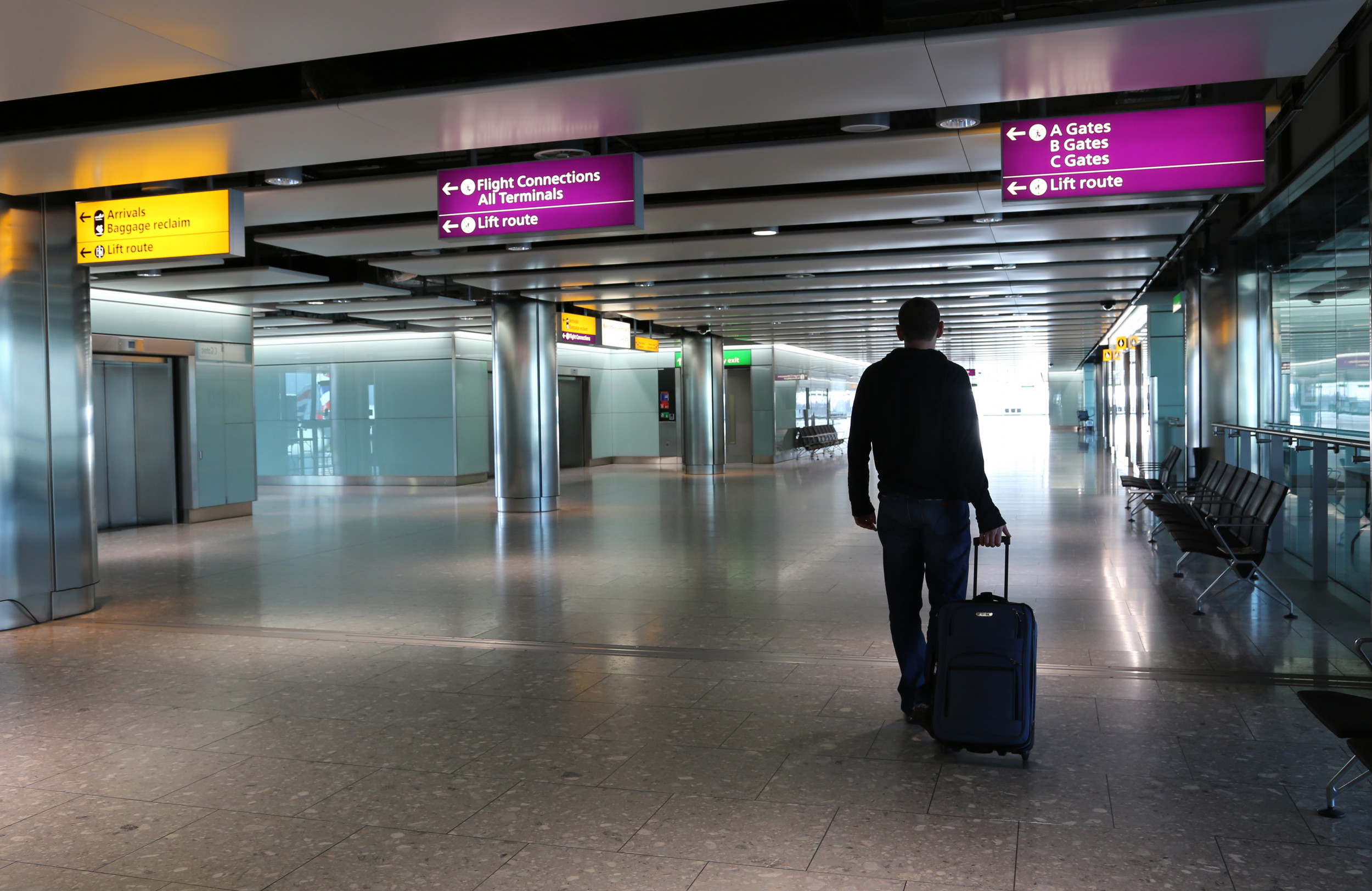 The UK government has banned travelers from South America and Portugal from arriving in the country from Friday morning to stop a Brazilian variant of COVID-19 from arriving in the country.
Transport Secretary Grant Shapps went on Twitter to announce the change.
He said: "I have taken the urgent decision to BAN ARRIVALS from ARGENTINA, BRAZIL, BOLIVIA, CAPE VERDE, CHILE, COLOMBIA, ECUADOR, FRANC G GUIANA, GUYANA, PANAMA, PARAGUAY, PERU, SURINUA, SURINAME, SURINAME 4 o'clock after the evidence of a new variant in Brazil.
"Travel from PORTUGAL to the UK will also be suspended given its strong travel links with Brazil – acting as another way to reduce the risk of importing infections. However, there is an exception for carriers traveling from Portugal ( only), to allow the transport of essential goods ".
The measures do not apply to British and Irish nationals and third-country nationals with residency rights, however those returning from affected countries have been told to isolate for 10 days.
This comes after Prime Minister Boris Johnson told the House of Commons Liaison Committee that he was "very concerned about the new variant identified in Brazil". Labor MP (MP) Yvette Cooper asked the Prime Minister why the UK had not imposed travel restrictions on those coming to the country from Brazil.
She said: "You were warned about the Brazil variant three days ago. We do not yet know if that variant could harm the vaccination schedule. So why are you not taking immediate action, on a precautionary basis?"
Without wanting to give a final answer, Johnson was clear that something would change with the trips, but there were still many things they did not know. Johnson said: "We are imposing additional measures to ensure that people coming from Brazil are controlled and actually stop people coming from Brazil.
"There are a lot of questions we still have about that variant, we do not know, for example, more than we do know if the South African variant is vaccine resistant."
Meanwhile, the COVID-19 pre-launch test for people arriving in England will now take place from 04:00 GMT on Monday, despite it being originally scheduled to take effect from Friday.
The government said people needed more time to prepare. Passengers arriving by boat, plane or train, including UK citizens, will have to take a test 72 hours before their departure. Those coming from countries that are not on the UK travel corridor list must be self-isolated for 10 days.
Grant Shapps, secretary of transport, also reminded people through his Twitter account to fill out a passenger localization form before arriving back in England, saying: "Anyone WITHOUT a negative test test faces a fine of £ 500 ($ 680) ".
This comes as the number of deaths in the UK from COVID-19 exceeded 100,000, with 1,564 deaths recorded yesterday, the highest figure reported in a single day since the pandemic began. Dr. Yvonne Doyle, medical director at Public Health in England, said there were now more deaths in the second wave than the first.
High street pharmacies in the UK will also now start vaccinating COVID-19, as the country aims to vaccinate 15 million people, including those over the age of 70, healthcare workers and those required to protect up to mid-year. February. The prime minister has vowed to make vaccines available 24/7, as soon as the government can. More than 2.6 million people in the UK have now received their first dose of a vaccine.
What Are The Main Benefits Of Comparing Car Insurance Quotes Online
LOS ANGELES, CA / ACCESSWIRE / June 24, 2020, / Compare-autoinsurance.Org has launched a new blog post that presents the main benefits of comparing multiple car insurance quotes. For more info and free online quotes, please visit https://compare-autoinsurance.Org/the-advantages-of-comparing-prices-with-car-insurance-quotes-online/ The modern society has numerous technological advantages. One important advantage is the speed at which information is sent and received. With the help of the internet, the shopping habits of many persons have drastically changed. The car insurance industry hasn't remained untouched by these changes. On the internet, drivers can compare insurance prices and find out which sellers have the best offers. View photos The advantages of comparing online car insurance quotes are the following: Online quotes can be obtained from anywhere and at any time. Unlike physical insurance agencies, websites don't have a specific schedule and they are available at any time. Drivers that have busy working schedules, can compare quotes from anywhere and at any time, even at midnight. Multiple choices. Almost all insurance providers, no matter if they are well-known brands or just local insurers, have an online presence. Online quotes will allow policyholders the chance to discover multiple insurance companies and check their prices. Drivers are no longer required to get quotes from just a few known insurance companies. Also, local and regional insurers can provide lower insurance rates for the same services. Accurate insurance estimates. Online quotes can only be accurate if the customers provide accurate and real info about their car models and driving history. Lying about past driving incidents can make the price estimates to be lower, but when dealing with an insurance company lying to them is useless. Usually, insurance companies will do research about a potential customer before granting him coverage. Online quotes can be sorted easily. Although drivers are recommended to not choose a policy just based on its price, drivers can easily sort quotes by insurance price. Using brokerage websites will allow drivers to get quotes from multiple insurers, thus making the comparison faster and easier. For additional info, money-saving tips, and free car insurance quotes, visit https://compare-autoinsurance.Org/ Compare-autoinsurance.Org is an online provider of life, home, health, and auto insurance quotes. This website is unique because it does not simply stick to one kind of insurance provider, but brings the clients the best deals from many different online insurance carriers. In this way, clients have access to offers from multiple carriers all in one place: this website. On this site, customers have access to quotes for insurance plans from various agencies, such as local or nationwide agencies, brand names insurance companies, etc. "Online quotes can easily help drivers obtain better car insurance deals. All they have to do is to complete an online form with accurate and real info, then compare prices", said Russell Rabichev, Marketing Director of Internet Marketing Company. CONTACT: Company Name: Internet Marketing CompanyPerson for contact Name: Gurgu CPhone Number: (818) 359-3898Email: [email protected]: https://compare-autoinsurance.Org/ SOURCE: Compare-autoinsurance.Org View source version on accesswire.Com:https://www.Accesswire.Com/595055/What-Are-The-Main-Benefits-Of-Comparing-Car-Insurance-Quotes-Online View photos
picture credit
to request, modification Contact us at Here or [email protected]