At least 5 dead in Sudan border attack as tensions with Ethiopia escalate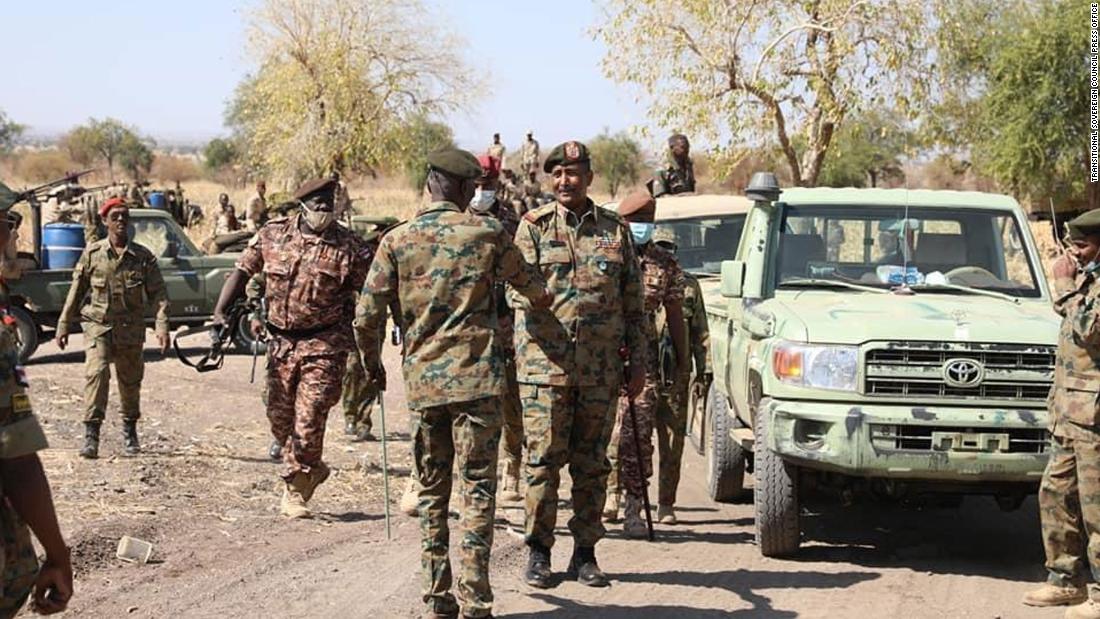 Tensions have been simmering between the two countries for decades over the disputed Al-Fashqa region, which falls on the Sudanese side of their disputed border. On Wednesday, the situation escalated further after Sudanese accused Ethiopian military planes of violating Sudan airspace.
Al-Fashqa, President of the Sovereign Transitional Council (TSC) and Commander-in-Chief of the Sudanese Armed Forces, Lieutenant General Abdul-Fattah Al-Burhan, on Wednesday addressed soldiers stationed at the border.
"We are all steadfast with you here until our right is proved by force, in good faith or by any other method. This is our land and we have a legitimate right to protect and defend it by all available means, he said.
A video posted on the TSC's Facebook page of Burhan's remarks showed that he was telling them that Sudan would not withdraw from the military confrontation.
"How long do we have to be patient? Everything has a limit and this situation has exceeded its limits. This is our land and we are all ready to die here for this land, until the last man stays in feet. "
These latest remarks are part of a series of increasingly confrontational public statements by both countries. Ethiopian Foreign Ministry spokeswoman Dina Mufti told reporters in the Ethiopian capital
Addis Ababa
on Tuesday that
Sudan was seeking to "ignite the situation".
"How long will Ethiopia continue to resolve the issue using diplomacy? Well, there is nothing that has no limit. Everything has a limit," Mufti said.
The Ethiopian government has not responded to CNN's request for comment. An Ethiopian military spokesman told the AFP news agency that he had no "tangible information" on Sudan's claims and that the situation at the border was "normal" on Wednesday.
More than 80 civilians were killed in an attack along the border on Tuesday, a spokesman for the Ethiopian Human Rights Commission (EHRC) told CNN.
"The information we received indicates that over 80 civilians were massacred in the Metekel area of ​​Benishangul-Gumuz in an early morning attack," said Aaron Maasho.
The EHRC, which describes itself as an "independent national" institution, is still gathering details and did not say who may have carried out the attack.
"These kinds of horrific incidents have been going on for a long time. There is no other option but the federal and regional authorities to increase the security presence in the area and strengthen coordination between them – a call that the Ethiopian Commission on Human Rights has made on and again, "Maasho added.
The Ethiopian government has been conducting a military campaign since November in its Tigray region, which borders Sudan. Civil society groups in Sudan told CNN they feared escalating tensions between the two countries would only serve to further break up the region.
More than
45,000 refugees
have fled Ethiopia's Tigray region to Sudan since the conflict began, according to the UN refugee agency.
What Are The Main Benefits Of Comparing Car Insurance Quotes Online
LOS ANGELES, CA / ACCESSWIRE / June 24, 2020, / Compare-autoinsurance.Org has launched a new blog post that presents the main benefits of comparing multiple car insurance quotes. For more info and free online quotes, please visit https://compare-autoinsurance.Org/the-advantages-of-comparing-prices-with-car-insurance-quotes-online/ The modern society has numerous technological advantages. One important advantage is the speed at which information is sent and received. With the help of the internet, the shopping habits of many persons have drastically changed. The car insurance industry hasn't remained untouched by these changes. On the internet, drivers can compare insurance prices and find out which sellers have the best offers. View photos The advantages of comparing online car insurance quotes are the following: Online quotes can be obtained from anywhere and at any time. Unlike physical insurance agencies, websites don't have a specific schedule and they are available at any time. Drivers that have busy working schedules, can compare quotes from anywhere and at any time, even at midnight. Multiple choices. Almost all insurance providers, no matter if they are well-known brands or just local insurers, have an online presence. Online quotes will allow policyholders the chance to discover multiple insurance companies and check their prices. Drivers are no longer required to get quotes from just a few known insurance companies. Also, local and regional insurers can provide lower insurance rates for the same services. Accurate insurance estimates. Online quotes can only be accurate if the customers provide accurate and real info about their car models and driving history. Lying about past driving incidents can make the price estimates to be lower, but when dealing with an insurance company lying to them is useless. Usually, insurance companies will do research about a potential customer before granting him coverage. Online quotes can be sorted easily. Although drivers are recommended to not choose a policy just based on its price, drivers can easily sort quotes by insurance price. Using brokerage websites will allow drivers to get quotes from multiple insurers, thus making the comparison faster and easier. For additional info, money-saving tips, and free car insurance quotes, visit https://compare-autoinsurance.Org/ Compare-autoinsurance.Org is an online provider of life, home, health, and auto insurance quotes. This website is unique because it does not simply stick to one kind of insurance provider, but brings the clients the best deals from many different online insurance carriers. In this way, clients have access to offers from multiple carriers all in one place: this website. On this site, customers have access to quotes for insurance plans from various agencies, such as local or nationwide agencies, brand names insurance companies, etc. "Online quotes can easily help drivers obtain better car insurance deals. All they have to do is to complete an online form with accurate and real info, then compare prices", said Russell Rabichev, Marketing Director of Internet Marketing Company. CONTACT: Company Name: Internet Marketing CompanyPerson for contact Name: Gurgu CPhone Number: (818) 359-3898Email: [email protected]: https://compare-autoinsurance.Org/ SOURCE: Compare-autoinsurance.Org View source version on accesswire.Com:https://www.Accesswire.Com/595055/What-Are-The-Main-Benefits-Of-Comparing-Car-Insurance-Quotes-Online View photos
picture credit
to request, modification Contact us at Here or [email protected]