The World Wide Web as we know it may be ending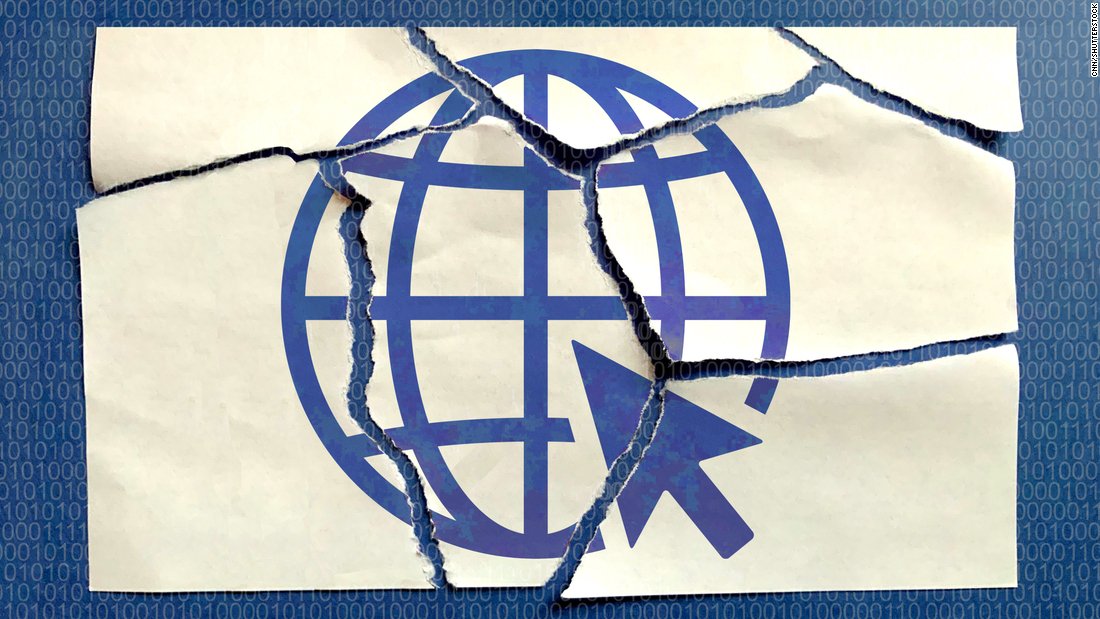 In announcing the deal, however, Facebook hinted at the possibility of similar clashes in the future. "We will continue to invest in news globally and resist the efforts of media conglomerates to advance regulatory frameworks that do not take into account the exchange of real value between publishers and platforms like Facebook," said Campbell Brown, Vice President of Global Partnerships of Facebook News in a
declaration
Tuesday
But if such territorial arrangements become more common, the globally connected internet, we know it will become more like what some have called the "splinternet", or a collection of different internet, whose boundaries are defined by boundaries national or regional.
A combination of growing nationalism, trade disputes, and concerns about the market dominance of some global tech companies has sparked threats of regulatory shocks worldwide. In the process, these forces are using not only technology companies that built massive businesses with the promise of a global internet, but also the very idea of ​​building platforms that can be accessed and used in the same way by anyone anywhere in the world.
And the cracks just seem to be deepening.
"I think there's a global trend toward much more internet fragmentation than has been fragmented in the past," Daphne Keller, director of the platform adjustment program at Stanford University's Center for Cyber ​​Policy, told CNN Business.
As recent events have shown, a platform does not need to be stopped or completely shut down for that fragmentation to occur. In response to Australia's attempt to make it pay publishers, When Facebook stopped displaying media links to its Australian users, users abroad also could no longer access Australian media content. The temporary movement was contrary to the premise of the internet serving as a means for the free flow of information globally.
It is a very different landscape from the one that allowed American tech firms to amass great wealth and power. With notable exceptions like China and North Korea, Facebook and its peers were able to launch their products worldwide with little backlash. Now that opening may no longer be given.
"What is legal in Sweden is not legal in Pakistan, and so we need to find a way to reconcile it with the way the internet works," Keller said. The result is that "either voluntary platforms or governments are forcibly raising geographical barriers in order to see things differently in one country than in another."
Great attraction
While Facebook is not the only tech company between governments across the globe, it is perhaps more iconic than any other Silicon Valley business of promising a global internet that goes against the laws of different countries.
Now, Facebook is turning to what has become an increasingly proven reading book for the tech industry: threatening to pull its products out of the markets in the face of adverse regulation.
This time, at least, the game book seemed to work somewhat for Facebook. But there are signs that countries around the world, including the United States, are more willing to play hard and follow each other's directions to brake on Big Tech. These companies ultimately depend on constant access to billions of users worldwide, and governments have shown that they are willing to cut off that access in the name of protecting citizens and their sovereignty online.
The stakes will only increase if more governments are thrown into the gang.
"It's kind of a chicken game," said Sinan Aral, a professor at MIT Sloan Business School and author of "Hype Machinery: How Social Media Disrupts Our Choices, Our Economy, and Our Health."
Aral says companies such as Facebook and Google will face a slippery slope if they start coming out of any marketplace that requires them to pay for its news, which would "severely limit" the content they can access. serve their global user base.
"They have a vested interest in trying to force any market not to impose such regulations by threatening to withdraw," he said. "The other party is basically saying, 'If you do not pay for the content, you will not have access to our customer market or the content in that market.' "
As internet fractures, global regulators come together
A fight for news in Australia is a relatively small part of the clash between technology and governments, which has mainly focused on issues such as censorship, privacy and competition. But the response to Facebook's move to Australia has shown that a more international effort to curb Big Tech may be gaining momentum – and with it, the potential for additional Internet service outages from one country to another.
As his government tackled Facebook last week, Australian Prime Minister Scott Morrison issued a warning to the social media giant: what you do here may turn out to hurt you in other countries.
Several other countries, including the UK and Canada are now considering similar legislation against social media companies and many of those countries are talking to each other about the best way to do it.
"It would be extremely useful if governments were to come together in some kind of transnational process and come up with a treaty or some kind of standard about who can extend and influence content and information outside their national territory," he said. Keller, "because that's what a lot of them are trying to do but haven't done, and so as a result you get this very fragmented plot of land."
If that added fragmentation is allowed to reach its natural end, however, the consequences can be dire.
"If the end result of this is that we have social media platforms in every country or large market that are segregated, then what we will have is an information ecosystem that is completely duplicated or fragmented across the globe." tha Aral. "What he warns is a citizen who has completely different sets of information about local events, about world events and perhaps a very fragmented worldview of reality."
What Are The Main Benefits Of Comparing Car Insurance Quotes Online
LOS ANGELES, CA / ACCESSWIRE / June 24, 2020, / Compare-autoinsurance.Org has launched a new blog post that presents the main benefits of comparing multiple car insurance quotes. For more info and free online quotes, please visit https://compare-autoinsurance.Org/the-advantages-of-comparing-prices-with-car-insurance-quotes-online/ The modern society has numerous technological advantages. One important advantage is the speed at which information is sent and received. With the help of the internet, the shopping habits of many persons have drastically changed. The car insurance industry hasn't remained untouched by these changes. On the internet, drivers can compare insurance prices and find out which sellers have the best offers. View photos The advantages of comparing online car insurance quotes are the following: Online quotes can be obtained from anywhere and at any time. Unlike physical insurance agencies, websites don't have a specific schedule and they are available at any time. Drivers that have busy working schedules, can compare quotes from anywhere and at any time, even at midnight. Multiple choices. Almost all insurance providers, no matter if they are well-known brands or just local insurers, have an online presence. Online quotes will allow policyholders the chance to discover multiple insurance companies and check their prices. Drivers are no longer required to get quotes from just a few known insurance companies. Also, local and regional insurers can provide lower insurance rates for the same services. Accurate insurance estimates. Online quotes can only be accurate if the customers provide accurate and real info about their car models and driving history. Lying about past driving incidents can make the price estimates to be lower, but when dealing with an insurance company lying to them is useless. Usually, insurance companies will do research about a potential customer before granting him coverage. Online quotes can be sorted easily. Although drivers are recommended to not choose a policy just based on its price, drivers can easily sort quotes by insurance price. Using brokerage websites will allow drivers to get quotes from multiple insurers, thus making the comparison faster and easier. For additional info, money-saving tips, and free car insurance quotes, visit https://compare-autoinsurance.Org/ Compare-autoinsurance.Org is an online provider of life, home, health, and auto insurance quotes. This website is unique because it does not simply stick to one kind of insurance provider, but brings the clients the best deals from many different online insurance carriers. In this way, clients have access to offers from multiple carriers all in one place: this website. On this site, customers have access to quotes for insurance plans from various agencies, such as local or nationwide agencies, brand names insurance companies, etc. "Online quotes can easily help drivers obtain better car insurance deals. All they have to do is to complete an online form with accurate and real info, then compare prices", said Russell Rabichev, Marketing Director of Internet Marketing Company. CONTACT: Company Name: Internet Marketing CompanyPerson for contact Name: Gurgu CPhone Number: (818) 359-3898Email: [email protected]: https://compare-autoinsurance.Org/ SOURCE: Compare-autoinsurance.Org View source version on accesswire.Com:https://www.Accesswire.Com/595055/What-Are-The-Main-Benefits-Of-Comparing-Car-Insurance-Quotes-Online View photos
picture credit
to request, modification Contact us at Here or [email protected]