One-third of the Antarctic ice shelf is in danger of collapsing as our planet warms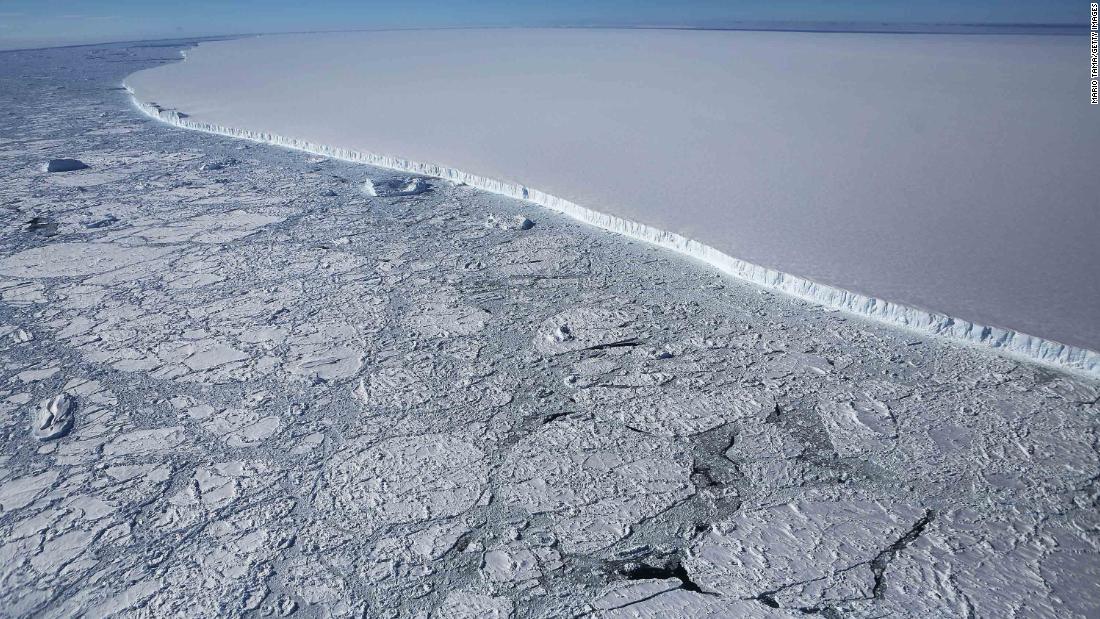 In a forecast study, scientists found that 34% of the surface of all Antarctic ice sheets, measuring about half a million square kilometers, could be destabilized if world temperatures were to rise by 4 degrees. About 67% of the ice shelf area in the Antarctic Peninsula would risk destabilization under this scenario, the researchers said.
Ice shelves are permanent floating ice platforms attached to coastline areas, formed where ground-flowing glaciers meet the sea. They can help limit rising global sea levels by acting as a dam, slowing the flow of melting ice and water into the oceans.
Every summer, the ice on the surface of the ice shelves melts and passes into smaller gaps in the snow below, where it usually cools. But when there is a lot of melting and little snowfall, this water instead accumulates on the ice surface or spills into cracks. This deepens and widens the cracks, causing the shelf to break and collapse into the sea.
"Ice shelves are important protectors that prevent glaciers on land from flowing freely into the ocean and contribute to sea level rise. When they collapse, it's like a giant cork being removed from a bottle, allowing unimaginable amounts of water from glaciers spills into the sea, "study lead author Ella Gilbert, a climate scientist in the Department of Meteorology at Reading University, said in a statement.
Gilbert told CNN that low-lying coastal areas, especially small island states like Vanuatu and Tuvalu in the South Pacific, are most at risk from global sea level rise.
"However, coastal areas around the world would be vulnerable and countries with fewer resources available to mitigate and adapt to rising sea levels would see worse consequences," she said.
In the new study, which used regional high-resolution climate modeling to predict the impact of increased melting and water flow on ice shelf stability, researchers say limiting temperature rise to 2 degrees Celsius instead of 4 degrees Celsius would halve the area at risk and potentially avoid significant sea level rise.
The Intergovernmental Panel on Climate Change concluded in a landmark report that we only have until 2030 to drastically reduce our dependence on fossil fuels and prevent the planet from reaching the core threshold of 1.5 degrees Celsius (2.7 degrees Fahrenheit). on pre-industrial levels.
Global carbon dioxide emissions will have to fall by 45% from 2010 levels to 2030 and reach "zero zeros" around 2050 in order to keep warming around 1.5 degrees Celsius.
"The findings underscore the importance of limiting global temperature rises as set out in the Paris Agreement if we are to avoid the worst consequences of climate change, including rising sea levels," Gilbert added.
In the Paris agreement, 197 countries agreed on the goal of keeping global temperatures "far below" 2 degrees Celsius above pre-industrial levels and to pursue efforts to limit it to 1.5 degrees Celsius.
But we are
on track
for a world that is 3.2 degrees Celsius warmer by the end of the century.
Gilbert told CNN that rising temperatures mean melting occurs more often, and more intensively.
The researchers identified four ice shelves that would be threatened by warmer climates: the Larsen C, Shackleton, Pine Island and Wilkins ice shelves, which are vulnerable due to their geography and the projected runoff in those areas.
Larsen C is the largest ice shelf left on the Antarctic Peninsula, and the Pine Island glacier has received a lot of attention in recent years because it melted rapidly in response to climate change, Gilbert said.
If these ice shelves all collapse, which is not guaranteed, the glaciers they currently inhibit will spill into the ocean, contributing to rising sea levels – potentially by tens of centimeters, she explained.
The study was published Thursday in the journal Geophysical Research Letters.
What Are The Main Benefits Of Comparing Car Insurance Quotes Online
LOS ANGELES, CA / ACCESSWIRE / June 24, 2020, / Compare-autoinsurance.Org has launched a new blog post that presents the main benefits of comparing multiple car insurance quotes. For more info and free online quotes, please visit https://compare-autoinsurance.Org/the-advantages-of-comparing-prices-with-car-insurance-quotes-online/ The modern society has numerous technological advantages. One important advantage is the speed at which information is sent and received. With the help of the internet, the shopping habits of many persons have drastically changed. The car insurance industry hasn't remained untouched by these changes. On the internet, drivers can compare insurance prices and find out which sellers have the best offers. View photos The advantages of comparing online car insurance quotes are the following: Online quotes can be obtained from anywhere and at any time. Unlike physical insurance agencies, websites don't have a specific schedule and they are available at any time. Drivers that have busy working schedules, can compare quotes from anywhere and at any time, even at midnight. Multiple choices. Almost all insurance providers, no matter if they are well-known brands or just local insurers, have an online presence. Online quotes will allow policyholders the chance to discover multiple insurance companies and check their prices. Drivers are no longer required to get quotes from just a few known insurance companies. Also, local and regional insurers can provide lower insurance rates for the same services. Accurate insurance estimates. Online quotes can only be accurate if the customers provide accurate and real info about their car models and driving history. Lying about past driving incidents can make the price estimates to be lower, but when dealing with an insurance company lying to them is useless. Usually, insurance companies will do research about a potential customer before granting him coverage. Online quotes can be sorted easily. Although drivers are recommended to not choose a policy just based on its price, drivers can easily sort quotes by insurance price. Using brokerage websites will allow drivers to get quotes from multiple insurers, thus making the comparison faster and easier. For additional info, money-saving tips, and free car insurance quotes, visit https://compare-autoinsurance.Org/ Compare-autoinsurance.Org is an online provider of life, home, health, and auto insurance quotes. This website is unique because it does not simply stick to one kind of insurance provider, but brings the clients the best deals from many different online insurance carriers. In this way, clients have access to offers from multiple carriers all in one place: this website. On this site, customers have access to quotes for insurance plans from various agencies, such as local or nationwide agencies, brand names insurance companies, etc. "Online quotes can easily help drivers obtain better car insurance deals. All they have to do is to complete an online form with accurate and real info, then compare prices", said Russell Rabichev, Marketing Director of Internet Marketing Company. CONTACT: Company Name: Internet Marketing CompanyPerson for contact Name: Gurgu CPhone Number: (818) 359-3898Email: [email protected]: https://compare-autoinsurance.Org/ SOURCE: Compare-autoinsurance.Org View source version on accesswire.Com:https://www.Accesswire.Com/595055/What-Are-The-Main-Benefits-Of-Comparing-Car-Insurance-Quotes-Online View photos
picture credit
to request, modification Contact us at Here or [email protected]