Australia's Sex Discrimination Act will soon apply to politicians. Why didn't he do it before?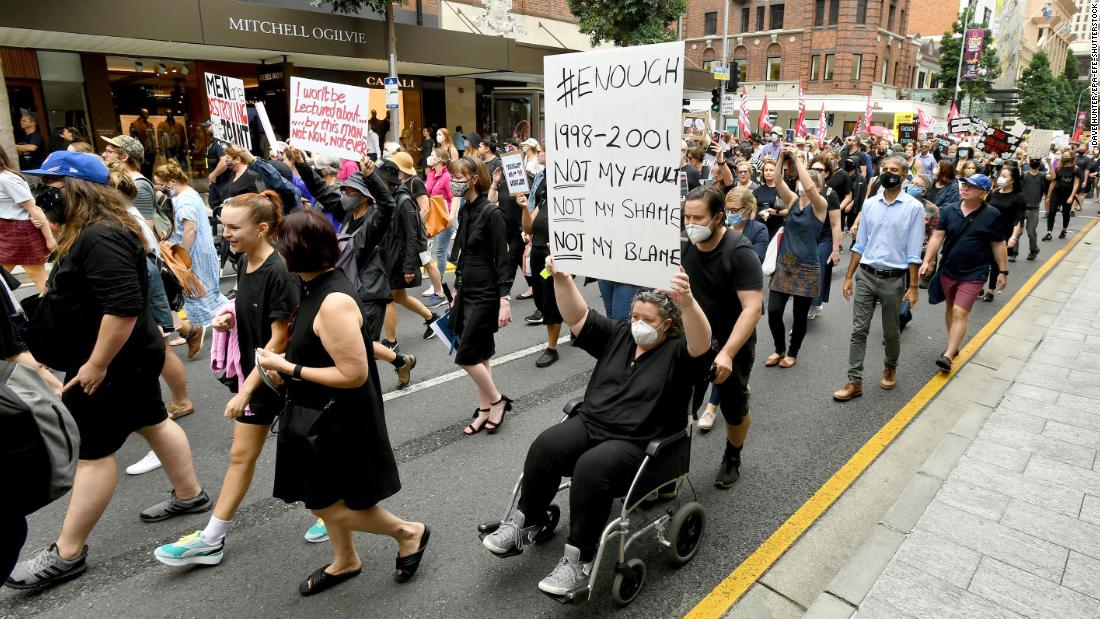 On Thursday, Morrison told a news conference the government plans to amend the Gender Discrimination Act under measures designed to address sexual harassment and discrimination in the workplace. He said he hoped to pass the new laws by the end of June.
Morrison said the sexual harassment was "immoral and disgusting and even criminal", and "denies Australians, especially women, not only their personal security but their economic security by not being safe at work".
Changes were recommended in
a March 2020 report
by Australian Commissioner for Gender Discrimination, Kate Jenkins. It took the government more than a year to announce the changes to the act.
In February, a former employee of Morrison's ruling Liberal Party said she was raped in 2019 by a colleague while inside the House of Parliament in Canberra. Three weeks later, then-Attorney General Christian Porter revealed that he had been charged with raping a woman in the late 1980s, which he vehemently denied.
Zali Steggall, an independent federal politician and lawyer, said the proposed changes to the law were a positive step, but she called on the government to make the changes quickly.
"The longer the delay, the longer the behavior is not caught and this is not retrospective legislation, so it should be passed as soon as possible," she said.
How gaps were created
The Sex Discrimination Act in Australia was passed in 1984.
Gaze told CNN that under the Gender Discrimination Act, politicians and judges are not covered as they do not fall into employment areas where legislation prohibits discrimination – leaving them outside the protection of the act
Employees of politicians are covered by special employment legislation, said Gaze, which does not include protection against sexual discrimination.
Legal experts said the loopholes in the law were likely the result of outdated and poorly worded legislation, rather than an attempt to deliberately protect Australian politicians from allegations of sexual harassment.
The original law "reflected the time in which it was created," said Australian Law Council President Dr. Jacoba Brasch, in a statement. "Australian culture and attitudes have moved forward and the SDA needs to be updated to reflect contemporary public expectations," she said.
Steggall said the gaps were first identified during an Australian Senate inquiry in 2008 but took more than a decade to rectify, through the fault of "all sides of politics for failing to act".
What is changing?
Morrison said Thursday that he would approve all 55 recommendations made by the commissioner, including a complete ban on sex discrimination in the workplace and a national survey every four years to check progress.
The government-proposed changes to the Law on Gender Discrimination will also make it clearer to employers and employees what gender discrimination is and give complainants more time to file.
But despite Morrison's June time, Steggall said she had drafted new laws that were ready to be introduced once Parliament resumes in May.
Its legislation would close gaps in the Gender Discrimination and Sexual Harassment Act in all circumstances, she said. The law will also penalize organizations or political parties that assist or support crime.
Brasch said the success of any legislation introduced by the Morrison government will depend on how the new laws are formulated, to clear up any "ambiguities" in the legislation, and to ensure that public servants are "personally responsible" for sexual harassment.
"(This is) the key to ensuring that (the problem) is properly addressed and that problematic behavior does not fall into regulatory loopholes," she said.
What Are The Main Benefits Of Comparing Car Insurance Quotes Online
LOS ANGELES, CA / ACCESSWIRE / June 24, 2020, / Compare-autoinsurance.Org has launched a new blog post that presents the main benefits of comparing multiple car insurance quotes. For more info and free online quotes, please visit https://compare-autoinsurance.Org/the-advantages-of-comparing-prices-with-car-insurance-quotes-online/ The modern society has numerous technological advantages. One important advantage is the speed at which information is sent and received. With the help of the internet, the shopping habits of many persons have drastically changed. The car insurance industry hasn't remained untouched by these changes. On the internet, drivers can compare insurance prices and find out which sellers have the best offers. View photos The advantages of comparing online car insurance quotes are the following: Online quotes can be obtained from anywhere and at any time. Unlike physical insurance agencies, websites don't have a specific schedule and they are available at any time. Drivers that have busy working schedules, can compare quotes from anywhere and at any time, even at midnight. Multiple choices. Almost all insurance providers, no matter if they are well-known brands or just local insurers, have an online presence. Online quotes will allow policyholders the chance to discover multiple insurance companies and check their prices. Drivers are no longer required to get quotes from just a few known insurance companies. Also, local and regional insurers can provide lower insurance rates for the same services. Accurate insurance estimates. Online quotes can only be accurate if the customers provide accurate and real info about their car models and driving history. Lying about past driving incidents can make the price estimates to be lower, but when dealing with an insurance company lying to them is useless. Usually, insurance companies will do research about a potential customer before granting him coverage. Online quotes can be sorted easily. Although drivers are recommended to not choose a policy just based on its price, drivers can easily sort quotes by insurance price. Using brokerage websites will allow drivers to get quotes from multiple insurers, thus making the comparison faster and easier. For additional info, money-saving tips, and free car insurance quotes, visit https://compare-autoinsurance.Org/ Compare-autoinsurance.Org is an online provider of life, home, health, and auto insurance quotes. This website is unique because it does not simply stick to one kind of insurance provider, but brings the clients the best deals from many different online insurance carriers. In this way, clients have access to offers from multiple carriers all in one place: this website. On this site, customers have access to quotes for insurance plans from various agencies, such as local or nationwide agencies, brand names insurance companies, etc. "Online quotes can easily help drivers obtain better car insurance deals. All they have to do is to complete an online form with accurate and real info, then compare prices", said Russell Rabichev, Marketing Director of Internet Marketing Company. CONTACT: Company Name: Internet Marketing CompanyPerson for contact Name: Gurgu CPhone Number: (818) 359-3898Email: [email protected]: https://compare-autoinsurance.Org/ SOURCE: Compare-autoinsurance.Org View source version on accesswire.Com:https://www.Accesswire.Com/595055/What-Are-The-Main-Benefits-Of-Comparing-Car-Insurance-Quotes-Online View photos
picture credit
to request, modification Contact us at Here or [email protected]