SunLive-Katikati's place of interest opens for an hour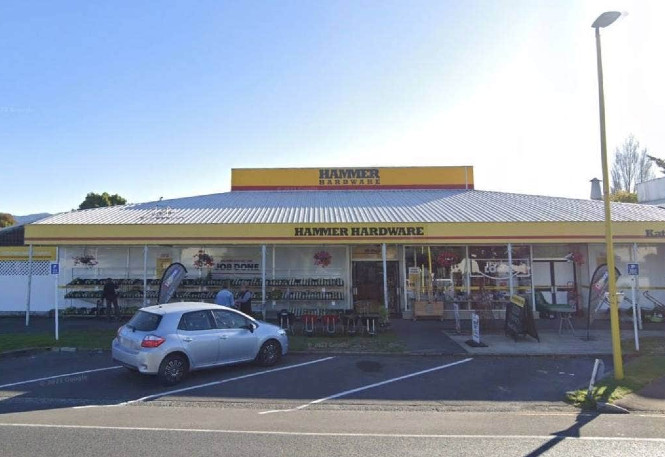 Shortly after Pete Renwick opened the Hammer Hardware Store in Katikati on Sunday, he had to close it again.
The Renwick store is one of six companies in the Bay of Plentytown that were visited by Covid positive cases on Thursday and Friday.
News of weak positive results was announced on Saturday night for a vaccinated person who was on the way to move from Pukekohe to the rural areas north of Katikati for work.
The Ministry of Health said the public health risk was low given that the person was fully vaccinated, enthusiastically using the Covid-19 Tracer app, and isolated with his family. I am.
The Renwick store was visited by the person on Thursday, October 7th, between 10am and noon.
"they [the Ministry of Health] It doesn't tell you anything about that person. I asked what the person looked like and what he bought, so I can see with a security camera who served him. They said they couldn't do that. They don't tell us anything about that person, "he says.
According to Renwick, four of the five staff, including himself, worked on Thursday, so "you need to go home and quarantine and take the test."
"I wasn't informed until it opened this morning, but I got a call saying that the store was of interest, so I had to close it immediately.
"We opened at 9am and closed before 10am."
Renwick says he and his staff were told that they needed a test on Sunday and another test on Tuesday.
"So it will probably be Thursday before we reopen. This is the busiest time of the year."
He says that all but one of his staff was fully or partially vaccinated.
So far, there are no signs that Bay of Plenty will join Waikato, Northland or Auckland at alert level 3.
With the opening of additional testing stations in rural towns on Sunday, the Bay of Plenty District Health Board will announce whether more vaccine clinics will be available.
Gary Webber, Mayor of Western Bay of Plenty, says the town and surrounding areas had to go into "preventive mode."
"If in doubt, go and get tested and be sure to go and get vaccinated."
Based on suburban level data, Katikati vaccination rates are slightly below the national average for both the first and second doses. 77.5% are vaccinated once and 49.5% are fully vaccinated.
The nearest walk-in immunization center to the town, which is open on Sundays, is located in Tauranga, a 40-minute drive away. Katikati's only local clinic in RSA is open Tuesday and Wednesday from 10 am to 3 pm for a total of 10 hours a week.
"We are working on a Katikati vaccine site that includes access to RSA," the District Health Commission said on Saturday.
Webber suggests that access to vaccination may remain a problem for some residents.
"We are a rural area and there are some seriously poor areas where some of these people do not have cars," he said.
"And there is no bus service to our remote villages."
The news of the incident left him concerned with people throughout the district, especially the more vulnerable population.
The ministry has indicated that there are places of interest in both Pukekohe and Katikati, but details have not yet been revealed.
The location will be added to Ministry of Health website As soon as it is confirmed.
Webber says he understands if the area needs to be on alert level 3.
"I landed here. How can I get rid of it?"
The case has been praised on social media for following the rules of the letter.
This incident is understood to be the first detection of Covid-19 in Katikati since the beginning of the pandemic.
However, one councilor admitted that it was only a matter of time before the incident arrived in the town of Route 2, the hub of kiwifruit and avocado orchards.
"I think it was pretty unavoidable, whether it happened now or a few weeks later," says Katy Katy Weich, Councilor James Denier.
He states that the inhabitants follow alert-level rules, but "see strange rules without masks."
The person has returned five negative test results since the beginning of September. The latest is October 5th.
The positive test results on Friday show the high CT values ​​usually seen in the early or late stages of infection, and further investigations, including repeated tests, are underway, the Ministry of Health said.
They did not report any symptoms, except for regular seasonal hay fever and a runny nose that has not changed recently.
Rochelle Thomson, who lives in Katikati, said he felt ready because he was completely vaccinated, but he expected the incident to become a reality.
"When you are far away from these little isolated towns, you think it's far from you, but this is a little awakening call."
Sources
2/ https://www.sunlive.co.nz/news/278704-katikati-location-of-interest-opens-one-hour.html
The mention sources can contact us to remove/changing this article
What Are The Main Benefits Of Comparing Car Insurance Quotes Online
LOS ANGELES, CA / ACCESSWIRE / June 24, 2020, / Compare-autoinsurance.Org has launched a new blog post that presents the main benefits of comparing multiple car insurance quotes. For more info and free online quotes, please visit https://compare-autoinsurance.Org/the-advantages-of-comparing-prices-with-car-insurance-quotes-online/ The modern society has numerous technological advantages. One important advantage is the speed at which information is sent and received. With the help of the internet, the shopping habits of many persons have drastically changed. The car insurance industry hasn't remained untouched by these changes. On the internet, drivers can compare insurance prices and find out which sellers have the best offers. View photos The advantages of comparing online car insurance quotes are the following: Online quotes can be obtained from anywhere and at any time. Unlike physical insurance agencies, websites don't have a specific schedule and they are available at any time. Drivers that have busy working schedules, can compare quotes from anywhere and at any time, even at midnight. Multiple choices. Almost all insurance providers, no matter if they are well-known brands or just local insurers, have an online presence. Online quotes will allow policyholders the chance to discover multiple insurance companies and check their prices. Drivers are no longer required to get quotes from just a few known insurance companies. Also, local and regional insurers can provide lower insurance rates for the same services. Accurate insurance estimates. Online quotes can only be accurate if the customers provide accurate and real info about their car models and driving history. Lying about past driving incidents can make the price estimates to be lower, but when dealing with an insurance company lying to them is useless. Usually, insurance companies will do research about a potential customer before granting him coverage. Online quotes can be sorted easily. Although drivers are recommended to not choose a policy just based on its price, drivers can easily sort quotes by insurance price. Using brokerage websites will allow drivers to get quotes from multiple insurers, thus making the comparison faster and easier. For additional info, money-saving tips, and free car insurance quotes, visit https://compare-autoinsurance.Org/ Compare-autoinsurance.Org is an online provider of life, home, health, and auto insurance quotes. This website is unique because it does not simply stick to one kind of insurance provider, but brings the clients the best deals from many different online insurance carriers. In this way, clients have access to offers from multiple carriers all in one place: this website. On this site, customers have access to quotes for insurance plans from various agencies, such as local or nationwide agencies, brand names insurance companies, etc. "Online quotes can easily help drivers obtain better car insurance deals. All they have to do is to complete an online form with accurate and real info, then compare prices", said Russell Rabichev, Marketing Director of Internet Marketing Company. CONTACT: Company Name: Internet Marketing CompanyPerson for contact Name: Gurgu CPhone Number: (818) 359-3898Email: [email protected]: https://compare-autoinsurance.Org/ SOURCE: Compare-autoinsurance.Org View source version on accesswire.Com:https://www.Accesswire.Com/595055/What-Are-The-Main-Benefits-Of-Comparing-Car-Insurance-Quotes-Online View photos
to request, modification Contact us at Here or [email protected]