Description: What is the difference between Booster Shot and the additional Covid-19 vaccine?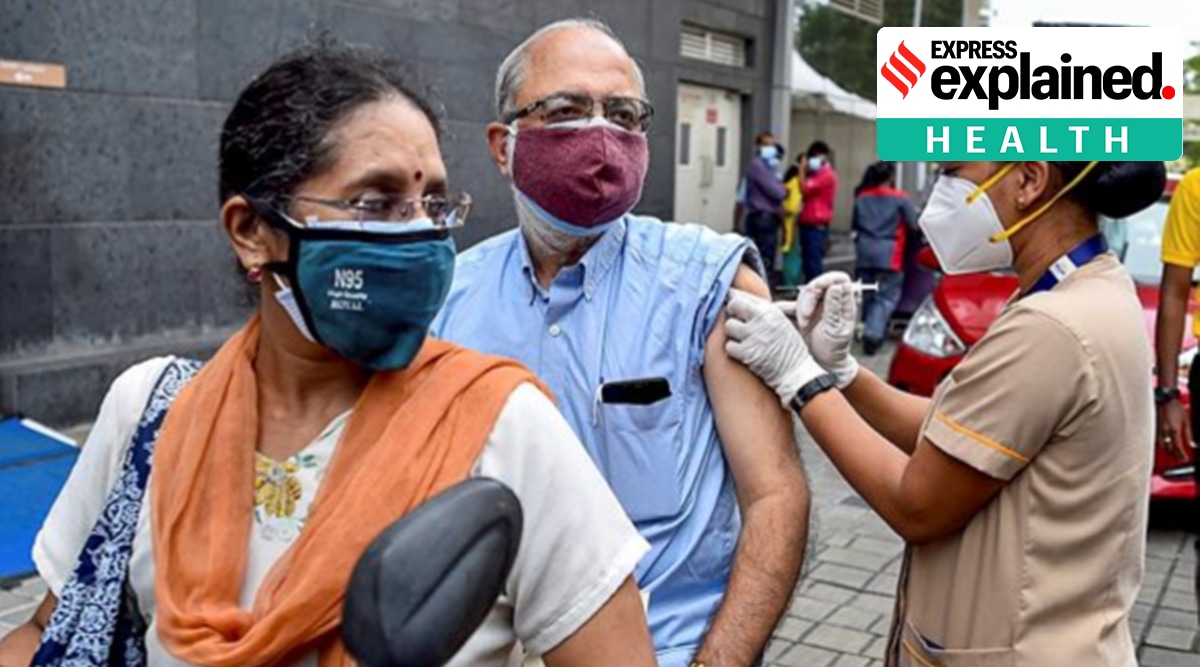 Written by
Rounak Bagchi
, Edited by the desk described | Kolkata |
Updated: December 7, 2021 8:21:19 am
With Omicron Variant of COVID-19 When spread across the country, the need for booster shots and additional jabs may feel more urgent than ever.
The National Technical Advisory Group on Immunization (NTAGI) will meet on Monday to discuss immunization issues in children and the administration of additional doses of the Covid-19 vaccine to immunocompromised individuals. The Committee of Experts will also develop a comprehensive policy on both additional Covid-19 vaccine doses and child immunization, based on information from NK Arora, chair of the Covid-19 Task Force in India. Is expected.
"This policy deals with who needs the vaccine, when and how. This needs to be seen in the context of the emergence of new variants, and over time, more information about it. You will get it. Therefore, the relevance and efficacy of current vaccines will become clear over time, "says Arora.
What is the additional dose of Covid-19 vaccine?
To improve the response to the first vaccine series, people with a moderate or severely weakened immune system are given an additional dose, originally called a third dose. The term "third dose" was used to refer to boosters of two mRNA vaccines, but people who received Johnson & Johnson's "single dose" vaccine may also be eligible for vaccinations based on: Because of this, it is now the term "bulk vaccination". Their immune system.
People with weakened immunity may not be able to develop sufficient immunity after two vaccinations.Therefore, additional doses may improve their protection against the novel coronavirus..
What is a booster shot?
Booster shots are nothing more than a means of strengthening the immune system against specific pathogens. It could be the exact same original vaccine, in which case the goal is to increase the scale of protection by producing more antibodies.
Booster shots are additional doses after the protection provided by the original shot begins to diminish over time. Usually, you will get a booster after the immunity from the first dose begins to decline naturally. Boosters are designed to help people maintain their immune levels longer. What Booster Shot does is to give an important signal to re-engage the memory cell when a virus attacks.
So what's the difference between the two?
Covid-19 boosters are given when a person completes a vaccine series, and protection against the virus declines over time. Some details will vary depending on the original series you had.
However, additional doses are given to people with moderate to severely weakened immune systems. This additional dose is intended to improve the response of immunocompromised people to the first vaccine series. Experts state that by providing such beneficiaries with a third dose, an immune response similar to that of a generalized healthy population can be matched.
Therefore, a third dose of Covid-19 is provided to people with immune vulnerabilities. cancer Patients (patients in remission or receiving chemotherapy) or patients who have undergone an organ transplant. These can only be provided on a case-by-case basis and are not subject to public release.
Are there any differences in their dosages?
The additional Covid dose is the "complete" dose of the vaccine, but the third dose is expected to only expand the scope, so the amount of booster shots currently offered will be smaller. ..
Experts also suggest that there may be some differences in the expected side effects. Booster shots have given us an idea of ​​the same higher intensity or symptoms that we may experience with a second dose. However, it is not yet known how serious and safe the third dose is.
Newsletter | Click to see the best explainers of the day in your inbox
..
Sources
2/ https://indianexpress.com/article/explained/explained-difference-booster-shot-additional-covid-19-vaccine-7658732/
The mention sources can contact us to remove/changing this article
What Are The Main Benefits Of Comparing Car Insurance Quotes Online
LOS ANGELES, CA / ACCESSWIRE / June 24, 2020, / Compare-autoinsurance.Org has launched a new blog post that presents the main benefits of comparing multiple car insurance quotes. For more info and free online quotes, please visit https://compare-autoinsurance.Org/the-advantages-of-comparing-prices-with-car-insurance-quotes-online/ The modern society has numerous technological advantages. One important advantage is the speed at which information is sent and received. With the help of the internet, the shopping habits of many persons have drastically changed. The car insurance industry hasn't remained untouched by these changes. On the internet, drivers can compare insurance prices and find out which sellers have the best offers. View photos The advantages of comparing online car insurance quotes are the following: Online quotes can be obtained from anywhere and at any time. Unlike physical insurance agencies, websites don't have a specific schedule and they are available at any time. Drivers that have busy working schedules, can compare quotes from anywhere and at any time, even at midnight. Multiple choices. Almost all insurance providers, no matter if they are well-known brands or just local insurers, have an online presence. Online quotes will allow policyholders the chance to discover multiple insurance companies and check their prices. Drivers are no longer required to get quotes from just a few known insurance companies. Also, local and regional insurers can provide lower insurance rates for the same services. Accurate insurance estimates. Online quotes can only be accurate if the customers provide accurate and real info about their car models and driving history. Lying about past driving incidents can make the price estimates to be lower, but when dealing with an insurance company lying to them is useless. Usually, insurance companies will do research about a potential customer before granting him coverage. Online quotes can be sorted easily. Although drivers are recommended to not choose a policy just based on its price, drivers can easily sort quotes by insurance price. Using brokerage websites will allow drivers to get quotes from multiple insurers, thus making the comparison faster and easier. For additional info, money-saving tips, and free car insurance quotes, visit https://compare-autoinsurance.Org/ Compare-autoinsurance.Org is an online provider of life, home, health, and auto insurance quotes. This website is unique because it does not simply stick to one kind of insurance provider, but brings the clients the best deals from many different online insurance carriers. In this way, clients have access to offers from multiple carriers all in one place: this website. On this site, customers have access to quotes for insurance plans from various agencies, such as local or nationwide agencies, brand names insurance companies, etc. "Online quotes can easily help drivers obtain better car insurance deals. All they have to do is to complete an online form with accurate and real info, then compare prices", said Russell Rabichev, Marketing Director of Internet Marketing Company. CONTACT: Company Name: Internet Marketing CompanyPerson for contact Name: Gurgu CPhone Number: (818) 359-3898Email: [email protected]: https://compare-autoinsurance.Org/ SOURCE: Compare-autoinsurance.Org View source version on accesswire.Com:https://www.Accesswire.Com/595055/What-Are-The-Main-Benefits-Of-Comparing-Car-Insurance-Quotes-Online View photos
to request, modification Contact us at Here or [email protected]