Healthy eating and exercise help manage Parkinson's disease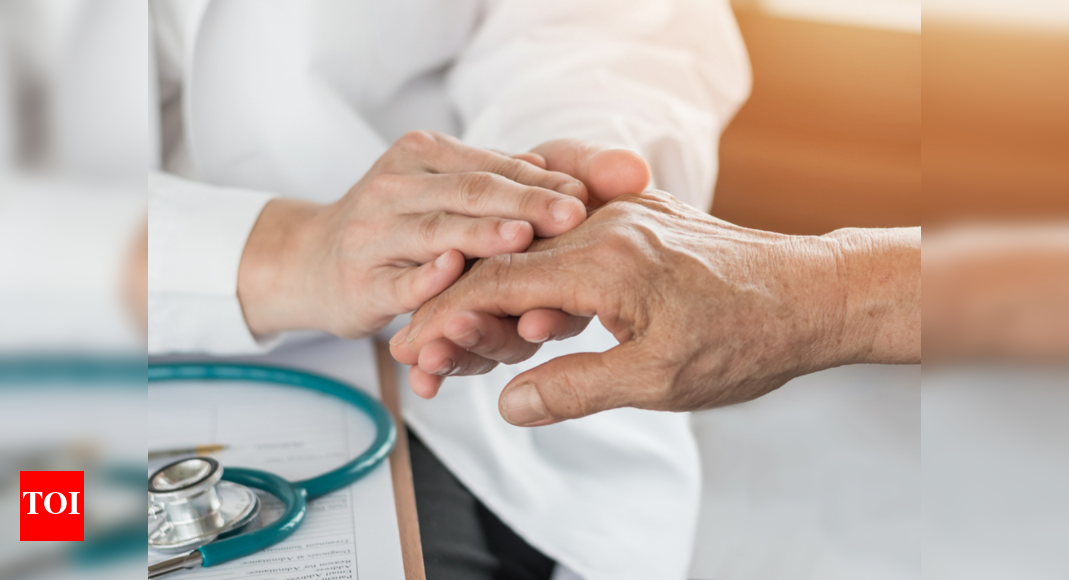 According to doctors, eating a variety of foods, exercising regularly, and getting enough sleep can improve the health and quality of life of people with Parkinson's disease.
World Parkinson's Day is marked every year on April 11th and is supported by the European Parkinson's Disease Association.
The purpose of Parkinson's Disease Awareness Day is to raise awareness of Parkinson's disease and to better understand this condition and how it affects people.

Parkinson's disease is a disease in which the number of nerve cells that carry the neurotransmitter dopamine to other cells decreases. As cell death spreads to larger parts of the brain, more centers are affected. This leads to exacerbations of motor and non-motor disorders.
As individuals grow older, the most important factor is the quality of life they maintain over the years. Parkinson's disease is a commonly witnessed illness that adversely affects the quality of life of humans as they grow older.
Since the exact cause of Parkinson's disease is unknown, proven methods for preventing this disease remain a mystery.
Early onset of Parkinson's disease can be a worrying diagnosis, as it can have a significant impact on the quality of life of individuals and their families. If Parkinson's disease is present at a young age, it is more likely to have a genetic link.
It may also progress differently in the elderly than in Parkinson's disease. Awareness of symptoms helps a person get the treatment and support they need at an early stage.
"There is no prescription for a diet specific to Parkinson's disease, but to maintain overall health, most people with this disease have a variety of whole grains, vegetables, fruits, milk, dairy products, and meat. You should eat foods rich in protein and beans.
You should consider incorporating beneficial fats into your diet, such as nuts, olive oil, fish, and eggs. Eating a variety of foods helps you get the energy, proteins, vitamins, minerals, and fiber you need for your health.
As the disease progresses, it may be necessary to time the protein intake according to the dosing schedule to improve the effectiveness of the drug, "said Suresh Reddy, a neurologist at Aware Gleneagles Global Hospital. I am saying.
"Apart from medicines, there are many ways in which people with Parkinson's disease can improve their health and well-being, maintain physical function, relieve symptoms and improve their quality of life. It's important to exercise regularly, stay hydrated, and get the right amount. You can also develop quality of life habits such as yoga practice, Taijiken, massage and exercise therapy, and acupuncture. , A great way to avoid falling into the Parkinson's disease trap, "said Abhinay M. Huchche, consultant neurologist at SLG Hospital. ..
A. Century Hospital Neurologist Consultant Preetham Reddy said: By 2020, it will grow from 1 billion to 1.4 billion. With increased income, people tend to indulge in habits like alcoholism and can cause illnesses like Parkinson's disease over time. Therefore, there is an urgent need to raise awareness about the risks associated with this disease. How it negatively impacts quality of life, and what precautions can help overcome risks. "
"Several genetic factors increase the risk of developing Parkinson's disease, but it's not clear how they make some people more susceptible to this condition. Inheritance is rare, but Parkinson's disease can develop in the family due to a genetic defect If there are older people in the family who are suffering from this disease, it may not be a bad idea to undergo a genetic map study. " .. Added. Vijay, Consultant Neurologist, KIMS Icon Hospital, Vizag.
Sources
2/ https://timesofindia.indiatimes.com/life-style/health-fitness/health-news/healthy-food-exercise-can-help-manage-parkinsons/articleshow/90778503.cms
The mention sources can contact us to remove/changing this article
What Are The Main Benefits Of Comparing Car Insurance Quotes Online
LOS ANGELES, CA / ACCESSWIRE / June 24, 2020, / Compare-autoinsurance.Org has launched a new blog post that presents the main benefits of comparing multiple car insurance quotes. For more info and free online quotes, please visit https://compare-autoinsurance.Org/the-advantages-of-comparing-prices-with-car-insurance-quotes-online/ The modern society has numerous technological advantages. One important advantage is the speed at which information is sent and received. With the help of the internet, the shopping habits of many persons have drastically changed. The car insurance industry hasn't remained untouched by these changes. On the internet, drivers can compare insurance prices and find out which sellers have the best offers. View photos The advantages of comparing online car insurance quotes are the following: Online quotes can be obtained from anywhere and at any time. Unlike physical insurance agencies, websites don't have a specific schedule and they are available at any time. Drivers that have busy working schedules, can compare quotes from anywhere and at any time, even at midnight. Multiple choices. Almost all insurance providers, no matter if they are well-known brands or just local insurers, have an online presence. Online quotes will allow policyholders the chance to discover multiple insurance companies and check their prices. Drivers are no longer required to get quotes from just a few known insurance companies. Also, local and regional insurers can provide lower insurance rates for the same services. Accurate insurance estimates. Online quotes can only be accurate if the customers provide accurate and real info about their car models and driving history. Lying about past driving incidents can make the price estimates to be lower, but when dealing with an insurance company lying to them is useless. Usually, insurance companies will do research about a potential customer before granting him coverage. Online quotes can be sorted easily. Although drivers are recommended to not choose a policy just based on its price, drivers can easily sort quotes by insurance price. Using brokerage websites will allow drivers to get quotes from multiple insurers, thus making the comparison faster and easier. For additional info, money-saving tips, and free car insurance quotes, visit https://compare-autoinsurance.Org/ Compare-autoinsurance.Org is an online provider of life, home, health, and auto insurance quotes. This website is unique because it does not simply stick to one kind of insurance provider, but brings the clients the best deals from many different online insurance carriers. In this way, clients have access to offers from multiple carriers all in one place: this website. On this site, customers have access to quotes for insurance plans from various agencies, such as local or nationwide agencies, brand names insurance companies, etc. "Online quotes can easily help drivers obtain better car insurance deals. All they have to do is to complete an online form with accurate and real info, then compare prices", said Russell Rabichev, Marketing Director of Internet Marketing Company. CONTACT: Company Name: Internet Marketing CompanyPerson for contact Name: Gurgu CPhone Number: (818) 359-3898Email: [email protected]: https://compare-autoinsurance.Org/ SOURCE: Compare-autoinsurance.Org View source version on accesswire.Com:https://www.Accesswire.Com/595055/What-Are-The-Main-Benefits-Of-Comparing-Car-Insurance-Quotes-Online View photos
to request, modification Contact us at Here or [email protected]