Anxiety: Influential task force recommends screening children ages 8 and older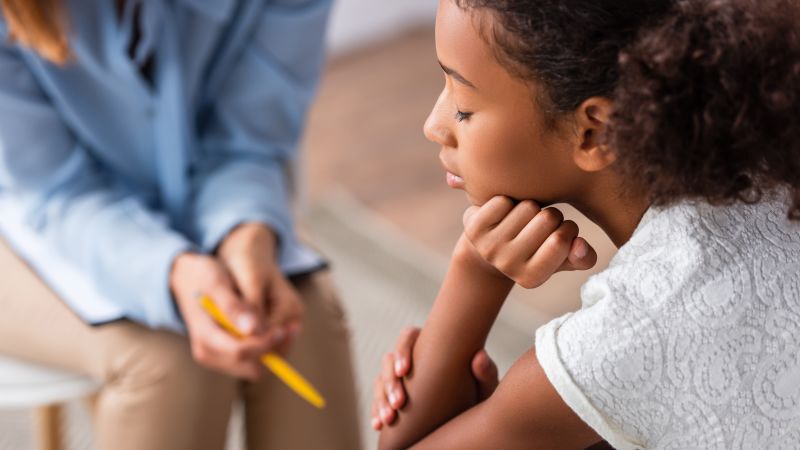 CNN
—

For the first time, the US Preventive Services Task Force recommended screening. anxiety For children ages 8 and up.
In its final recommendations published Tuesday in the medical journal JAMA, the task force also: depression Children 12 years and older, consistent with 2016 recommendations.
Both recommendations apply to children who have not been diagnosed with a mental health condition and who have no recognized symptoms of anxiety or depression.
Members have reviewed recommendations for screening children and adolescents for suicide risk, but said there was insufficient evidence of their harms and benefits.
"The task force reviewed evidence on screening for anxiety, depression, and suicide risk and provided guidance on how primary care professionals can support the mental health of children and adolescents," said Nursing. Member Martha Cubic, a professor at the school, PhD in the Department of Health and Human Services at George Mason University, said in a news release: "Fortunately, screening older children for anxiety and depression can identify these conditions, so children and teens can get the care they need."
The USPSTF is a group of independent disease prevention and health care professionals whose recommendations help guide physician decisions.
according to U.S. Centers for Disease Control and Preventionbetween 2016 and 2019, about 5.8 million children were diagnosed with anxiety and about 2.7 million with depression.
"The 2018-2019 National Child Health Survey (NSCH) found that 7.8% of children and adolescents ages 3 to 17 currently have an anxiety disorder," the new recommendation states. said. "Anxiety disorders in childhood and adolescence are associated with an increased likelihood of future anxiety disorders or depression."
In addition to the lack of evidence regarding suicide risk screening, the USPSTF said there was insufficient evidence to recommend anxiety screening for children 7 and younger and depression screening for children 11 and younger.
"The task force has a deep concern for the mental health of all children and adolescents. There are gaps in the evidence," Lori Pbert, a clinical psychologist and member of the faculty at the University of Massachusetts Chang School of Medicine, said in a news release. "We call for further research in these important areas so that we can provide health professionals with evidence-based ways to keep young patients healthy."
The USPSTF also noted that it found no evidence of adequate screening intervals for depression or anxiety.
Last month, the task force published a draft recommendation that for the first time stated that adults under the age of 65 should be screened for anxiety disorders.
At the time, Pbert told CNN that the anxiety recommendation was prioritized "because of its public health importance, especially the growing interest in mental health in this country over the past few years."
In an editorial published Tuesday alongside the new children's recommendations, Ann and Robert H. Lurie Children's Hospital, Weill Cornell Medicine, and physicians at the University of Cincinnati, said the evidence reports provided with the recommendations were not specific or actionable. You said you weren't giving any guidance possible. Screening should be done in a primary care setting and there are open questions regarding screening.
However, "although future research efforts are needed to address gaps in the evidence base, the available evidence supports advancing the implementation of anxiety disorder screening and treatment in pediatric primary care settings." It seems," they wrote.
They called this "very good news" and noted that most mental disorders, including anxiety disorders, begin in childhood and adolescence.
"Screening in the pediatric primary care setting is critical for early detection and for earlier and more effective treatment to reduce distress, disability, and morbidity associated with delayed recognition and treatment. It offers possibilities," they said.
In a separate editorial published in JAMA on Tuesday, Dr. Oscar Buxstein of Boston Children's Hospital made the following recommendations regarding depression and suicide risk: "
"It is no coincidence that the USPSTF has considered screening evidence for suicide and depression in the same most recent evidence report and systematic review." Given the value of depression screening, suicide screening under the umbrella of depression screening has the potential to accomplish both screening tasks simultaneously."
Bukstein also said the recommendations from the task force suggest that more questions need to be asked than the current evidence can answer.
Sources
2/ https://www.cnn.com/2022/10/11/health/anxiety-screening-children-uspstf/index.html
The mention sources can contact us to remove/changing this article
What Are The Main Benefits Of Comparing Car Insurance Quotes Online
LOS ANGELES, CA / ACCESSWIRE / June 24, 2020, / Compare-autoinsurance.Org has launched a new blog post that presents the main benefits of comparing multiple car insurance quotes. For more info and free online quotes, please visit https://compare-autoinsurance.Org/the-advantages-of-comparing-prices-with-car-insurance-quotes-online/ The modern society has numerous technological advantages. One important advantage is the speed at which information is sent and received. With the help of the internet, the shopping habits of many persons have drastically changed. The car insurance industry hasn't remained untouched by these changes. On the internet, drivers can compare insurance prices and find out which sellers have the best offers. View photos The advantages of comparing online car insurance quotes are the following: Online quotes can be obtained from anywhere and at any time. Unlike physical insurance agencies, websites don't have a specific schedule and they are available at any time. Drivers that have busy working schedules, can compare quotes from anywhere and at any time, even at midnight. Multiple choices. Almost all insurance providers, no matter if they are well-known brands or just local insurers, have an online presence. Online quotes will allow policyholders the chance to discover multiple insurance companies and check their prices. Drivers are no longer required to get quotes from just a few known insurance companies. Also, local and regional insurers can provide lower insurance rates for the same services. Accurate insurance estimates. Online quotes can only be accurate if the customers provide accurate and real info about their car models and driving history. Lying about past driving incidents can make the price estimates to be lower, but when dealing with an insurance company lying to them is useless. Usually, insurance companies will do research about a potential customer before granting him coverage. Online quotes can be sorted easily. Although drivers are recommended to not choose a policy just based on its price, drivers can easily sort quotes by insurance price. Using brokerage websites will allow drivers to get quotes from multiple insurers, thus making the comparison faster and easier. For additional info, money-saving tips, and free car insurance quotes, visit https://compare-autoinsurance.Org/ Compare-autoinsurance.Org is an online provider of life, home, health, and auto insurance quotes. This website is unique because it does not simply stick to one kind of insurance provider, but brings the clients the best deals from many different online insurance carriers. In this way, clients have access to offers from multiple carriers all in one place: this website. On this site, customers have access to quotes for insurance plans from various agencies, such as local or nationwide agencies, brand names insurance companies, etc. "Online quotes can easily help drivers obtain better car insurance deals. All they have to do is to complete an online form with accurate and real info, then compare prices", said Russell Rabichev, Marketing Director of Internet Marketing Company. CONTACT: Company Name: Internet Marketing CompanyPerson for contact Name: Gurgu CPhone Number: (818) 359-3898Email: [email protected]: https://compare-autoinsurance.Org/ SOURCE: Compare-autoinsurance.Org View source version on accesswire.Com:https://www.Accesswire.Com/595055/What-Are-The-Main-Benefits-Of-Comparing-Car-Insurance-Quotes-Online View photos
to request, modification Contact us at Here or [email protected]