What to Know About Stomach Paralysis and GLP-1s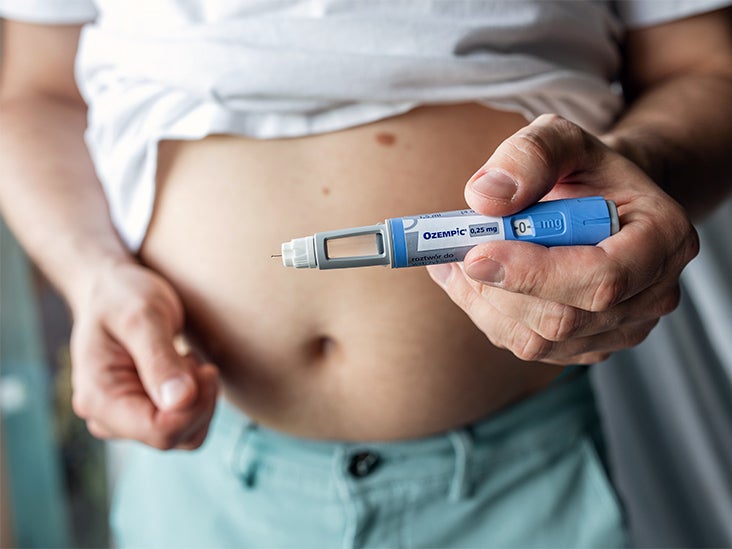 People are reporting severe side effects from a class of drugs that includes Wegovy and Ozempic.
That severe side effect, stomach paralysis, appears to be relatively rare.
Experts say that both patients and clinicians need to be aware of this side effect and its consequences.
The rise of popular GLP-1 drugs such as Ozempic and Wegovy, which are used to treat Type 2 diabetes and in some cases obesity, has also led to some people reporting severe side effects including one called "stomach paralysis."
The active ingredient in both Ozempic and Wegovy is semaglutide, which slows digestion in the stomach.
But in some cases, the stomach can take too long to empty out, leading to "stomach paralysis" or gastroparesis.
Stomach paralysis can result from a variety of factors, but is a documented side effect of taking GLP-1 drugs like Ozempic and Wegovy.
If food is taking too long to leave the stomach, due to a condition called gastroparesis, it can harden into masses called bezoars, according to the National Institutes of Health. These can lead to blockages in the intestine and other issues.
Stomach paralysis, alongside more common symptoms like vomiting and nausea, is something that Dr. Shilpa Mehra Dang, a gastroenterologist at Medical Offices of Manhattan, said needs to be kept in mind by both patients and clinicians.
"The link between GLP-1 drugs and stomach paralysis isn't fully known yet," Dang told Healthline. "But it's thought that it has to do with how these drugs affect the autonomic nervous system, which is in control of the digestive tract's bodily functions. It is very important for doctors and nurses to keep an eye on patients who are taking GLP-1 receptor agonist drugs for any signs of stomach problems, such as sickness, vomiting, bloating, and feeling full before they should. These are all symptoms of gastroparesis."
Weight loss specialists like Dr. Mir B. Ali, a bariatric surgeon, want to make it clear that severe stomach paralysis is still a rare side effect.
"I was somewhat surprised to see this as a long-term complication with patients continuing to experience problems even after stopping the medication," Ali said. "I would caution patients who already have a diagnosis of gastroparesis not to use this medication and make all patients aware of this. However, I would also inform them that the incidence of this side effect is relatively low."
Since Wegovy was approved for weight loss by the FDA, having already been found to treat Type 2 diabetes effectively, research into reported side effects has been ongoing.
In data given to the FDA, Novo Nordisk reported that in a trial with over 3,000 participants, six people out of 2,116 given Wegovy developed stomach paralysis. Comparatively, in the group of 1,261 who received a placebo, four people developed the condition as well.
The latest reports of stomach paralysis came after the FDA received complaints via their public reporting system, according to CNN.
Dr. Andrew Boxer, gastroenterologist at Gastroenterology Associates of New Jersey, is among a number of gastroenterologists who says he's seeing an increased number of patients coming into his practice complaining of side effects from these types of drugs.
"I was seeing a tremendous amount of people coming in just with nausea, vomiting, and feelings of fullness, early satiety, just not feeling well … Universally these patients were on GLP-1's."
Boxer says there are two main issues when it comes to treating patients with these symptoms. First, they may be unaware that these side effects were even a possibility. Second, he says that many people don't think to mention that they are taking these medications at all, especially if they've started them since their last visit.
"They're seeing a GI doctor for a colonoscopy. They think you [only] need to know about constipation, diarrhea, blood in the stool if someone had colon cancer in their family, and that's it," Boxer said.
Dr. Amy Lee, Chief Medical Officer at the California-based Lindora clinic, prescribes GLP-1s as part of her practice. She says that she hasn't seen any patients who have experienced severe side effects. However, she emphasized that communication about all possible side effects including severe ones is vital to patient health.
"I think some of my patients have this mentality of, 'Just give me this medication, I don't want to hear more about it. I just want to take it like right now, as soon as possible.' But you really, truly, do need to sit down with a provider who's managing your medications, who's following up with you to document all side effects," Lee said.
Lee, whose work involves obesity medicine, also says that clinicians need to be mindful when it comes to possible candidates for these medications who have a previous history of gastrointestinal issues. She wants people to know that it's important for practitioners to be able to differentiate between what might be a drug side effect versus a symptom.
"Understanding your patient population is key. And also, if someone comes in with a lot of gastric issues in the first place, then don't put them on something that you know is going to actually slow down their gut even more. Because you're not doing anyone a favor, you may be causing more harm than good."
If you're having side effects from these drugs, a physician can order tests to identify whether the medication is the problem. Boxer says that one of the first steps, after discussing your symptoms, would be to get a gastric emptying study.
"That's when you give a patient a radio-labeled food, usually an egg sandwich or sometimes oatmeal, and use serial X-rays or different images to look to see how quickly things are [going] through the stomach."
From there, patients may be told to stop their GLP-1 and given medications to counteract these symptoms.
Regardless of possible pathways to treatment, Dang said that symptoms like fluctuating blood sugars, heartburn, bloating, or vomiting should all be reason enough for a patient taking a GLP-1 drug to check in with a medical professional.
"If a patient has any of these signs or is worried about possible side effects, they should talk to their healthcare provider as soon as possible. Early diagnosis and treatment are important for dealing with gastroparesis well and avoiding problems."
Sources
2/ https://www.healthline.com/health-news/what-to-know-about-stomach-paralysis-after-using-ozempic-similar-drugs
The mention sources can contact us to remove/changing this article
What Are The Main Benefits Of Comparing Car Insurance Quotes Online
LOS ANGELES, CA / ACCESSWIRE / June 24, 2020, / Compare-autoinsurance.Org has launched a new blog post that presents the main benefits of comparing multiple car insurance quotes. For more info and free online quotes, please visit https://compare-autoinsurance.Org/the-advantages-of-comparing-prices-with-car-insurance-quotes-online/ The modern society has numerous technological advantages. One important advantage is the speed at which information is sent and received. With the help of the internet, the shopping habits of many persons have drastically changed. The car insurance industry hasn't remained untouched by these changes. On the internet, drivers can compare insurance prices and find out which sellers have the best offers. View photos The advantages of comparing online car insurance quotes are the following: Online quotes can be obtained from anywhere and at any time. Unlike physical insurance agencies, websites don't have a specific schedule and they are available at any time. Drivers that have busy working schedules, can compare quotes from anywhere and at any time, even at midnight. Multiple choices. Almost all insurance providers, no matter if they are well-known brands or just local insurers, have an online presence. Online quotes will allow policyholders the chance to discover multiple insurance companies and check their prices. Drivers are no longer required to get quotes from just a few known insurance companies. Also, local and regional insurers can provide lower insurance rates for the same services. Accurate insurance estimates. Online quotes can only be accurate if the customers provide accurate and real info about their car models and driving history. Lying about past driving incidents can make the price estimates to be lower, but when dealing with an insurance company lying to them is useless. Usually, insurance companies will do research about a potential customer before granting him coverage. Online quotes can be sorted easily. Although drivers are recommended to not choose a policy just based on its price, drivers can easily sort quotes by insurance price. Using brokerage websites will allow drivers to get quotes from multiple insurers, thus making the comparison faster and easier. For additional info, money-saving tips, and free car insurance quotes, visit https://compare-autoinsurance.Org/ Compare-autoinsurance.Org is an online provider of life, home, health, and auto insurance quotes. This website is unique because it does not simply stick to one kind of insurance provider, but brings the clients the best deals from many different online insurance carriers. In this way, clients have access to offers from multiple carriers all in one place: this website. On this site, customers have access to quotes for insurance plans from various agencies, such as local or nationwide agencies, brand names insurance companies, etc. "Online quotes can easily help drivers obtain better car insurance deals. All they have to do is to complete an online form with accurate and real info, then compare prices", said Russell Rabichev, Marketing Director of Internet Marketing Company. CONTACT: Company Name: Internet Marketing CompanyPerson for contact Name: Gurgu CPhone Number: (818) 359-3898Email: [email protected]: https://compare-autoinsurance.Org/ SOURCE: Compare-autoinsurance.Org View source version on accesswire.Com:https://www.Accesswire.Com/595055/What-Are-The-Main-Benefits-Of-Comparing-Car-Insurance-Quotes-Online View photos
to request, modification Contact us at Here or [email protected]