Persistence Through the Pain, Determination in the Heart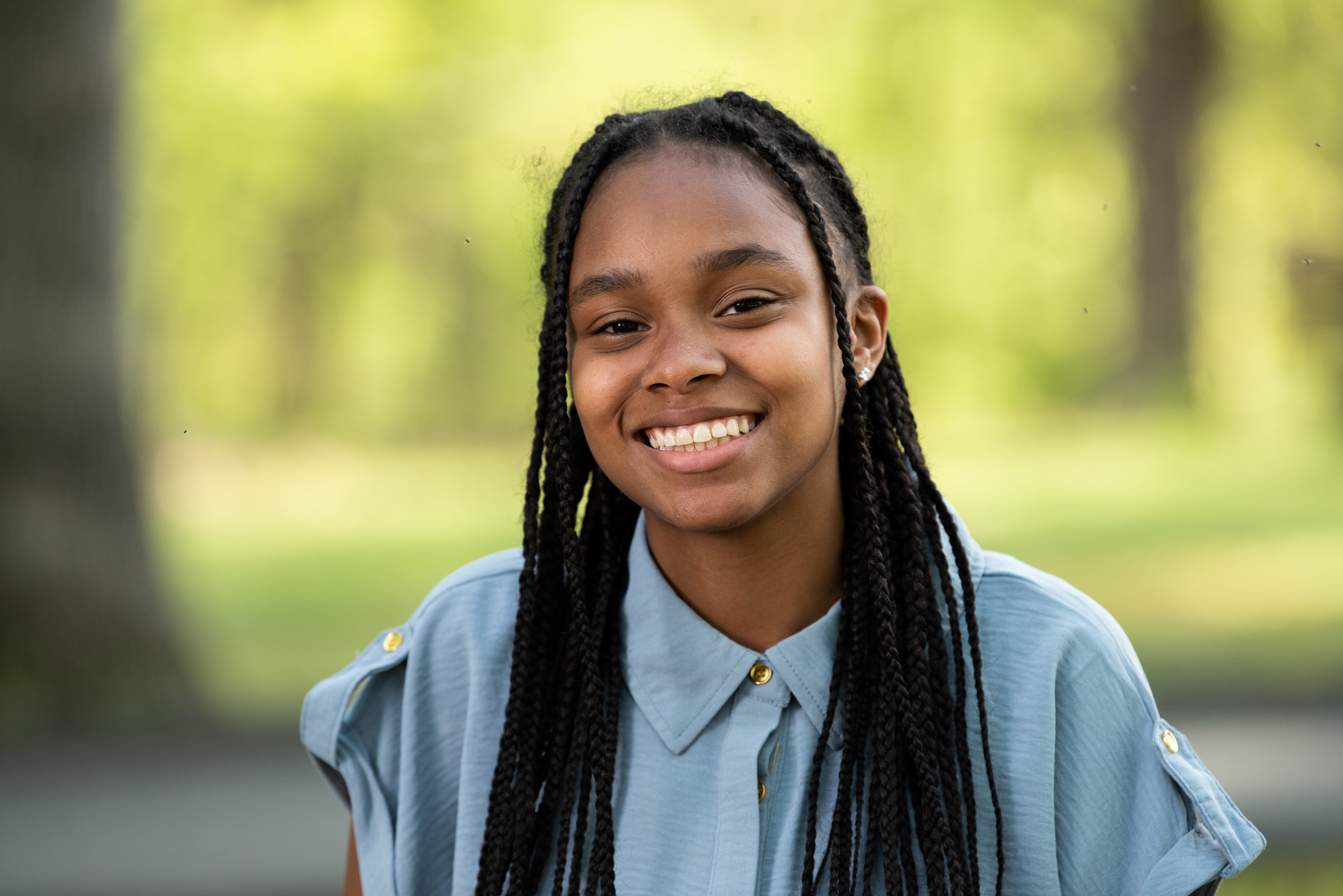 Sixteen-year-old Skylar Dandridge is used to keeping up. Keeping up to ensure her missed schoolwork is turned in on time to avoid slipping grades. Keeping up to avoid feeling stressed and anxious. And keeping up to make her parents and herself proud despite the battle she constantly endures.
Skylar has sickle cell disease. So do her two younger siblings.
Diagnosed at birth, she has been managing the disease her entire life under the guidance of her parents. Sickle cell disease – the most common genetic blood disorder in the U.S. – is something they know well since her father, David, has it too. Her mother, Omowunmi, carries the sickle cell trait, which means she received a sickle cell gene from one of her parents, but does not have sickle cell disease.
Skylar is outgoing and always up for an adventure. Seeking out excitement is embedded in her core, but it can come at a cost. "At the age of four, my parents advised me about sickle cell and always told me to stay hydrated and to not push myself so hard," Skylar says. When she was younger, she recalls playing at a trampoline park jumping to her heart's content—not realizing until it was too late that, that was pushing too hard.
She ended up with what's called a sickle cell pain crisis. It's brought on by sickled, crescent-shaped red blood cells, (which are normally round when healthy), getting stuck in the blood vessels, blocking blood flow throughout the body and resulting in unbearable levels of pain. Skylar still experiences these crises, notably with pain ricocheting through her arms and legs which often doesn't always subside through home treatments or remedies. Instead, blood transfusions may be needed to help ease pain by increasing the number of normal red blood cells.
Sickle cell disease affects the whole body. In 2019, Skylar received a blood transfusion when she had surgery on her femur bone. To help her avoid going into a sickle cell crisis or experiencing complications related to the surgery, that blood was critical. Since blood cannot be manufactured, she was dependent on the generosity of someone rolling up their sleeve to help her make a full recovery. Now, patients everywhere feel that same urgency as the country faces a national blood shortage.
As a teenager, she faces pressure especially when it comes to her academic world, which she takes seriously. "If I'm in the hospital it's hard to keep up with my work," she says. "I'm always worried about those assignments piling up and with those thoughts, it can be really scary."
But her time surrounded by medical care professionals has also influenced her dreams — for the better. For Skylar, her dream of becoming a nurse when she grows up is easily envisioned. She can see herself building lasting relationships with future patients, knowing one day she'll have a hand in saving other people's lives just by keeping up with what captures her heart.
This month, the Red Cross is launching Joined by Blood, a fall activation of the Red Cross Sickle Cell Initiative, representing the powerful connection between blood donors and patients. One in 3 African American blood donors are a match for people with sickle cell disease. To help ensure patients have the blood products they need, the Red Cross is teaming up with partners in the Black community — such as 100 Black Men of America, Inc., Kier's Hope Foundation, Inc. and others — to host blood drives and rally blood donors who are Black to support the blood transfusion needs of patients with sickle cell.
To schedule an appointment to give blood, visit RedCrossBlood.org/OurBlood or call 1-800-RED-CROSS (1-800-733-2767).
Sources
2/ https://www.redcross.org/about-us/news-and-events/news/2023/life-with-sickle-cell-persistence-through-the-pain.html
The mention sources can contact us to remove/changing this article
What Are The Main Benefits Of Comparing Car Insurance Quotes Online
LOS ANGELES, CA / ACCESSWIRE / June 24, 2020, / Compare-autoinsurance.Org has launched a new blog post that presents the main benefits of comparing multiple car insurance quotes. For more info and free online quotes, please visit https://compare-autoinsurance.Org/the-advantages-of-comparing-prices-with-car-insurance-quotes-online/ The modern society has numerous technological advantages. One important advantage is the speed at which information is sent and received. With the help of the internet, the shopping habits of many persons have drastically changed. The car insurance industry hasn't remained untouched by these changes. On the internet, drivers can compare insurance prices and find out which sellers have the best offers. View photos The advantages of comparing online car insurance quotes are the following: Online quotes can be obtained from anywhere and at any time. Unlike physical insurance agencies, websites don't have a specific schedule and they are available at any time. Drivers that have busy working schedules, can compare quotes from anywhere and at any time, even at midnight. Multiple choices. Almost all insurance providers, no matter if they are well-known brands or just local insurers, have an online presence. Online quotes will allow policyholders the chance to discover multiple insurance companies and check their prices. Drivers are no longer required to get quotes from just a few known insurance companies. Also, local and regional insurers can provide lower insurance rates for the same services. Accurate insurance estimates. Online quotes can only be accurate if the customers provide accurate and real info about their car models and driving history. Lying about past driving incidents can make the price estimates to be lower, but when dealing with an insurance company lying to them is useless. Usually, insurance companies will do research about a potential customer before granting him coverage. Online quotes can be sorted easily. Although drivers are recommended to not choose a policy just based on its price, drivers can easily sort quotes by insurance price. Using brokerage websites will allow drivers to get quotes from multiple insurers, thus making the comparison faster and easier. For additional info, money-saving tips, and free car insurance quotes, visit https://compare-autoinsurance.Org/ Compare-autoinsurance.Org is an online provider of life, home, health, and auto insurance quotes. This website is unique because it does not simply stick to one kind of insurance provider, but brings the clients the best deals from many different online insurance carriers. In this way, clients have access to offers from multiple carriers all in one place: this website. On this site, customers have access to quotes for insurance plans from various agencies, such as local or nationwide agencies, brand names insurance companies, etc. "Online quotes can easily help drivers obtain better car insurance deals. All they have to do is to complete an online form with accurate and real info, then compare prices", said Russell Rabichev, Marketing Director of Internet Marketing Company. CONTACT: Company Name: Internet Marketing CompanyPerson for contact Name: Gurgu CPhone Number: (818) 359-3898Email: [email protected]: https://compare-autoinsurance.Org/ SOURCE: Compare-autoinsurance.Org View source version on accesswire.Com:https://www.Accesswire.Com/595055/What-Are-The-Main-Benefits-Of-Comparing-Car-Insurance-Quotes-Online View photos
to request, modification Contact us at Here or [email protected]