Common antibiotics are still in shortage as strep cases rise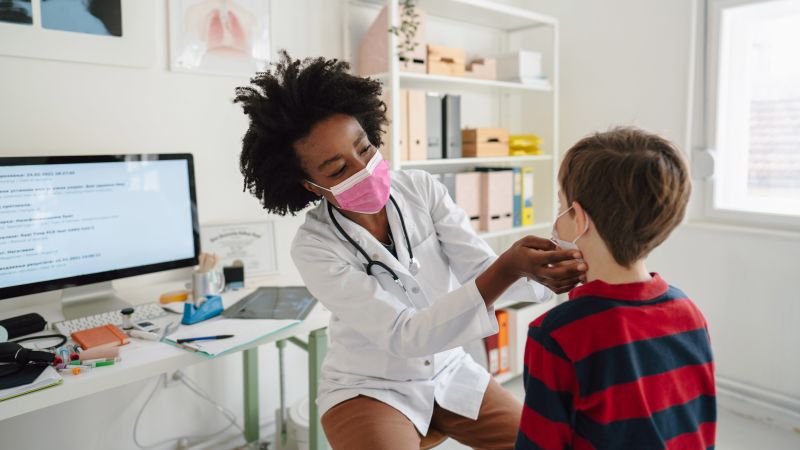 CNN
 — 

Many parents across the US are stretched thin to take care of sick children: Not only are Covid-19, the flu and RSV circulating, but doctors say cases of strep throat are on the rise.
Data shows a steady increase in strep throat cases in the US starting in August, largely in children between the ages of 4 and 12 — but an ongoing shortage of certain forms of amoxicillin, an antibiotic commonly used to treat the bacterial infection, is complicating matters.
Amoxicillin powder, which is mixed to make the liquid formulation of the antibiotic that's commonly used for children, has been in shortage since October 2022, the US Food and Drug Administration's drug shortage database shows.
The FDA says it recognizes the effects of the shortage but emphasizes that it can't force drug companies to make more.
"For amoxicillin powder for oral suspension which went into shortage due to increased demand last fall, the four manufacturers continue to produce, release, and work to fully recover from the shortage. We will continue to keep the website updated with planned recovery dates as the companies provide them and offer assistance on anything the companies need to increase supply," the agency said in a statement Tuesday.
Not all of the manufacturers of amoxicillin powder have provided reasons for the shortfalls. Most are still producing the antibiotic but have it on allocation, which means their customers can order only a limited amount.
Amoxicillin was the most prescribed antibiotic in the country in 2021, with 129 prescriptions filled per 1,000 people, CDC data shows. Antibiotics like amoxicillin are 42% more likely to be in shortage than other types of drugs, according to a 2022 report from US Pharmacopeia.
Capsule and tablet forms of amoxicillin are not on the shortage list, but experts say they are not a suitable option for young children who often can't swallow pills, especially when they have a sore throat.
Alternative antibiotics may not be suitable treatments for other reasons.
"All group A Strep are susceptible to amoxicillin. The same is not true of erythromycin and azithromycin, which are sometimes used as alternatives to amoxicillin. Some group A Strep bacteria are resistant to these antibiotics," according to Dr. Kristina Bryant, a pediatric infectious disease physician at Norton Children's Hospital in Louisville.
"Children usually don't have any trouble taking it, and it has few side effects. Kids tolerate it well," she said of amoxicillin, adding that the alternatives do not taste as good as the bubble-gum-flavored liquid version.
Anyone can get strep throat, but it is most common among children ages 5 to 15, according to the US Centers for Disease Control and Prevention. The infectious season typically runs from December through April, with a peak in February.
According to data from Epic Research, which is owned by the health care software company Epic, strep diagnosis is most common among children 4 to 8. In this group, the share of health care visits for strep usually stays below 5% when the season peaks in February — but this year, it spiked to more than 8% in early March.
Percentages hit a low in early August and have started to slowly increase once again as children returned to school. For the week of October 21, just over 4% of 4- to 8-year-olds in the US had a health care visit for a strep infection, Epic data shows.
Dr. Jennifer Stevenson, director of the emergency department at Henry Ford Medical Center – Fairlane in Dearborn, Michigan, says she has seen a significant amount of strep this year, even during the summer.
"We have most certainly been seeing an increased incidence of strep infections," she noted. "Strep has actually been our second most common diagnosis in the emergency department since March, which is unusual."
In April, an analysis by Epic Research showed that overall strep throat encounters increased to a rate that was nearly 30% higher than in the previous peak, in February 2017, after a significant drop during the Covid-19 pandemic.
The precautions many people took to protect themselves from Covid-19, like wearing masks and social distancing, also protected them from strep throat.
"I do expect that we're going to be seeing more and more strep. And I think as you continue to look at these numbers, I think you're going to see that they're higher than they were last year," Stevenson said.
It is difficult to predict pediatric strep trends over the coming months because the CDC does not track those cases like it does for Covid-19 and the flu, according to Bryant.
"Strep throat is a routine infection, and we know that cases are going to go up every year," she said. "It's such a common infection. There hasn't been a need to track strep throat."
Strep throat is an infection in the throat and tonsils caused by bacteria called group A Streptococcus. It often comes with a fever, sore throat, pain when swallowing and red and swollen tonsils, according to the CDC. Less commonly, some people might have a headache, stomach pain or vomiting.
The bacteria typically stays in the throat and is spread through respiratory droplets and direct contact like drinking from the same cup that an infected person has used.
To confirm a group A Strep infection, health care providers usually do a throat culture or use a rapid antigen detection test, according to the CDC. Rapid test results take about 15 minutes, but results from a throat culture could take two or three days.
Once someone tests positive for strep throat, doctors prescribe antibiotics such as amoxicillin. A person typically stops being contagious after taking antibiotics for about 24 hours, but it's important to keep taking prescribed medications even after you start to feel better.
Some children will get multiple strep infections in a year, according to Bryant, and it may appear that they are no longer responding to the medication.
"I saw several kids like that in the spring. They had multiple episodes back-to-back." However, she noted, "we are not seeing more strep because the bacteria has suddenly become resistant to antibiotics."
If your child's strep throat doesn't get better with antibiotics, Bryant says, it may be that other bacteria in the throat are making the antibiotics less effective. Your child may also be a strep carrier, according to the CDC. In that case, talk to a doctor about further treatment.
There is no vaccine to prevent infection, according to the CDC. Parents should encourage their children to wash their hands regularly at school and cover their mouths when coughing.
If your child is prescribed amoxicillin but you can't find it at your local pharmacy, Stevenson says to ask your doctor for an alternative medication rather than letting the infection go untreated.
"If the strep infection goes untreated, that individual can potentially be contagious with strep for weeks," she said. "The other complication of not fully treating these infections is, it provides those little bacteria the opportunity to develop resistance to the antibiotics that they've been exposed to."
CNN's Deidre McPhillips and Brenda Goodman contributed to this report.
Sources
2/ https://www.cnn.com/2023/11/08/health/strep-amoxicillin-shortage-wellness/index.html
The mention sources can contact us to remove/changing this article
What Are The Main Benefits Of Comparing Car Insurance Quotes Online
LOS ANGELES, CA / ACCESSWIRE / June 24, 2020, / Compare-autoinsurance.Org has launched a new blog post that presents the main benefits of comparing multiple car insurance quotes. For more info and free online quotes, please visit https://compare-autoinsurance.Org/the-advantages-of-comparing-prices-with-car-insurance-quotes-online/ The modern society has numerous technological advantages. One important advantage is the speed at which information is sent and received. With the help of the internet, the shopping habits of many persons have drastically changed. The car insurance industry hasn't remained untouched by these changes. On the internet, drivers can compare insurance prices and find out which sellers have the best offers. View photos The advantages of comparing online car insurance quotes are the following: Online quotes can be obtained from anywhere and at any time. Unlike physical insurance agencies, websites don't have a specific schedule and they are available at any time. Drivers that have busy working schedules, can compare quotes from anywhere and at any time, even at midnight. Multiple choices. Almost all insurance providers, no matter if they are well-known brands or just local insurers, have an online presence. Online quotes will allow policyholders the chance to discover multiple insurance companies and check their prices. Drivers are no longer required to get quotes from just a few known insurance companies. Also, local and regional insurers can provide lower insurance rates for the same services. Accurate insurance estimates. Online quotes can only be accurate if the customers provide accurate and real info about their car models and driving history. Lying about past driving incidents can make the price estimates to be lower, but when dealing with an insurance company lying to them is useless. Usually, insurance companies will do research about a potential customer before granting him coverage. Online quotes can be sorted easily. Although drivers are recommended to not choose a policy just based on its price, drivers can easily sort quotes by insurance price. Using brokerage websites will allow drivers to get quotes from multiple insurers, thus making the comparison faster and easier. For additional info, money-saving tips, and free car insurance quotes, visit https://compare-autoinsurance.Org/ Compare-autoinsurance.Org is an online provider of life, home, health, and auto insurance quotes. This website is unique because it does not simply stick to one kind of insurance provider, but brings the clients the best deals from many different online insurance carriers. In this way, clients have access to offers from multiple carriers all in one place: this website. On this site, customers have access to quotes for insurance plans from various agencies, such as local or nationwide agencies, brand names insurance companies, etc. "Online quotes can easily help drivers obtain better car insurance deals. All they have to do is to complete an online form with accurate and real info, then compare prices", said Russell Rabichev, Marketing Director of Internet Marketing Company. CONTACT: Company Name: Internet Marketing CompanyPerson for contact Name: Gurgu CPhone Number: (818) 359-3898Email: [email protected]: https://compare-autoinsurance.Org/ SOURCE: Compare-autoinsurance.Org View source version on accesswire.Com:https://www.Accesswire.Com/595055/What-Are-The-Main-Benefits-Of-Comparing-Car-Insurance-Quotes-Online View photos
to request, modification Contact us at Here or [email protected]