How to protect yourself from the coronavirus as the number of cases surges and holidays approach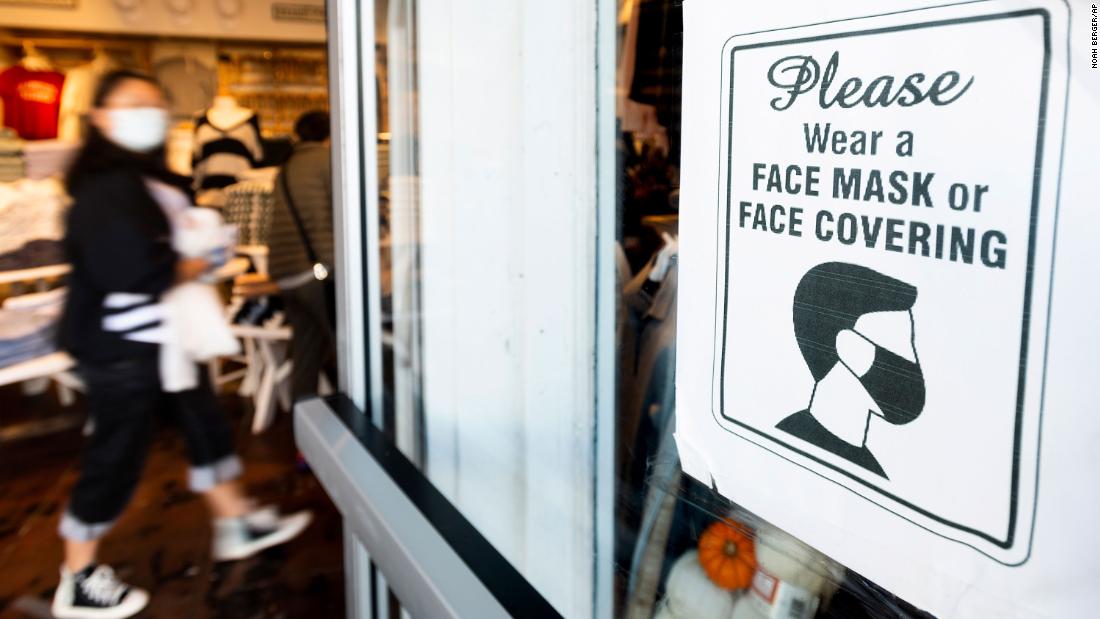 And when winter comes, more people gather indoors to avoid the cold, and health experts say it only gets worse.
How else can you protect yourself and the people you love? This is a basic review.
Please wear the mask properly
N95 masks provide the best protection, but they are in short supply and the CDC urges people not to go out and buy because of the urgent need of healthcare professionals.
A washable, breathable cloth mask will suffice, but at least two layers (three are better) are required. You can add filters for additional protection.
The mask should cover both the nose and mouth and fit snugly without any gaps.
wash hands
Lather well and rub under hands, fingers and nails for at least 20 seconds. Rinse thoroughly with clean running water and then rub to dry.
Washing for at least 20 seconds has been shown to remove more microbes than short wash. If you sing "Happy Birthday" twice while washing, it will function as a "timer".
Use hand sanitizer
It is important to completely cover both hands, including between the fingers and under the nails. Rub your hands until they are dry. According to the CDC, if your hands are greasy or really dirty, the disinfectant may not be very effective and should be used generously.
Reduce risk
The best you can do is stay at home if possible and reduce your risk by reducing errands and trips to stores.
The safest place outside your home is outdoors. But even there, you should keep a safe distance from the people you don't live with.
Also, if possible, you can reduce your risk by taking food home instead of eating at a restaurant and avoiding public transport.
Going to bars and nightclubs is considered one of the most dangerous things you can do.
Get ready
With the proliferation of coronavirus infections nationwide, the coming winter will only make things worse as people spend more time indoors together.
Also, contact with a person infected with the virus may require quarantine at all times.
Public health officials recommend preparing a two-week meal. Keeping your pantry in stock also reduces travel to grocery stores.
Make sure you have enough cleaning and disinfecting supplies and that the medicine rack has cough drops and syrup for cough symptoms, congestion remover, acetaminophen and ibuprofen for pain and fever, and antidiarrheals please. Keep a bandage in stock for scratches.
If you are taking prescription drugs, make sure you have enough at hand.
Check for symptoms and take a test
However, there are also diarrhea, nausea and vomiting, malaise, loss of smell and taste, body aches, confusion, and even delirium.
If exposed to the coronavirus, symptoms will probably appear within a week, health experts say. That is, if you intend to have them-it is not owned by some people. According to the US Centers for Disease Control and Prevention, some or all of the symptoms can appear 2 to 14 days after being exposed to the virus.
Avoid overkill emergency rooms in many places unless you have serious symptoms. Call your doctor and follow her or his instructions.
In that case, CDC advises you to call 911 or call your local emergency medical facility in advance.
Don't feel stressed about disinfecting the package
The same is true for washing fruits and vegetables, according to the FDA. Rinse with plain water.
The main methods of transmission of the virus have been found to be in the air, respiratory droplets, or aerosols from infected individuals. However, it is still important to disinfect the surface and wash your hands after going out or touching things from outside the house.
CNN's Maggie Fox, Holly Yan, Sandee LaMotte, AJ Willingham, Kristen Rogers, Scottie Andrew and Alicia Lee contributed to this report.
..


What Are The Main Benefits Of Comparing Car Insurance Quotes Online
LOS ANGELES, CA / ACCESSWIRE / June 24, 2020, / Compare-autoinsurance.Org has launched a new blog post that presents the main benefits of comparing multiple car insurance quotes. For more info and free online quotes, please visit https://compare-autoinsurance.Org/the-advantages-of-comparing-prices-with-car-insurance-quotes-online/ The modern society has numerous technological advantages. One important advantage is the speed at which information is sent and received. With the help of the internet, the shopping habits of many persons have drastically changed. The car insurance industry hasn't remained untouched by these changes. On the internet, drivers can compare insurance prices and find out which sellers have the best offers. View photos The advantages of comparing online car insurance quotes are the following: Online quotes can be obtained from anywhere and at any time. Unlike physical insurance agencies, websites don't have a specific schedule and they are available at any time. Drivers that have busy working schedules, can compare quotes from anywhere and at any time, even at midnight. Multiple choices. Almost all insurance providers, no matter if they are well-known brands or just local insurers, have an online presence. Online quotes will allow policyholders the chance to discover multiple insurance companies and check their prices. Drivers are no longer required to get quotes from just a few known insurance companies. Also, local and regional insurers can provide lower insurance rates for the same services. Accurate insurance estimates. Online quotes can only be accurate if the customers provide accurate and real info about their car models and driving history. Lying about past driving incidents can make the price estimates to be lower, but when dealing with an insurance company lying to them is useless. Usually, insurance companies will do research about a potential customer before granting him coverage. Online quotes can be sorted easily. Although drivers are recommended to not choose a policy just based on its price, drivers can easily sort quotes by insurance price. Using brokerage websites will allow drivers to get quotes from multiple insurers, thus making the comparison faster and easier. For additional info, money-saving tips, and free car insurance quotes, visit https://compare-autoinsurance.Org/ Compare-autoinsurance.Org is an online provider of life, home, health, and auto insurance quotes. This website is unique because it does not simply stick to one kind of insurance provider, but brings the clients the best deals from many different online insurance carriers. In this way, clients have access to offers from multiple carriers all in one place: this website. On this site, customers have access to quotes for insurance plans from various agencies, such as local or nationwide agencies, brand names insurance companies, etc. "Online quotes can easily help drivers obtain better car insurance deals. All they have to do is to complete an online form with accurate and real info, then compare prices", said Russell Rabichev, Marketing Director of Internet Marketing Company. CONTACT: Company Name: Internet Marketing CompanyPerson for contact Name: Gurgu CPhone Number: (818) 359-3898Email: [email protected]rnetmarketingcompany.BizWebsite: https://compare-autoinsurance.Org/ SOURCE: Compare-autoinsurance.Org View source version on accesswire.Com:https://www.Accesswire.Com/595055/What-Are-The-Main-Benefits-Of-Comparing-Car-Insurance-Quotes-Online View photos
Pictures Credit
to request, modification Contact us at Here or [email protected]