Abortion rights supporters rally across the United States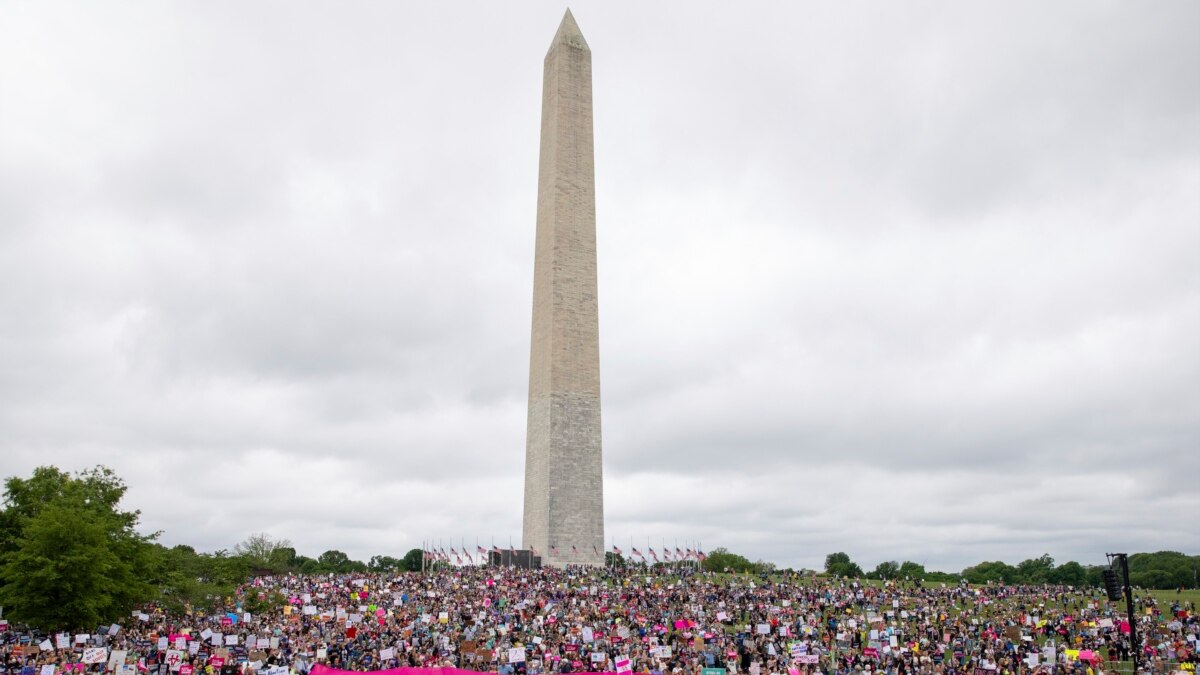 Washington
Abortion rights supporters took to the streets across America on Saturday to express their anger at the prospect that the Supreme Court will soon strike down the constitutional right to abortion. Cries of "My body, my choice" rang out as activists pledged to fight for what they called reproductive freedom.
Furious after a leaked draft opinion suggested the court's conservative majority would vote to overturn the landmark Roe v. Wade ruling, activists rallied to express their outrage and rally for the future as states led by Republicans are set to pass tougher restrictions.
In the nation's capital, thousands gathered in rainy weather at the Washington Monument to listen to fiery speeches before heading to the Supreme Court, which is now surrounded by two layers of security barriers.
The mood was one of anger and defiance.
"I can't believe that at my age I still have to protest this," said Samantha Rivers, a 64-year-old federal government worker who is preparing for a state-by-state battle over the right to abortion.
Caitlin Loehr, 34, of Washington, wore a black t-shirt with a picture of the late Supreme Court Justice Ruth Bader Ginsburg's "dissident" necklace on it and a necklace that spelled "vote".
"I think women should have the right to choose what to do with their bodies and their lives. And I don't think banning abortion will stop abortion. It just makes it dangerous and can cost lives. to a woman," Loehr said.
Half a dozen anti-abortion protesters sent out a counter message, with Jonathan Darnel, an anti-abortion activist, shouting into a microphone: "Abortion is not healthcare, folks, because pregnancy is not a disease".
From Pittsburgh to Pasadena, Calif., and from Nashville, TN to Lubbock, TX, tens of thousands of people participated in "Bans off our Bodies" events. Organizers expected that of the hundreds of events, the biggest would be in Chicago, New York, Los Angeles and other major cities.
"If it's a fight they want, it's a fight they'll get," Rachel Carmona, executive director of the Women's March, said ahead of the march.
Polls show most Americans want to preserve access to abortion at least in the early stages of pregnancy, but the Supreme Court appears to be poised to let states have the final say. If that happens, about half of the states, mostly in the South and Midwest, should quickly ban abortion.
The battle was personal for some protesters.
Teisha Kimmons, who traveled 80 miles to attend the Chicago rally, said she fears for women in states that are prepared to ban abortion. She said she might not be alive today if she hadn't had a legal abortion when she was 15.
"I was already starting to self-harm and I would have rather died than have a baby," said Kimmons, a massage therapist from Rockford, Illinois.
At that rally, speakers told the crowd that if abortion were banned, the rights of immigrants, minorities and others would also be "gutted", as Amy Eshleman, wife of the mayor of Chicago, put it. Lori Lightfoot.
"It was never just about abortion. It's about control," Eshleman told the crowd of thousands. "My wedding is on the menu, and we can't and won't let that happen," she added.
In New York, thousands of people gathered in Brooklyn Courthouse Square ahead of a march over the Brooklyn Bridge to lower Manhattan where another rally was planned.
"We're here for the women who can't be here and for the girls who are too young to know what's to come," said Angela Hamlet, 60, of Manhattan, amid booming music.
Robin Seidon, who traveled from Montclair, New Jersey, for the rally, said the nation was in a place abortion rights supporters had long feared.
"They nibbled at the edges, and it was always a matter of time before they thought they had enough power on the Supreme Court, which they have now," Seidon, 65, said.
The High Court's upcoming decision in a Mississippi case is expected to energize voters, potentially shaping the upcoming midterm elections.
In Texas, where a strict law prohibits many abortions, the challenger of one of the last anti-abortion Democrats in Congress marched in San Antonio.
Jessica Cisneros joined the protesters just days before early voting began in her first runoff against US Representative Henry Cuellar. The race could be one of the first tests of whether the court flight will galvanize voters.
In Chicago, Kjirsten Nyquist, a nurse carrying girls aged 1 and 3, agreed on the need to vote.
"As much as federal elections, voting in every little election matters just as much," she said.
Saturday's rallies come three days after the Senate failed to muster enough votes to codify Roe v. Wade. Sponsors included Women's March, Move On, Planned Parenthood, UltraViolet, MoveOn, SEIU and other organizations.
Court Justices Samuel Alito and Brett Kavanaugh, who voted to overturn Roe v. Wade, according to the leaked opinion.
Students for Life of America, an anti-abortion advocacy group with chapters on campuses across the country, said it was holding counter-protests Saturday in nine US cities, including Washington.
Sources
2/ https://www.voanews.com/a/us-abortion-rights-activists-start-summer-of-rage-with-saturday-protests/6571323.html
The mention sources can contact us to remove/changing this article
What Are The Main Benefits Of Comparing Car Insurance Quotes Online
LOS ANGELES, CA / ACCESSWIRE / June 24, 2020, / Compare-autoinsurance.Org has launched a new blog post that presents the main benefits of comparing multiple car insurance quotes. For more info and free online quotes, please visit https://compare-autoinsurance.Org/the-advantages-of-comparing-prices-with-car-insurance-quotes-online/ The modern society has numerous technological advantages. One important advantage is the speed at which information is sent and received. With the help of the internet, the shopping habits of many persons have drastically changed. The car insurance industry hasn't remained untouched by these changes. On the internet, drivers can compare insurance prices and find out which sellers have the best offers. View photos The advantages of comparing online car insurance quotes are the following: Online quotes can be obtained from anywhere and at any time. Unlike physical insurance agencies, websites don't have a specific schedule and they are available at any time. Drivers that have busy working schedules, can compare quotes from anywhere and at any time, even at midnight. Multiple choices. Almost all insurance providers, no matter if they are well-known brands or just local insurers, have an online presence. Online quotes will allow policyholders the chance to discover multiple insurance companies and check their prices. Drivers are no longer required to get quotes from just a few known insurance companies. Also, local and regional insurers can provide lower insurance rates for the same services. Accurate insurance estimates. Online quotes can only be accurate if the customers provide accurate and real info about their car models and driving history. Lying about past driving incidents can make the price estimates to be lower, but when dealing with an insurance company lying to them is useless. Usually, insurance companies will do research about a potential customer before granting him coverage. Online quotes can be sorted easily. Although drivers are recommended to not choose a policy just based on its price, drivers can easily sort quotes by insurance price. Using brokerage websites will allow drivers to get quotes from multiple insurers, thus making the comparison faster and easier. For additional info, money-saving tips, and free car insurance quotes, visit https://compare-autoinsurance.Org/ Compare-autoinsurance.Org is an online provider of life, home, health, and auto insurance quotes. This website is unique because it does not simply stick to one kind of insurance provider, but brings the clients the best deals from many different online insurance carriers. In this way, clients have access to offers from multiple carriers all in one place: this website. On this site, customers have access to quotes for insurance plans from various agencies, such as local or nationwide agencies, brand names insurance companies, etc. "Online quotes can easily help drivers obtain better car insurance deals. All they have to do is to complete an online form with accurate and real info, then compare prices", said Russell Rabichev, Marketing Director of Internet Marketing Company. CONTACT: Company Name: Internet Marketing CompanyPerson for contact Name: Gurgu CPhone Number: (818) 359-3898Email: [email protected]: https://compare-autoinsurance.Org/ SOURCE: Compare-autoinsurance.Org View source version on accesswire.Com:https://www.Accesswire.Com/595055/What-Are-The-Main-Benefits-Of-Comparing-Car-Insurance-Quotes-Online View photos
to request, modification Contact us at Here or [email protected]