ONS said GDP fell 0.3% in April and is now 0.9% above pre-pandemic levels.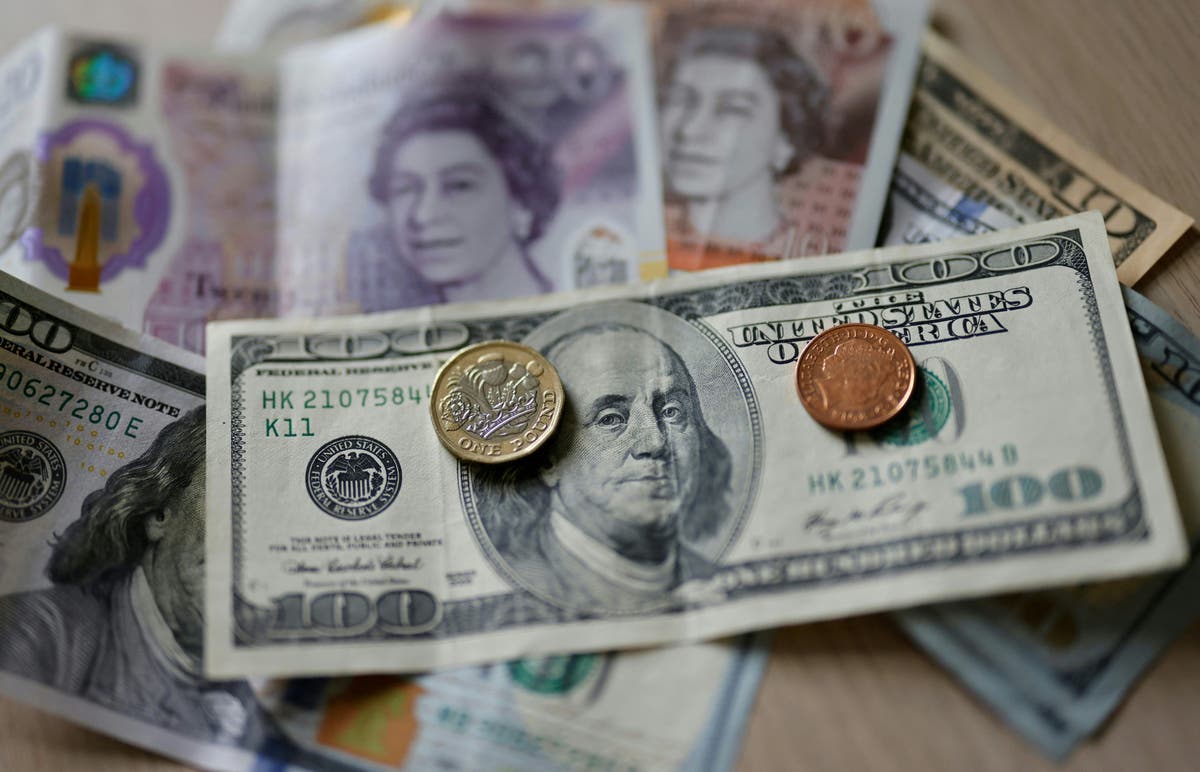 The pound fell against the dollar and the UK stock market plunged on Monday after depressing figures that the UK was approaching a recession.
The economy suffered an unexpected decline in April, driven by soaring commodity prices, interest rate hikes and record fuel costs.
Experts say the data is now catching up with several challenges the UK faces and further problems are likely to arise as trade relations with the EU deteriorate.
UK gross domestic product (GDP), representing the total goods and services produced, fell 0.3% in April, following a 0.1% decline in March and 0% growth in February, according to official figures.
Markets reacted strongly to the news, with London's FTSE 100 leading index falling 1.5% and the pound dropping 1.5 cents against the dollar. Sterling was trading at $1.216 when the London Stock Exchange was closed for a day.
As the S&P 500 fell again, Wall Street screens across the Atlantic flashed red, losing 2.4% of its value in morning trading.
The index is currently in a bear market and has lost a fifth of its value since it recently peaked in January. The tech-focused Nasdaq has lost more than 30% of its present value since its recent peak.
High-growth tech stocks like Peloton and Zoom have been hit hard in recent weeks, wiping out huge gains from the early days of the pandemic.
The sell-off occurred as the central bank raised interest rates to calm the economy and slow inflation.
There are growing fears that central banks will be forced to act more hawkish or that inflation will be difficult to control.
In April, UK domestic energy rates surged 54% as workers received national insurance increases. Meanwhile, food and fuel prices soared due to severe supply disruptions caused by Russia's invasion of Ukraine.
The UK Statistics Office (ONS) said on Monday that Britain's GDP was 0.9 per cent above pre-pandemic levels but 0.4 per cent below the high reached in January. Analysts expected the gross domestic product (GDP) to rise 0.1% in April.
ONS said it was the first time GDP fell for a second straight month since March and April 2020, when the pandemic first took its toll and plunged the economy.
The categories of human health and social welfare activities have made a major contribution to the decline in economic output.
(ON)
Production in the services sector, which accounts for more than three-quarters of the UK economy, fell 0.3%. This is mainly due to the end of the government's Covid-19 testing and tracking program and reduced immunization activity.
Ending the free test reduced GDP by 0.5%. If testing and tracking and vaccine effects were eliminated, production would have risen 0.1% in April, ONS said.
Activity also declined in two other major sectors of the economy. Manufacturing fell 1% as businesses report that they have been hit hard by large price hikes and supply delays. Construction output fell by 0.4%.
Last week, the OECD Group of Wealthy Countries released a forecast predicting that the UK will lag behind all developed countries except Russia next year as growth dips to zero.
Analysts are divided on whether the UK will avoid a recession, the second straight quarter of negative growth.
EY Item Club's chief economic adviser, Martin Beck, said the outlook was not good.
He added that UK interest rates are likely to rise again later this week, adding that already severe pressures on household spending power will be negatively impacted by global supply chain friction and the recent weakness in inflation.
The Bank of England is due to release its latest interest rate decision on Thursday and the market expects further gains.
The Banks Monetary Policy Committee is working to moderate inflation, which it expects to hit 10% by the end of the year, well above its 2% target.
Further increases are expected to further exacerbate household budgets and slow consumer spending, straining the broader economy.
Samuel Tombs, chief UK economist at Pantheon Macroeconomics, said private sector activity has helped offset a sharp decline in government spending related to the coronavirus and a new weakness in manufacturing. But the chances of a recession are still low, he said.
Household real disposable income will increase in both the third and fourth quarters. The Prime Minister announced an additional $5 billion in grants for the quarter, equivalent to nearly 2% of projected earnings for the quarter.
So, if energy prices stop rising and households begin to use their savings cautiously, we expect quarterly GDP growth of around 0.6% in the third quarter and 0.5% in the fourth quarter, he added.
Sources
2/ https://www.independent.co.uk/news/business/news/gdp-figures-covid-decrease-ons-b2099495.html
The mention sources can contact us to remove/changing this article
What Are The Main Benefits Of Comparing Car Insurance Quotes Online
LOS ANGELES, CA / ACCESSWIRE / June 24, 2020, / Compare-autoinsurance.Org has launched a new blog post that presents the main benefits of comparing multiple car insurance quotes. For more info and free online quotes, please visit https://compare-autoinsurance.Org/the-advantages-of-comparing-prices-with-car-insurance-quotes-online/ The modern society has numerous technological advantages. One important advantage is the speed at which information is sent and received. With the help of the internet, the shopping habits of many persons have drastically changed. The car insurance industry hasn't remained untouched by these changes. On the internet, drivers can compare insurance prices and find out which sellers have the best offers. View photos The advantages of comparing online car insurance quotes are the following: Online quotes can be obtained from anywhere and at any time. Unlike physical insurance agencies, websites don't have a specific schedule and they are available at any time. Drivers that have busy working schedules, can compare quotes from anywhere and at any time, even at midnight. Multiple choices. Almost all insurance providers, no matter if they are well-known brands or just local insurers, have an online presence. Online quotes will allow policyholders the chance to discover multiple insurance companies and check their prices. Drivers are no longer required to get quotes from just a few known insurance companies. Also, local and regional insurers can provide lower insurance rates for the same services. Accurate insurance estimates. Online quotes can only be accurate if the customers provide accurate and real info about their car models and driving history. Lying about past driving incidents can make the price estimates to be lower, but when dealing with an insurance company lying to them is useless. Usually, insurance companies will do research about a potential customer before granting him coverage. Online quotes can be sorted easily. Although drivers are recommended to not choose a policy just based on its price, drivers can easily sort quotes by insurance price. Using brokerage websites will allow drivers to get quotes from multiple insurers, thus making the comparison faster and easier. For additional info, money-saving tips, and free car insurance quotes, visit https://compare-autoinsurance.Org/ Compare-autoinsurance.Org is an online provider of life, home, health, and auto insurance quotes. This website is unique because it does not simply stick to one kind of insurance provider, but brings the clients the best deals from many different online insurance carriers. In this way, clients have access to offers from multiple carriers all in one place: this website. On this site, customers have access to quotes for insurance plans from various agencies, such as local or nationwide agencies, brand names insurance companies, etc. "Online quotes can easily help drivers obtain better car insurance deals. All they have to do is to complete an online form with accurate and real info, then compare prices", said Russell Rabichev, Marketing Director of Internet Marketing Company. CONTACT: Company Name: Internet Marketing CompanyPerson for contact Name: Gurgu CPhone Number: (818) 359-3898Email: [email protected]: https://compare-autoinsurance.Org/ SOURCE: Compare-autoinsurance.Org View source version on accesswire.Com:https://www.Accesswire.Com/595055/What-Are-The-Main-Benefits-Of-Comparing-Car-Insurance-Quotes-Online View photos
to request, modification Contact us at Here or [email protected]