A seized Russian yacht flying the US flag is heading to Hawaii today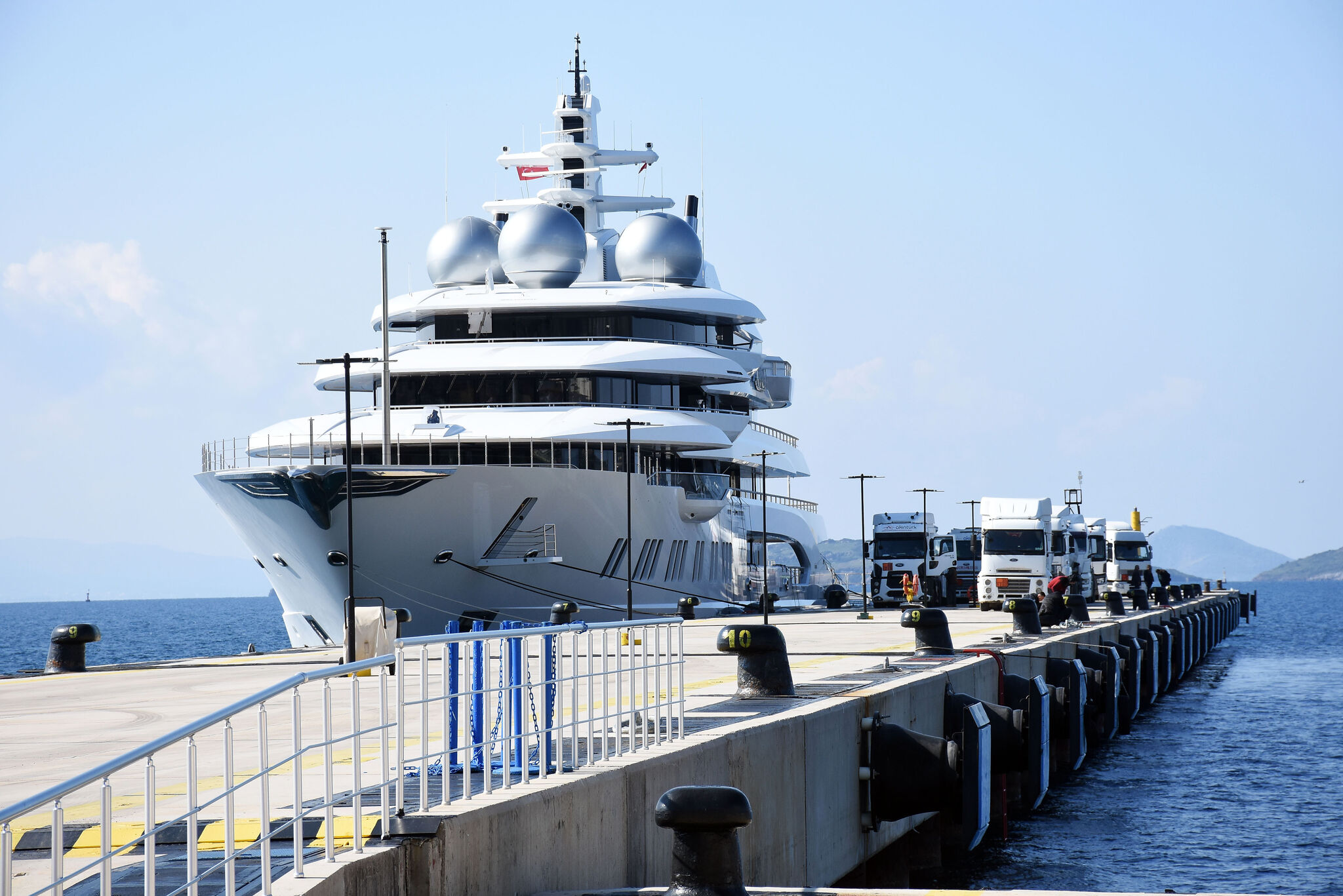 A $325million superyacht sails to Hawaii today after being seized by US authorities from a Russian oligarch.
The 348ft Amadea was confiscated in Fiji last week from Russian billionaire Suleiman Kerimov as part of sanctions implemented by the United States in response to the Russian invasion of Ukraine. The ship now has an American crew and sports the stars and stripes, reports Bloomberg. Kerimov is a major shareholder in Russian gas giant Gazprom, with close ties to Vladimir Putin and an estimated net worth of $11 billion.
Satellite mapping from Spire Global, a company that tracks sea and air vessels, reveals that the Amadea was docked in the Caribbean a day before Russia invaded Ukraine. Since then it has passed through the Panama Canal, stopped in Mexico and then crossed the Pacific to Fiji where it was seized. The yacht was being held there as the owner tried to challenge the seizure in court. The yacht's registered owner, Millemarin Investments, claims the vessel is actually owned by Eduard Khudainatov, another tycoon who is not on the sanctions list.
This legal attempt failed and the stay in Fiji was lifted by the country's Supreme Court on June 7, after which the ship was piloted by an American crew and set sail for Hawaii.
The Amadea was built by Lurssen Yachts in Germany in 2017. At 348 feet long, she is the 63rd largest superyacht on the seas and can accommodate 16 guests and 36 crew. It would have a cinema and a party terrace with a 20,000 watt speaker system as well as lights and lasers.
Since the start of the war in February, at least 20 yachts worth more than $2.25 billion have been seized from Russian owners.
Ownership of the world's superyachts is often shrouded in secrecy, as luxury vessels are often registered through a series of offshore holding companies. Since the severe sanctions imposed by Western countries on Russia in February, the hunt for yachts has gone global.
Some have headed for friendlier waters where seizure is impossible, such as the Maldives, the BBC reports. Attempts to seize one of the most expensive superyachts, the Solaris, owned by former Chelsea football club owner Roman Abramovich, led to a protest on the water in Turkey, where it eventually ended up been refused a seat.
US sanctions were further extended on June 2 to punish a growing list of prominent Russian government officials and business leaders with close ties to President Vladimir Putin.
Russian elites, including President Putin, rely on complex support networks to hide, move and hold their wealth and luxuries, the Undersecretary of the Treasury for Terrorism and Financial Intelligence has said. Brian Nelson, in a statement. Today's action demonstrates that the Treasury can and will prosecute those responsible for protecting and sustaining these ill-gotten interests. We will continue to enforce our sanctions and expose the corrupt systems through which President Putin and his elites enrich themselves.
The current location of the Amadea can be tracked here.
Sources
2/ https://www.sfgate.com/hawaii/article/Seized-Russian-superyacht-flies-US-flag-17246595.php
The mention sources can contact us to remove/changing this article
What Are The Main Benefits Of Comparing Car Insurance Quotes Online
LOS ANGELES, CA / ACCESSWIRE / June 24, 2020, / Compare-autoinsurance.Org has launched a new blog post that presents the main benefits of comparing multiple car insurance quotes. For more info and free online quotes, please visit https://compare-autoinsurance.Org/the-advantages-of-comparing-prices-with-car-insurance-quotes-online/ The modern society has numerous technological advantages. One important advantage is the speed at which information is sent and received. With the help of the internet, the shopping habits of many persons have drastically changed. The car insurance industry hasn't remained untouched by these changes. On the internet, drivers can compare insurance prices and find out which sellers have the best offers. View photos The advantages of comparing online car insurance quotes are the following: Online quotes can be obtained from anywhere and at any time. Unlike physical insurance agencies, websites don't have a specific schedule and they are available at any time. Drivers that have busy working schedules, can compare quotes from anywhere and at any time, even at midnight. Multiple choices. Almost all insurance providers, no matter if they are well-known brands or just local insurers, have an online presence. Online quotes will allow policyholders the chance to discover multiple insurance companies and check their prices. Drivers are no longer required to get quotes from just a few known insurance companies. Also, local and regional insurers can provide lower insurance rates for the same services. Accurate insurance estimates. Online quotes can only be accurate if the customers provide accurate and real info about their car models and driving history. Lying about past driving incidents can make the price estimates to be lower, but when dealing with an insurance company lying to them is useless. Usually, insurance companies will do research about a potential customer before granting him coverage. Online quotes can be sorted easily. Although drivers are recommended to not choose a policy just based on its price, drivers can easily sort quotes by insurance price. Using brokerage websites will allow drivers to get quotes from multiple insurers, thus making the comparison faster and easier. For additional info, money-saving tips, and free car insurance quotes, visit https://compare-autoinsurance.Org/ Compare-autoinsurance.Org is an online provider of life, home, health, and auto insurance quotes. This website is unique because it does not simply stick to one kind of insurance provider, but brings the clients the best deals from many different online insurance carriers. In this way, clients have access to offers from multiple carriers all in one place: this website. On this site, customers have access to quotes for insurance plans from various agencies, such as local or nationwide agencies, brand names insurance companies, etc. "Online quotes can easily help drivers obtain better car insurance deals. All they have to do is to complete an online form with accurate and real info, then compare prices", said Russell Rabichev, Marketing Director of Internet Marketing Company. CONTACT: Company Name: Internet Marketing CompanyPerson for contact Name: Gurgu CPhone Number: (818) 359-3898Email: [email protected]: https://compare-autoinsurance.Org/ SOURCE: Compare-autoinsurance.Org View source version on accesswire.Com:https://www.Accesswire.Com/595055/What-Are-The-Main-Benefits-Of-Comparing-Car-Insurance-Quotes-Online View photos
to request, modification Contact us at Here or [email protected]