United States. High Court rules that Americans have the right to bear arms in public | News | DW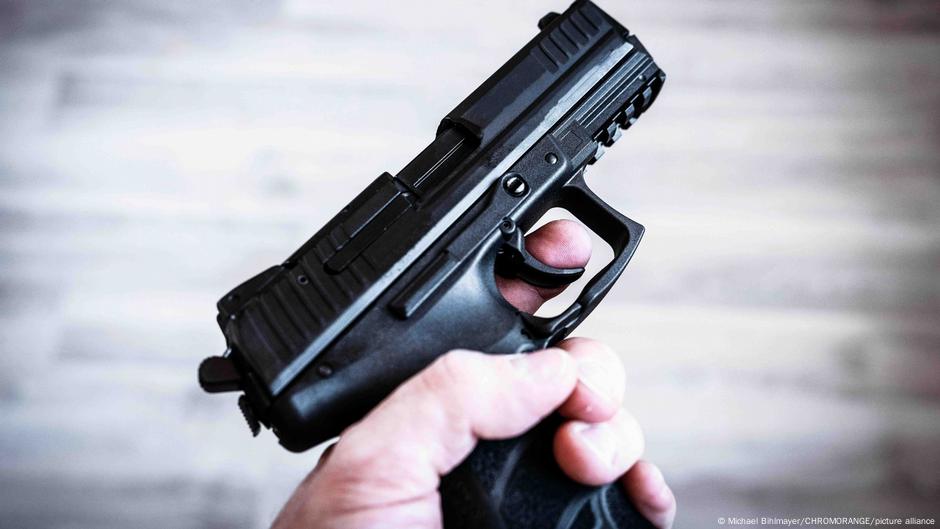 The United States Supreme Court on Thursday dismissed as unconstitutional New York state limits on the carrying of concealed handguns in public.
It is expected that the judges' 6-3 decision could ultimately allow more people to legally carry guns on the streets of New York and other major cities such as Los Angeles and Boston.
The High Court's first major gun ruling in more than a decade follows a series of recent mass shootings.
Why is the decision important?
New York law in effect since 1913 states that to carry a concealed handgun a person must have a "good cause".
An individual would have to convince a state firearms licensing officer of a real, rather than speculative, need for self-defense. Licenses could also be granted for activities such as hunting or target shooting.
The challenge was issued by the New York State Rifle & Pistol Association. Two men were looking to be able to carry unrestricted weapons outside their homes.
Supporters of the New York law say it ultimately stops people from carrying guns on the streets, leading to less violent crime.
However, the judges said the requirement violated the Second Amendment right to "keep and bear arms."
Justice Clarence Thomas wrote for the majority that the Constitution protects "an individual's right to carry a handgun for self-defense outside the home."
Liberal Justice Stephen Breyer, in the dissenting opinion, pointed to the epidemic of gun violence in the United States and said his majority colleagues were ruling "without regard to the potentially deadly consequences" of their decision.
The Supreme Court's last decision on a major firearms issue was in 2010, when it established a national right to keep a gun in the home for self-defense.
What happens now?
About a quarter of the US population lives in states now likely to be affected by the precedent-setting decision.
Challenges to similar laws are now likely in California, Hawaii, Maryland, Massachusetts, New Jersey and Rhode Island. The California governor called the decision "reckless" and promised his state would move forward with new gun laws.
New York Mayor Eric Adams warned the decision "may have opened up another river feeding the sea of ​​gun violence".
"We will work together to mitigate the risks this decision will create once it is implemented, because we cannot allow New York to become the Wild West," he said in a statement.
The US Congress is currently working on gun legislation following the mass shootings in Texas, New York and California.
US President Joe Biden's administration had urged judges to uphold New York law. Responding to the decision, Biden said he was "deeply disappointed." He urged states to continue to enact and enforce "common sense" laws to protect citizens from gun violence.
New York Governor Kathy Hochul said the decision came at a particularly painful time, after 10 people were killed in a mass shooting at a Buffalo supermarket. "This decision is not only reckless. It's wrong. It's not what New Yorkers want," she said.
New York Senator Kirsten Gillibrand, a Democrat, said the decision "put millions of Americans in New York and across the country at even greater risk of gun violence."
Elise Stefanik, a U.S. House Republican who represents a New York state district, called the decision "a victory for the Constitution and a victory for law-abiding gun owners."
rc, wd/rt (AFP, Reuters)
Sources
2/ https://www.dw.com/en/us-top-court-rules-americans-have-right-to-carry-guns-in-public/a-62238568
The mention sources can contact us to remove/changing this article
What Are The Main Benefits Of Comparing Car Insurance Quotes Online
LOS ANGELES, CA / ACCESSWIRE / June 24, 2020, / Compare-autoinsurance.Org has launched a new blog post that presents the main benefits of comparing multiple car insurance quotes. For more info and free online quotes, please visit https://compare-autoinsurance.Org/the-advantages-of-comparing-prices-with-car-insurance-quotes-online/ The modern society has numerous technological advantages. One important advantage is the speed at which information is sent and received. With the help of the internet, the shopping habits of many persons have drastically changed. The car insurance industry hasn't remained untouched by these changes. On the internet, drivers can compare insurance prices and find out which sellers have the best offers. View photos The advantages of comparing online car insurance quotes are the following: Online quotes can be obtained from anywhere and at any time. Unlike physical insurance agencies, websites don't have a specific schedule and they are available at any time. Drivers that have busy working schedules, can compare quotes from anywhere and at any time, even at midnight. Multiple choices. Almost all insurance providers, no matter if they are well-known brands or just local insurers, have an online presence. Online quotes will allow policyholders the chance to discover multiple insurance companies and check their prices. Drivers are no longer required to get quotes from just a few known insurance companies. Also, local and regional insurers can provide lower insurance rates for the same services. Accurate insurance estimates. Online quotes can only be accurate if the customers provide accurate and real info about their car models and driving history. Lying about past driving incidents can make the price estimates to be lower, but when dealing with an insurance company lying to them is useless. Usually, insurance companies will do research about a potential customer before granting him coverage. Online quotes can be sorted easily. Although drivers are recommended to not choose a policy just based on its price, drivers can easily sort quotes by insurance price. Using brokerage websites will allow drivers to get quotes from multiple insurers, thus making the comparison faster and easier. For additional info, money-saving tips, and free car insurance quotes, visit https://compare-autoinsurance.Org/ Compare-autoinsurance.Org is an online provider of life, home, health, and auto insurance quotes. This website is unique because it does not simply stick to one kind of insurance provider, but brings the clients the best deals from many different online insurance carriers. In this way, clients have access to offers from multiple carriers all in one place: this website. On this site, customers have access to quotes for insurance plans from various agencies, such as local or nationwide agencies, brand names insurance companies, etc. "Online quotes can easily help drivers obtain better car insurance deals. All they have to do is to complete an online form with accurate and real info, then compare prices", said Russell Rabichev, Marketing Director of Internet Marketing Company. CONTACT: Company Name: Internet Marketing CompanyPerson for contact Name: Gurgu CPhone Number: (818) 359-3898Email: [email protected]: https://compare-autoinsurance.Org/ SOURCE: Compare-autoinsurance.Org View source version on accesswire.Com:https://www.Accesswire.Com/595055/What-Are-The-Main-Benefits-Of-Comparing-Car-Insurance-Quotes-Online View photos
to request, modification Contact us at Here or [email protected]