After a year of violence, American schools are trying to tame tensions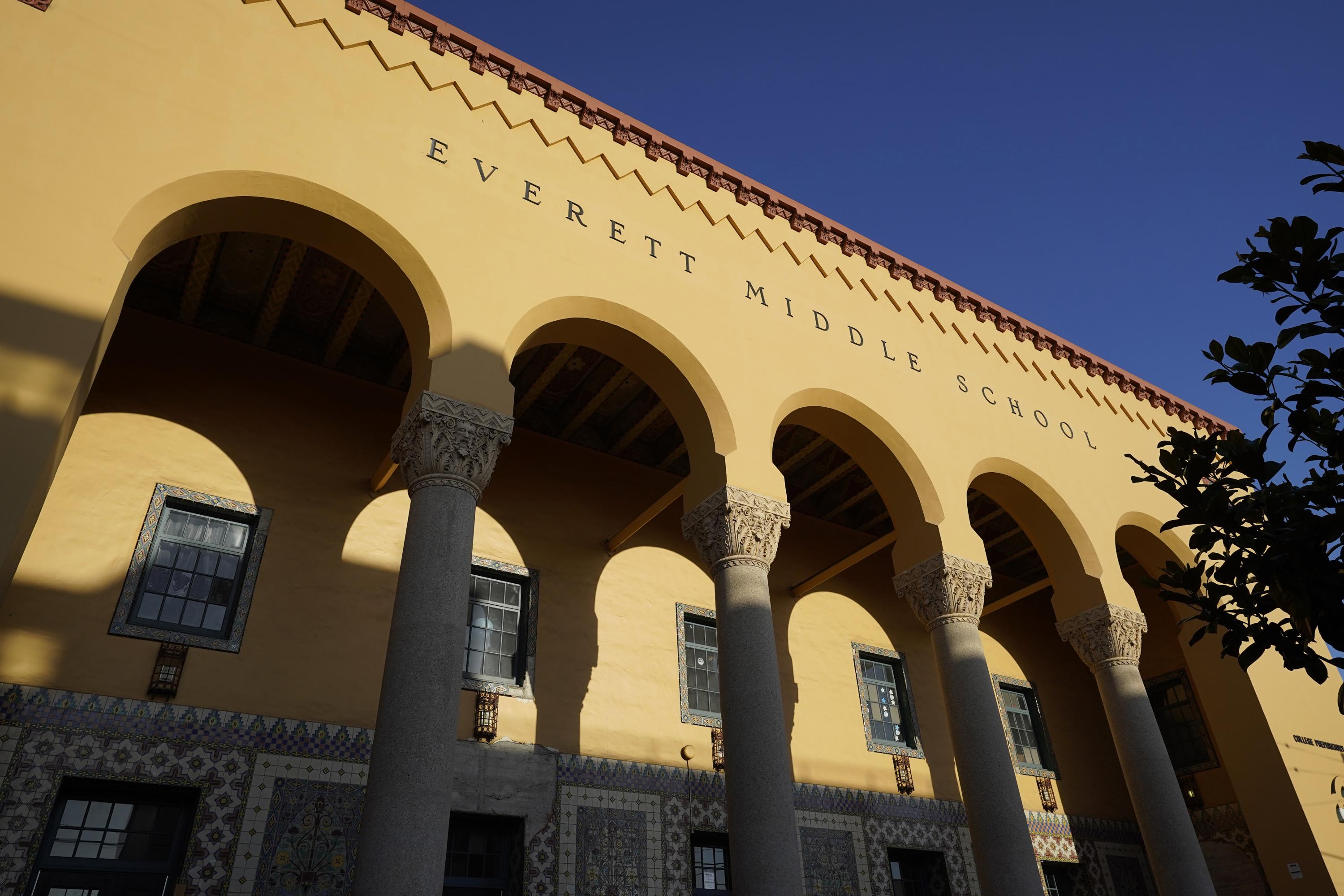 SAN FRANCISCO, AP The first week of school was meant to mark a triumphant return to the classrooms of San Francisco's Everett College after more than a year of distance learning.
But as computer science teacher Yesi Castro-Mitchell was hosting a class of sixth graders last fall, a student started hitting her, over and over again.
Castro-Mitchell wrapped his arms around his head and hoped the beating would stop. She recalls the stunned silence in her class as other students witnessed the assault. The teacher suffered a concussion, a dislocated jaw, chipped teeth and hearing loss in her left ear which now requires a hearing aid.
Across America, one of the country's toughest academic years was also one of its most violent. Experts who track school behavior nationwide said fighting and other aggressive behavior, including shootings, appear to have increased. Now that students are going on summer vacation, schools are taking stock of what went wrong and how to fix it.
In Everett, many of the problems this year were no different from before the pandemic, but they were absolutely more serious in terms of severity, intensity and frequency, said Cris Garza, a teacher in Everett for eight years. and representative of the teachers' union.
In addition to the assault on the teacher, fights broke out almost daily between students, according to several teachers and parents. A fight left a student hospitalized for at least two days. In other incidents, groups of students burst into classrooms, disrupting lessons and sometimes destroying school property.
Educators and psychologists say the pandemic has contributed to volatility in schools by causing an increase in student mental health issues, trauma at home, a lack of socializing opportunities and a shortage of teachers and teachers. counselors who have reduced adult supervision and guidance.
There is no national data that tracks fights and assaults in schools, but education officials across the country say violence has broken out more often and more ferociously.
Without a doubt, we're hearing at all levels that schools are experiencing far more crises related to school violence and emotional behavior crises, said Sharon Hoover, co-director of the National Center for School Mental Health at the University of Maryland School. of Medicine.
The same issues are likely to resurface in the fall, she said, if struggling teens don't get the help and structure they need.
Everett students have felt the effects of the pandemic acutely. About 70% of the schools' 600 students are Latino, many are learning English, and most are economically disadvantaged. Many parents or grandparents have lost parents or grandparents to COVID-19 or lost their homes because families couldn't afford rent, school social worker Bridget Early said.
Castro-Mitchell said no one warned her that her attacker had a history of behavioral issues. After the assault, the teacher was transferred to another school but left before the end of the year as she was battling PTSD.
Several Everett staffers have complained that a pandemic rule meant to improve airflow has the unintended effect of inviting misbehavior. Teachers were not allowed to close and lock classroom doors, and groups of students skipping class wandered the hallways and broke into other classes mid-session.
Reports from members of the National Association of School Resource Officers suggest there were more guns on school campuses, more assaults and more fistfights across the country, Mo Canady said. , the group's chief executive.
The Clark County School District in Las Vegas, one of the largest in the nation, said it would provide teachers with panic buttons after an increase in violence, including an April attack on a teacher who left unconscious in her class. District Police Chief Mike Blackeye said the 2021-22 school year was the busiest in its 40-year history.
Hoover said when the pandemic hit, young people in particular lost what structured their lives: they were deprived of going to school and isolated from their peers.
Many schools have attempted to address the underlying causes.
When the students returned to Savanna High School in Anaheim, Calif., it was fight after fight after fight, said Penny Hatzis, the school's senior counselor. The school has hired a restorative justice specialist, who emphasizes mediation rather than punishment, although they are looking for more balance with discipline next year. In October, they used the grant money to open a relaxation room, where students could talk to a mental health counselor.
We opened it up and saw a huge drop in fights and discipline issues. It was day and night, Hatzis said. The school has also held support groups for students who have experienced loss, LGBTQ+ students, and others sometimes several in one day.
Savanna freshman Clara Oliver battled anxiety that escalated when she returned to school in person and struggled to carry on face-to-face conversations with classmates . For her, the relaxation room has become a refuge. Eventually talking to people became easier.
The bedroom would give us a break from everything, she said. When we were stressed about school, we just went to this room. There was someone to talk to, there were snacks, there were toys and card games. We could relax, then go back to class and continue our day.
In Everett, school officials attempted a reset in January, with new strategies for bringing students together, efforts to make classes more fun and more social-emotional work with children, Early said.
But they couldn't pull it off. As elsewhere, the omicron-induced coronavirus surge sidelined educators, worsening a staffing crisis at the school where there was already a shortage of security guards and substitutes.
In a year when mental health was more important than ever, Early said, she spent most of her time putting out fires. She frequently served as a substitute.
Parents worried about their children's safety and encouraged them to avoid dangerous areas.
My son usually didn't use the bathrooms. He would wait until after school, said Dheyanira Calahorrano, mother of a fifth-grader who had no science teacher, music teacher or gym teacher for several months.
Principal Esther Fensel resigned at the end of the school year and did not respond to interview requests.
A spokeswoman for the San Francisco Unified School District, Laura Dudnick, said Everett, like many other schools, is grappling with rising student mental health issues and staffing shortages.
During the year, she said the district hired an additional security guard, increased back-up coverage and required students to lock cellphones during class.
Next year, Early said, the school will open a grant-funded wellness center with an on-site therapist and other staff to focus on students' social and emotional needs.
What all children need, especially children going through trauma, is consistency and stability, Early said. We couldn't provide them with that all year round.
___
The Associated Press education team receives support from the Carnegie Corporation of New York. The AP is solely responsible for all content.
Sources
2/ https://apnews.com/article/covid-health-san-francisco-mental-459a57d7c8f69d25f0c36780d41a65a7
The mention sources can contact us to remove/changing this article
What Are The Main Benefits Of Comparing Car Insurance Quotes Online
LOS ANGELES, CA / ACCESSWIRE / June 24, 2020, / Compare-autoinsurance.Org has launched a new blog post that presents the main benefits of comparing multiple car insurance quotes. For more info and free online quotes, please visit https://compare-autoinsurance.Org/the-advantages-of-comparing-prices-with-car-insurance-quotes-online/ The modern society has numerous technological advantages. One important advantage is the speed at which information is sent and received. With the help of the internet, the shopping habits of many persons have drastically changed. The car insurance industry hasn't remained untouched by these changes. On the internet, drivers can compare insurance prices and find out which sellers have the best offers. View photos The advantages of comparing online car insurance quotes are the following: Online quotes can be obtained from anywhere and at any time. Unlike physical insurance agencies, websites don't have a specific schedule and they are available at any time. Drivers that have busy working schedules, can compare quotes from anywhere and at any time, even at midnight. Multiple choices. Almost all insurance providers, no matter if they are well-known brands or just local insurers, have an online presence. Online quotes will allow policyholders the chance to discover multiple insurance companies and check their prices. Drivers are no longer required to get quotes from just a few known insurance companies. Also, local and regional insurers can provide lower insurance rates for the same services. Accurate insurance estimates. Online quotes can only be accurate if the customers provide accurate and real info about their car models and driving history. Lying about past driving incidents can make the price estimates to be lower, but when dealing with an insurance company lying to them is useless. Usually, insurance companies will do research about a potential customer before granting him coverage. Online quotes can be sorted easily. Although drivers are recommended to not choose a policy just based on its price, drivers can easily sort quotes by insurance price. Using brokerage websites will allow drivers to get quotes from multiple insurers, thus making the comparison faster and easier. For additional info, money-saving tips, and free car insurance quotes, visit https://compare-autoinsurance.Org/ Compare-autoinsurance.Org is an online provider of life, home, health, and auto insurance quotes. This website is unique because it does not simply stick to one kind of insurance provider, but brings the clients the best deals from many different online insurance carriers. In this way, clients have access to offers from multiple carriers all in one place: this website. On this site, customers have access to quotes for insurance plans from various agencies, such as local or nationwide agencies, brand names insurance companies, etc. "Online quotes can easily help drivers obtain better car insurance deals. All they have to do is to complete an online form with accurate and real info, then compare prices", said Russell Rabichev, Marketing Director of Internet Marketing Company. CONTACT: Company Name: Internet Marketing CompanyPerson for contact Name: Gurgu CPhone Number: (818) 359-3898Email: [email protected]: https://compare-autoinsurance.Org/ SOURCE: Compare-autoinsurance.Org View source version on accesswire.Com:https://www.Accesswire.Com/595055/What-Are-The-Main-Benefits-Of-Comparing-Car-Insurance-Quotes-Online View photos
to request, modification Contact us at Here or [email protected]