The storm enters the central United States after hitting California with dangerous flooding and forcing rescues and water evacuations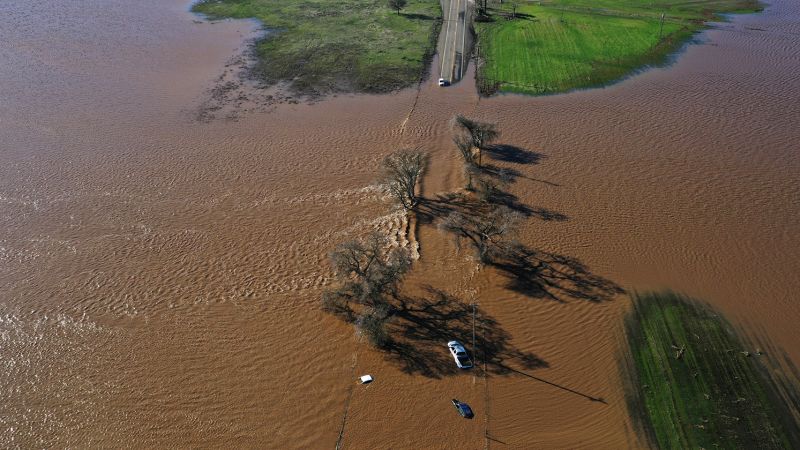 CN—
A powerful storm system that hit California on New Year's Eve, bringing widespread flooding and power outages, swept through the central United States on Monday as more than 15 million people on the coast west to Illinois are under winter weather warning.
The Atmospheric River, a long, narrow region in the atmosphere that can carry moisture for thousands of miles, fed a parade of storms that dropped heavy snow on mountains and flooded northern California, closing roads and prompting water rescues and evacuation orders.
At least two people died in the storm, including one who was found dead inside a completely submerged vehicle in Sacramento County on Saturday, and a 72-year-old man who died after being hit by a fallen tree in a park in Santa Cruz, according to officials.
Dozens more people in Northern California were saved from flooding as rivers swelled and roads became impassable.
There were 103,000 homes, businesses and other electric customers without power across California and Nevada on Sunday night, down from a high of more than 300,000 outages on Saturday, according to Poweroutage.US.
On Monday, snow is expected to fall across the Rockies, northern plains and possibly parts of the Midwest where winter storm warnings are posted.
A winter storm will move from the Four Corners tonight across the Central Plains and Upper Midwest on Monday and Tuesday with areas of heavy snow, ice pellets and freezing rain. Further south, a strong cold front will bring the threat of thunderstorms with tornadoes and flooding. pic.twitter.com/8VBjQVIwxG
— National Weather Service (@NWS) January 2, 2023
Widespread snowfall of 4 to 8 inches is forecast, but higher elevations in the mountains could see 1 to 2 feet of snow.
On the southern edge of the storm, a severe storm outbreak is possible in the south Monday through Tuesday.
Parts of Texas, Oklahoma, Arkansas and Louisiana are at risk of severe storms on Monday, with damaging winds, strong tornadoes and possible hail. Storms are expected to start in the afternoon and last through the night.
The Sacramento County area was particularly hard hit, with emergency crews spending the weekend rescuing several flood victims by boats and helicopters and responding to fallen trees and stalled vehicles in the floodwaters, said the Sacramento Metropolitan Fire District.
An evacuation order was issued Sunday for rural Sacramento County in Point Pleasant, while Glanville Tract and Franklin Pond were under an evacuation warning.
Flooding from the Cosumnes River and Mokelumne River is forecast to move southwest toward I-5 and could reach those areas in the middle of the night, the agency tweeted.
The day before, rising floodwaters forced evacuations in Wilton, Calif., as well as three communities near the town of Watsonville in Santa Cruz County.
A flash flood watch was in place along and west of Highway 5 to the Sacramento River, where excessive rainfall and flooding on the Cosumnes and Mokelumne rivers were feared.
The storm caused travel on several highways in northern California, amid reports of flooded roads and landslides.
Flooding from the Cosumnes River forced the closure of Highway 99 south of Elk Grove in Sacramento County, the California Department of Transportation tweeted. SR 99 is one of the states busiest and most commercially important corridors, its website adds.
Aerial video by CNN affiliate KCRA showed submerged cars past their door handles in floodwaters along Highway 99 and the Dillard Street area. Chris Schamber, fire captain of the Cosumnes Fire Department, told the station that dozens and dozens of people had been rescued.
Hwy 99 remains CLOSED between @CityofGalt and Grant Line Road just south of @CityofElkGrove due to flooding from the Cosumnes River. The causeway will not reopen until the water recedes, which is expected tomorrow afternoon. @CaltransHQ pic.twitter.com/TjFo670tul
— Caltrans District 3 (@CaltransDist3) January 1, 2023
US Highway 101, one of California's most famous roads, was also temporarily closed in both directions in south San Francisco on Saturday, with the California Highway Patrol reporting that water is not backing up due to rain incessant and high tides preventing the water from moving.
The weather system is expected to bring light to moderate valley rains and mountain snow to the area Monday and Tuesday, according to the National Weather Service in Sacramento.
It's unclear how much of a dent this storm will make on lingering drought conditions in California, which started 2022 with the driest start to the year on record and ended it with flooded roads and rivers. swollen.
Mountainous regions of northern California recorded impressive snow totals over the weekend.
Good year! It's a great start to 2023 after a very tough end to 2022. The highways in the Sierra are open again, but chain checks remain in effect as crews clean up. pic.twitter.com/MFd3kouy51
— Caltrans District 3 (@CaltransDist3) January 1, 2023
Sierra locations above 5,000 feet received about 20 to 45 inches of snow Saturday through Sunday morning and another lighter snow cover is on the way.
Sierra Snow Lab recorded 24-hour snow totals of 29.9 inches, Bear Valley Ski Resort recorded 21 inches, Boreal Ski Resort received 40 inches, Sierra at Tahoe Ski Resort 42 inches and Soda Springs saw 40 inches , according to the weather service.
Sources
2/ https://www.cnn.com/2023/01/02/weather/northern-california-storm-flooding-evacuations-monday/index.html
The mention sources can contact us to remove/changing this article
What Are The Main Benefits Of Comparing Car Insurance Quotes Online
LOS ANGELES, CA / ACCESSWIRE / June 24, 2020, / Compare-autoinsurance.Org has launched a new blog post that presents the main benefits of comparing multiple car insurance quotes. For more info and free online quotes, please visit https://compare-autoinsurance.Org/the-advantages-of-comparing-prices-with-car-insurance-quotes-online/ The modern society has numerous technological advantages. One important advantage is the speed at which information is sent and received. With the help of the internet, the shopping habits of many persons have drastically changed. The car insurance industry hasn't remained untouched by these changes. On the internet, drivers can compare insurance prices and find out which sellers have the best offers. View photos The advantages of comparing online car insurance quotes are the following: Online quotes can be obtained from anywhere and at any time. Unlike physical insurance agencies, websites don't have a specific schedule and they are available at any time. Drivers that have busy working schedules, can compare quotes from anywhere and at any time, even at midnight. Multiple choices. Almost all insurance providers, no matter if they are well-known brands or just local insurers, have an online presence. Online quotes will allow policyholders the chance to discover multiple insurance companies and check their prices. Drivers are no longer required to get quotes from just a few known insurance companies. Also, local and regional insurers can provide lower insurance rates for the same services. Accurate insurance estimates. Online quotes can only be accurate if the customers provide accurate and real info about their car models and driving history. Lying about past driving incidents can make the price estimates to be lower, but when dealing with an insurance company lying to them is useless. Usually, insurance companies will do research about a potential customer before granting him coverage. Online quotes can be sorted easily. Although drivers are recommended to not choose a policy just based on its price, drivers can easily sort quotes by insurance price. Using brokerage websites will allow drivers to get quotes from multiple insurers, thus making the comparison faster and easier. For additional info, money-saving tips, and free car insurance quotes, visit https://compare-autoinsurance.Org/ Compare-autoinsurance.Org is an online provider of life, home, health, and auto insurance quotes. This website is unique because it does not simply stick to one kind of insurance provider, but brings the clients the best deals from many different online insurance carriers. In this way, clients have access to offers from multiple carriers all in one place: this website. On this site, customers have access to quotes for insurance plans from various agencies, such as local or nationwide agencies, brand names insurance companies, etc. "Online quotes can easily help drivers obtain better car insurance deals. All they have to do is to complete an online form with accurate and real info, then compare prices", said Russell Rabichev, Marketing Director of Internet Marketing Company. CONTACT: Company Name: Internet Marketing CompanyPerson for contact Name: Gurgu CPhone Number: (818) 359-3898Email: [email protected]: https://compare-autoinsurance.Org/ SOURCE: Compare-autoinsurance.Org View source version on accesswire.Com:https://www.Accesswire.Com/595055/What-Are-The-Main-Benefits-Of-Comparing-Car-Insurance-Quotes-Online View photos
to request, modification Contact us at Here or [email protected]