On the third anniversary of Brexit, Britain has more regrets than ever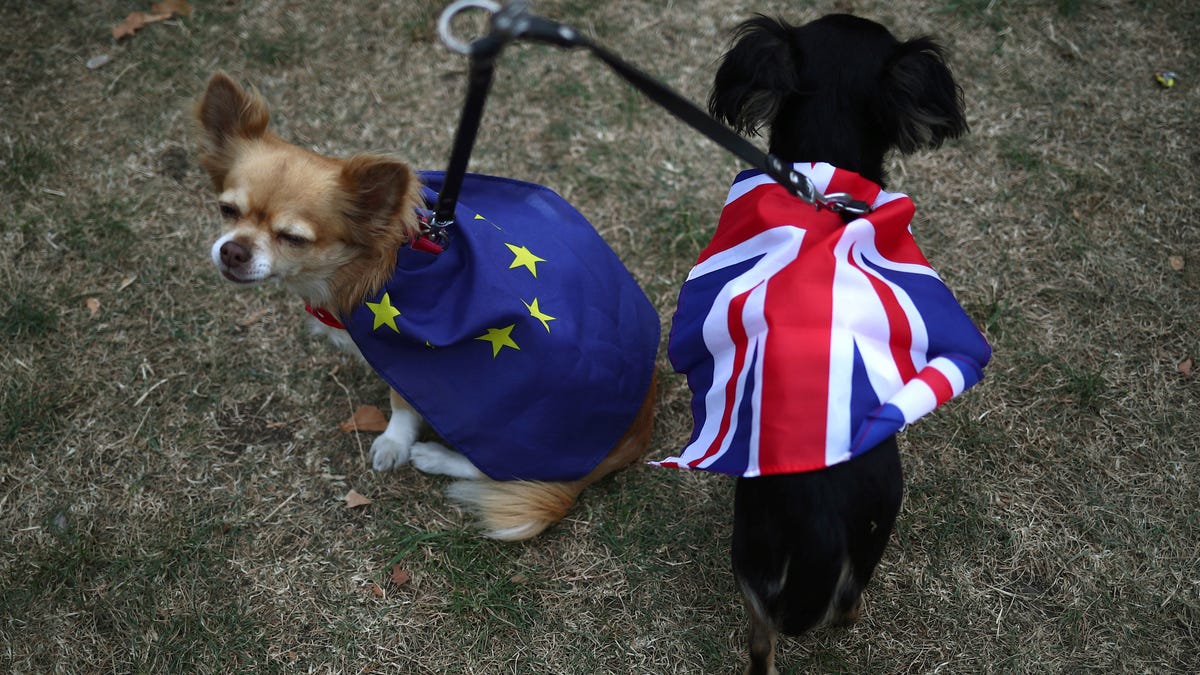 The last day of January 2020 was the last day the UK would become a member of the European Union. Many people didn't know yet, but Corona 19 is right around the corner. With the combined effects of the pandemic and Brexit, and the broader regional and global impact of Russia's attack on Ukraine, the situation today is one of frustration and regret.
Britain gained more independence but lost the important workers and markets that support its economy. A country with a health care, transportation network and education system is experiencing organized strikes by employees who are angry at the government for dealing with everything from payroll to the right to strike in difficult times. A government torn apart by scandals, leadership changes and fiscal mismanagement are all undermining public trust. And the public who made a choice in the 2016 referendum on EU member states, and who increasingly wished to make a different choice.
jobs, strikes and wages
Many of those who voted for and campaigned for Brexit spoke of the need to protect jobs. Unregulated immigration from the EU, he argued, has driven down wages and driven Britons out of sectors such as agriculture, buildings and healthcare.
Seven years from the vote and three years from the final break with the EU, the UK is experiencing a kind of employment crisis. On the one hand, staff who have kept national health services afloat for years underfunded have returned to other European countries, while nurses who took part in an unprecedented strike last month said doctors and ambulance workers said hospitals were desperately understaffed to the point of endangering their lives. says .
The strike has also affected train services and university teachers and now school teachers over the past few months, leading to the closure of hundreds of schools across the country. Much of the strike is focused on pay, which workers say is out of line with inflation. This is not surprising given that inflation in the UK in October 2022 rose more than 11% before falling slightly (but staying above 10%). Meanwhile, the government is claiming that the labor shortage is a problem. Wages are rising because of labor shortages in many countries, they say. This leads to inflation, which will only be fueled by providing public sector workers with pay increases sufficient to support their current standard of living.
While it is clear that other countries are experiencing labor market tightening, the reasons behind the tightening are at least to some extent local and specific. In the UK, Brexit has potentially sucked thousands of people out of the labor market, including EU citizens who have left the EU in the past few years, those who have been to Europe but have not, and other citizens who have decided to work in the UK or elsewhere.
Between 59% and 77% of all immigrants to the UK in 2016, before the referendum, were EU citizens, according to Oxford University's Migration Observatory. It started to fall as soon as the UK voted to leave and there were 94,000 more EU citizens leaving the UK than going there during the 2020 pandemic. This may have rebounded after the pandemic, but with Brexit enacted later that year, barriers were erected to prevent it. (Net immigration to the UK has still increased in most years since 1991, and indeed was unusually high in 2022, but certain factors include the war in Ukraine and the visa regime for Hong Kongers, the Migration Observatory said.)
Immigration, refugees, and small boats
Curbing immigration was also an obvious factor in Brexiteer camp rhetoric. Some of these, as discussed, were worded in relation to the profession, some to more amorphous cultural issues, and some to be overtly racist. The anger and fear is directed against other countries, particularly the British majority whites and other racial groups.
Europe has been dealing with an acute refugee crisis for years, especially due to conflicts in which the West has been militarily involved, including in Afghanistan, Iraq, Syria and Somalia. Isolated as an island, Britain has relatively few refugees and asylum seekers. Asylum applications peaked in 2002 at more than 84,000 and then declined rapidly, remaining well below that each year to date. But in 2021 and 2022, the number of people crossing the strait from France in small boats, a very dangerous and often deadly route, has increased dramatically. A total of 185,000 people have crossed over to the UK by small boat over time, most in the past three years, according to UK government figures. By 2022, at least 40 people have died trying.
Brexit, by itself, has not addressed the perceived problems of people seeking asylum or immigration to the UK. Only the flow of people has changed, and that change has created other problems for both countries and individuals.
How has Brexit affected the rest of the UK economy?
As for the overall economy, it is of course possible to find data points that support different theories and interpret the data in different ways. In December 2022, Stphane Boujnah, CEO of Euronext, Europe's largest stock exchange group, told Bloomberg that London was losing its place as Europe's financial center because of Brexit. He cited a data point showing that the French primary listing, measured by total market cap, overtook the UK primary listing last month. That is far from conclusive evidence that London is losing its position in the financial world. As well as pointing out how the UK economy is doing well, it is possible to point out that the problems the country is experiencing, such as high inflation and soaring energy prices, are occurring elsewhere (although it is particularly bad in the UK).
But whether you're a low-income struggling to keep up with food and heat, a homeowner watching mortgage payments soar, or an elderly person dependent on a crumbling NHS or an underfunded social welfare system, now is a tough time to be a British citizen. That is also certainly true. . So far, it's hard to see the bright side of Brexit.
What is the UK public thinking about Brexit right now?
Data from Transparency International on Tuesday pointed to one of the biggest declines in public trust in British institutions since anti-corruption groups began keeping records. The UK fell from 11th in the world in corruption perception in 2021 to 18th in 2023, and the survey pointed to several government scandals. Brexit was not mentioned in the transparency report and may not have been included in the score. But it was certainly a big feature for the Conservatives, who have been in power throughout the past seven years. The party's former leader, Boris Johnson, took office on a Brexit platform and got through it before he was eventually forced to resign as a series of scandals had damaged his party's credibility.
Johnson was followed by the brief tenure of Liz Truss, who toppled the economy in October 2022 with a disastrous mini-budget of unfunded tax cuts. Then Rishi Sunak appeared. break the ministerial code
Under these circumstances, Brexit, along with data from the nonprofit What UK Thinks, has compiled a number of polls, suggesting that more people than ever are now regretting the decision.
Sources
2/ https://qz.com/on-brexits-third-anniversary-the-uk-has-more-reasons-t-1850058294
The mention sources can contact us to remove/changing this article
What Are The Main Benefits Of Comparing Car Insurance Quotes Online
LOS ANGELES, CA / ACCESSWIRE / June 24, 2020, / Compare-autoinsurance.Org has launched a new blog post that presents the main benefits of comparing multiple car insurance quotes. For more info and free online quotes, please visit https://compare-autoinsurance.Org/the-advantages-of-comparing-prices-with-car-insurance-quotes-online/ The modern society has numerous technological advantages. One important advantage is the speed at which information is sent and received. With the help of the internet, the shopping habits of many persons have drastically changed. The car insurance industry hasn't remained untouched by these changes. On the internet, drivers can compare insurance prices and find out which sellers have the best offers. View photos The advantages of comparing online car insurance quotes are the following: Online quotes can be obtained from anywhere and at any time. Unlike physical insurance agencies, websites don't have a specific schedule and they are available at any time. Drivers that have busy working schedules, can compare quotes from anywhere and at any time, even at midnight. Multiple choices. Almost all insurance providers, no matter if they are well-known brands or just local insurers, have an online presence. Online quotes will allow policyholders the chance to discover multiple insurance companies and check their prices. Drivers are no longer required to get quotes from just a few known insurance companies. Also, local and regional insurers can provide lower insurance rates for the same services. Accurate insurance estimates. Online quotes can only be accurate if the customers provide accurate and real info about their car models and driving history. Lying about past driving incidents can make the price estimates to be lower, but when dealing with an insurance company lying to them is useless. Usually, insurance companies will do research about a potential customer before granting him coverage. Online quotes can be sorted easily. Although drivers are recommended to not choose a policy just based on its price, drivers can easily sort quotes by insurance price. Using brokerage websites will allow drivers to get quotes from multiple insurers, thus making the comparison faster and easier. For additional info, money-saving tips, and free car insurance quotes, visit https://compare-autoinsurance.Org/ Compare-autoinsurance.Org is an online provider of life, home, health, and auto insurance quotes. This website is unique because it does not simply stick to one kind of insurance provider, but brings the clients the best deals from many different online insurance carriers. In this way, clients have access to offers from multiple carriers all in one place: this website. On this site, customers have access to quotes for insurance plans from various agencies, such as local or nationwide agencies, brand names insurance companies, etc. "Online quotes can easily help drivers obtain better car insurance deals. All they have to do is to complete an online form with accurate and real info, then compare prices", said Russell Rabichev, Marketing Director of Internet Marketing Company. CONTACT: Company Name: Internet Marketing CompanyPerson for contact Name: Gurgu CPhone Number: (818) 359-3898Email: cgurgu@internetmarketingcompany.BizWebsite: https://compare-autoinsurance.Org/ SOURCE: Compare-autoinsurance.Org View source version on accesswire.Com:https://www.Accesswire.Com/595055/What-Are-The-Main-Benefits-Of-Comparing-Car-Insurance-Quotes-Online View photos
to request, modification Contact us at Here or collaboration@support.exbulletin.com