Will the United States really default on its debt? JPMorgan warns odds are rising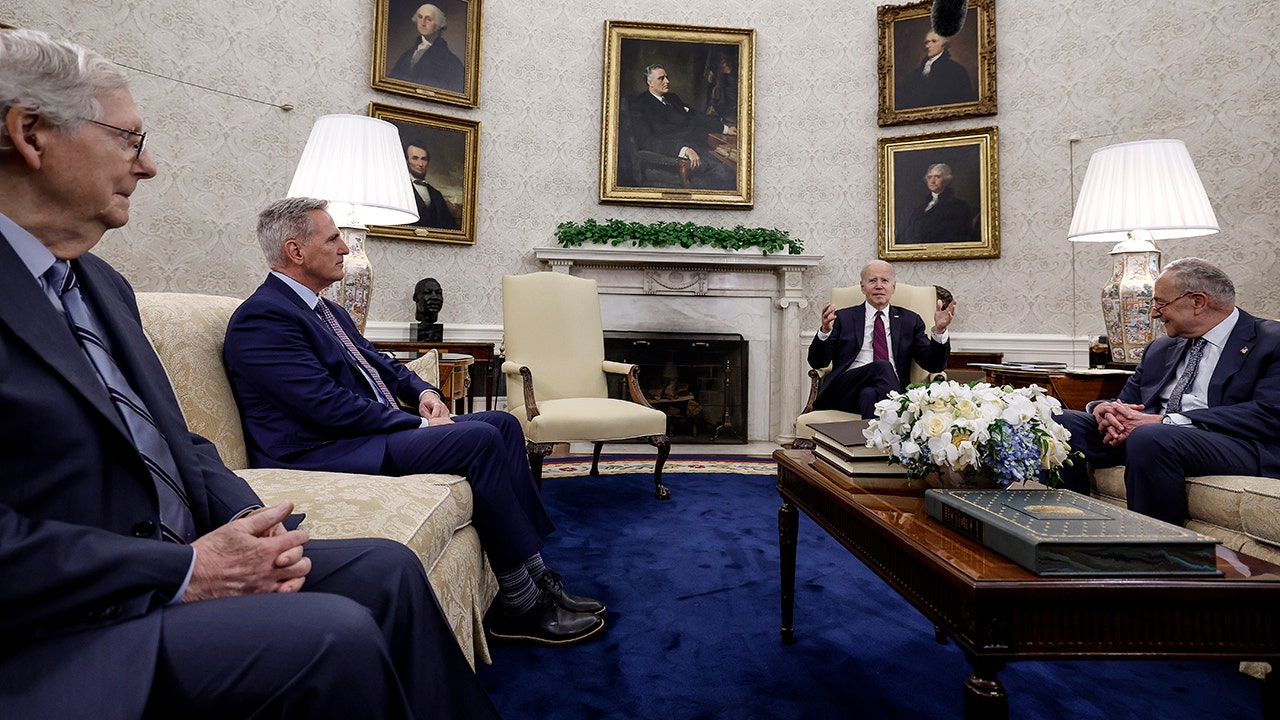 New Constructs CEO David Trainer gives his economic outlook amid the Federal Reserve's handling of inflation and the June 1 debt ceiling deadline on "The Claman Countdown."
There is a one in four chance that negotiators in Washington will fail to raise the debt ceiling and that the US government will not be able to pay its bills on time.
That's according to JPMorgan analysts, who warned in a note to clients this week that the odds of a first-ever default are rising as President Biden and Republicans struggle to strike a deal ahead of the looming deadline. June.
"We still believe the most likely outcome is a deal signed before date X, although we see the odds of passing that date without a cap increase at around 25% and rising," the chief US economist wrote. of JPMorgan, Michael Feroli. in the note.
WHO WOULD BE HARDEST AFFECTED BY A US DEFAULT?
From left, Senate Minority Leader Mitch McConnell, R-Ky., House Speaker Kevin McCarthy, R-Calif., President Biden and Senate Majority Leader Chuck Schumer, DN.Y ., gather in the Oval Office of the White House in Washington, DC on May 9, 2023. (Anna Moneymaker/Getty Images/Getty Images)
In a scenario where the United States breaches the debt limit, Feroli predicted that the Treasury Department would prioritize debt principal and interest payments.
"While this would avoid a technical default, there would still be several negative effects, including a likely downgrade in the US credit rating," he wrote.
RISKS OF HITTING THE DEBT CEILING TRIGGER 'SELF-INFLICTED' RECESSION
The note comes amid a protracted standoff over the debt limit. Republicans, who control the House, have promised to raise the borrowing limit only in return for spending cuts. President Biden and his fellow Democrats, who control the Senate, prefer a "clean" debt ceiling bill with no spending cuts.
The White House is now holding near-daily talks with Republicans as Washington races to strike a budget deal before the deadline, which could come as early as next week.
House Speaker Kevin McCarthy, R-California, insisted on Tuesday that he was confident negotiators could reach a deal after the latest round of talks with the president and said the two sides had " make some progress".
People walk in front of the U.S. Capitol in Washington, DC, June 9, 2022. (AP Photo/Patrick Semansky, File/AP Newsroom)
WHAT IS THE DEBT CEILING AND WHAT DOES IT MEAN TO YOU?
"We worked well past midnight last night," McCarthy told reporters Thursday morning. "I think we've made progress. There are still some outstanding issues, and I've asked our teams to work 24/7 to try to resolve this issue."
The debt ceiling, which is currently about $31.4 trillion, is the legal limit on the total amount of debt the federal government can borrow on behalf of the public, including Social Security and unemployment benefits. health insurance, military salaries and tax refunds.
If the United States fails to raise or suspend the debt ceiling, it may have to temporarily default on some of its obligations, which could have serious negative economic consequences. Interest rates would likely skyrocket and demand for Treasuries would fall; even the threat of default can drive up borrowing costs, according to the Committee for a Responsible Federal Budget.
GET FOX BUSINESS ON THE ROAD BY CLICKING HERE
Although the United States has never defaulted on its debt before, it came close in 2011 when House Republicans refused to pass a debt ceiling increase, prompting the rating agency Standard and Poor's to downgrade the US debt rating by one notch.
Sources
2/ https://www.foxbusiness.com/politics/will-us-default-debt-jpmorgan-warns-odds-are-rising
The mention sources can contact us to remove/changing this article
What Are The Main Benefits Of Comparing Car Insurance Quotes Online
LOS ANGELES, CA / ACCESSWIRE / June 24, 2020, / Compare-autoinsurance.Org has launched a new blog post that presents the main benefits of comparing multiple car insurance quotes. For more info and free online quotes, please visit https://compare-autoinsurance.Org/the-advantages-of-comparing-prices-with-car-insurance-quotes-online/ The modern society has numerous technological advantages. One important advantage is the speed at which information is sent and received. With the help of the internet, the shopping habits of many persons have drastically changed. The car insurance industry hasn't remained untouched by these changes. On the internet, drivers can compare insurance prices and find out which sellers have the best offers. View photos The advantages of comparing online car insurance quotes are the following: Online quotes can be obtained from anywhere and at any time. Unlike physical insurance agencies, websites don't have a specific schedule and they are available at any time. Drivers that have busy working schedules, can compare quotes from anywhere and at any time, even at midnight. Multiple choices. Almost all insurance providers, no matter if they are well-known brands or just local insurers, have an online presence. Online quotes will allow policyholders the chance to discover multiple insurance companies and check their prices. Drivers are no longer required to get quotes from just a few known insurance companies. Also, local and regional insurers can provide lower insurance rates for the same services. Accurate insurance estimates. Online quotes can only be accurate if the customers provide accurate and real info about their car models and driving history. Lying about past driving incidents can make the price estimates to be lower, but when dealing with an insurance company lying to them is useless. Usually, insurance companies will do research about a potential customer before granting him coverage. Online quotes can be sorted easily. Although drivers are recommended to not choose a policy just based on its price, drivers can easily sort quotes by insurance price. Using brokerage websites will allow drivers to get quotes from multiple insurers, thus making the comparison faster and easier. For additional info, money-saving tips, and free car insurance quotes, visit https://compare-autoinsurance.Org/ Compare-autoinsurance.Org is an online provider of life, home, health, and auto insurance quotes. This website is unique because it does not simply stick to one kind of insurance provider, but brings the clients the best deals from many different online insurance carriers. In this way, clients have access to offers from multiple carriers all in one place: this website. On this site, customers have access to quotes for insurance plans from various agencies, such as local or nationwide agencies, brand names insurance companies, etc. "Online quotes can easily help drivers obtain better car insurance deals. All they have to do is to complete an online form with accurate and real info, then compare prices", said Russell Rabichev, Marketing Director of Internet Marketing Company. CONTACT: Company Name: Internet Marketing CompanyPerson for contact Name: Gurgu CPhone Number: (818) 359-3898Email: [email protected]: https://compare-autoinsurance.Org/ SOURCE: Compare-autoinsurance.Org View source version on accesswire.Com:https://www.Accesswire.Com/595055/What-Are-The-Main-Benefits-Of-Comparing-Car-Insurance-Quotes-Online View photos
to request, modification Contact us at Here or [email protected]