Credit rating agencies like Moody's decide the credit rating of the United States. Here's what you need to know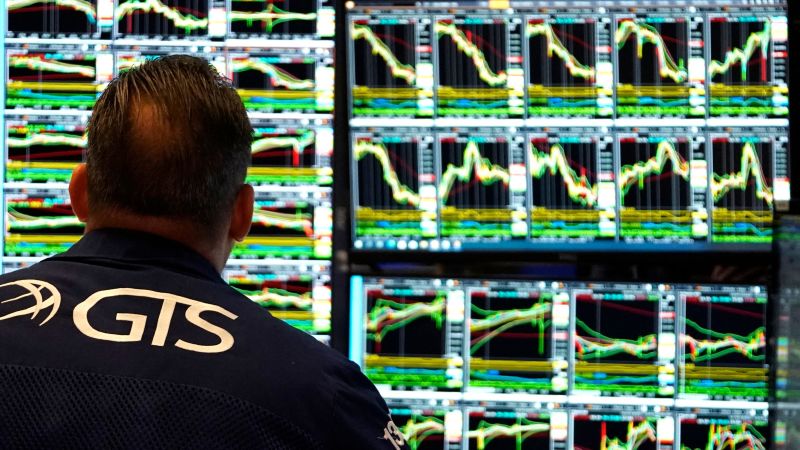 CN—
Credit rating agencies are once again in the spotlight amid ongoing high-stakes debt ceiling negotiations in Washington.
As Democratic and Republican lawmakers remain deadlocked and the X-date approaches when US Treasury funds run out, there is a growing risk of a US debt rating downgrade.
The so-called big three Moodys Investors Service, S&P and Fitch Ratings wield immense power in determining the creditworthiness of corporations, state governments and even entire nations. The three agencies have signaled they will consider cutting America's credit rating if lawmakers don't pass a bill to raise the debt ceiling before it's too late. In fact, earlier this week, Fitch issued a stark warning, putting the top-rated US credit on negative watch.
Experts say an actual downgrade could shock the global financial system and threaten the US dollar as the world's reserve currency.
Simply put, rating agencies give their opinion and issue a rating assessing the likelihood of a borrower repaying their debt. Rating agencies first rose to prominence more than a century ago, but today the three major agencies dominate the market.
The United States is one of the countries with the highest debt ratings in the world, holding the best AAA from Fitch and Aaa from Moodys. The United States is rated AA+ by S&P, which downgraded the country in 2011 in another debt ceiling fight in Washington.
According to Lawrence White, professor of economics at New York University's Stern School of Business, each agency has its own methodology for determining the financial health of companies and countries.
Overall, however, White said the agencies assess a country's economic track record, including expected revenues, costs and debt payments, to determine a score.
He said only countries that are extremely likely to meet their obligations get a triple-A rating.
Their views are taken very seriously by financial markets, White said of the big three agencies. Entities with lower ratings generally have to pay higher interest rates when borrowing money.
Moodys, S&P and Fitch charge fees to most entities they rate, excluding sovereign nations like the United States, according to Samuel Bonsall, a professor at Penn States Smeal College of Business. Bonsall has studied the effectiveness of credit rating agencies and their potential conflicts of interest.
If I'm a corporation and I want to get a debt rating, I have to pay a fee for that bond rating, Bonsall said.
There is a bit of a pay concern for the game, he added.
Bonsall said the agencies had spent reputation capital over the past decades when they failed to lower ratings before the 2001 Enrons bankruptcy and the 2008 global financial crisis.
Perceptually, I don't know how much the general population trusts agencies that do a good job, he said.
Still, a U.S. demotion from one of the big three would likely hurt Americans in several ways, Bonsall said.
This is because a downgrade could impact consumers and businesses, damaging the economy all around.
This could lead to a recession sooner than it otherwise would have, he added.
White believes a downgrade could erode the US dollar as the most trusted currency for international trade payments.
Participants in international transactions may begin to say that they weren't as comfortable denominating everything in dollars. Were not so comfortable holding US bonds. Maybe we should start thinking about the euro as an alternative currency for doing business, he said.
Sources
2/ https://www.cnn.com/2023/05/27/economy/credit-rating-companies-explainer/index.html
The mention sources can contact us to remove/changing this article
What Are The Main Benefits Of Comparing Car Insurance Quotes Online
LOS ANGELES, CA / ACCESSWIRE / June 24, 2020, / Compare-autoinsurance.Org has launched a new blog post that presents the main benefits of comparing multiple car insurance quotes. For more info and free online quotes, please visit https://compare-autoinsurance.Org/the-advantages-of-comparing-prices-with-car-insurance-quotes-online/ The modern society has numerous technological advantages. One important advantage is the speed at which information is sent and received. With the help of the internet, the shopping habits of many persons have drastically changed. The car insurance industry hasn't remained untouched by these changes. On the internet, drivers can compare insurance prices and find out which sellers have the best offers. View photos The advantages of comparing online car insurance quotes are the following: Online quotes can be obtained from anywhere and at any time. Unlike physical insurance agencies, websites don't have a specific schedule and they are available at any time. Drivers that have busy working schedules, can compare quotes from anywhere and at any time, even at midnight. Multiple choices. Almost all insurance providers, no matter if they are well-known brands or just local insurers, have an online presence. Online quotes will allow policyholders the chance to discover multiple insurance companies and check their prices. Drivers are no longer required to get quotes from just a few known insurance companies. Also, local and regional insurers can provide lower insurance rates for the same services. Accurate insurance estimates. Online quotes can only be accurate if the customers provide accurate and real info about their car models and driving history. Lying about past driving incidents can make the price estimates to be lower, but when dealing with an insurance company lying to them is useless. Usually, insurance companies will do research about a potential customer before granting him coverage. Online quotes can be sorted easily. Although drivers are recommended to not choose a policy just based on its price, drivers can easily sort quotes by insurance price. Using brokerage websites will allow drivers to get quotes from multiple insurers, thus making the comparison faster and easier. For additional info, money-saving tips, and free car insurance quotes, visit https://compare-autoinsurance.Org/ Compare-autoinsurance.Org is an online provider of life, home, health, and auto insurance quotes. This website is unique because it does not simply stick to one kind of insurance provider, but brings the clients the best deals from many different online insurance carriers. In this way, clients have access to offers from multiple carriers all in one place: this website. On this site, customers have access to quotes for insurance plans from various agencies, such as local or nationwide agencies, brand names insurance companies, etc. "Online quotes can easily help drivers obtain better car insurance deals. All they have to do is to complete an online form with accurate and real info, then compare prices", said Russell Rabichev, Marketing Director of Internet Marketing Company. CONTACT: Company Name: Internet Marketing CompanyPerson for contact Name: Gurgu CPhone Number: (818) 359-3898Email: [email protected]: https://compare-autoinsurance.Org/ SOURCE: Compare-autoinsurance.Org View source version on accesswire.Com:https://www.Accesswire.Com/595055/What-Are-The-Main-Benefits-Of-Comparing-Car-Insurance-Quotes-Online View photos
to request, modification Contact us at Here or [email protected]