Half of the world's largest companies plan to reduce office space. US cities will suffer the most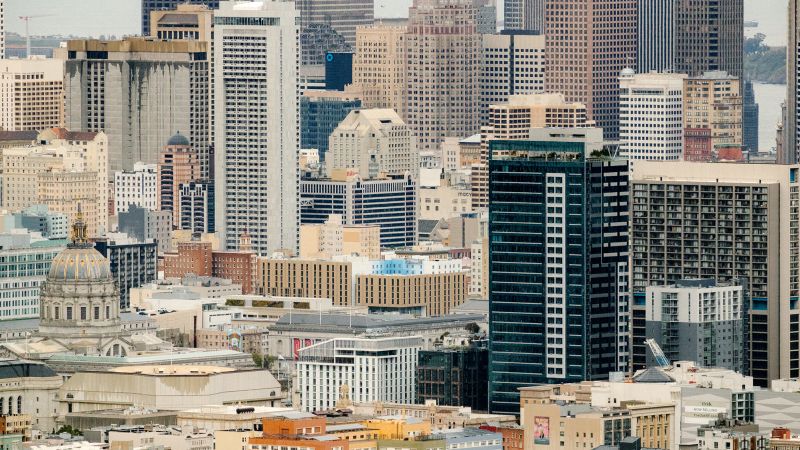 CNN London —
Around 50% of the world's top companies will need less real estate over the next three years, with US cities led by San Francisco most at risk of empty office space, according to a new study.
Half of companies with more than 50,000 employees plan to reduce their office space, with most expecting a reduction of 10-20%, according to a survey of 347 companies worldwide by Knight Frank, a UK-based property company. -United.
The survey, released on Tuesday, highlights ongoing changes in the commercial property market, which is under pressure due to falling demand for office space following an increase in homeworking after the pandemic, as well as falling real estate values ​​and rising interest rates.
There are fears that an increase in delinquencies following the recession could lead to major losses for banks, which finance many commercial real estate transactions.
Separate office research published last week called San Francisco an extreme example of a city suffering from rapidly declining occupancy rates.
The Knight Frank investigation paints a mixed picture. As large multinationals reduce office space, 55% of all companies surveyed expect to grow or significantly expand their footprint over the next three years, with growth led by smaller companies numbering up to 10 000 employees, Knight Frank said.
Of the 347 companies surveyed, 65 had more than 50,000 employees, 71 had between 10,000 and 50,000 employees and 211 had fewer than 10,000 employees.
There are examples where companies are losing space, but there are also plenty of organizations, especially mid-cap companies, that are actually expanding their global footprint, said Lee Elliott, global head of research. on the occupants at Knight Frank, to CNN.
Businesses were in the early stages of reassessing their real estate needs in the wake of the pandemic, and change wouldn't happen overnight, Elliott said.
Were going to see a three to six year change in office occupancy, not a three to six month change, he added.
Companies also assessed factors such as the suitability of their offices for flexible working or their compliance with energy efficiency standards, as well as the impact of new technologies on the size of their workforce.
Office stock in the world's major markets will shrink as some of the lower quality office space simply won't be repurposed, Elliott said.
The survey, the first conducted by Knight Frank since the pandemic, found that 56% of companies had opted for a hybrid working policy, where employees spend a few days a week in the office.
Nearly a third, or 31%, require staff to be in the office most or all of the time, while only 12% of companies plan to implement a fully remote working policy.
US cities could be the most exposed to changes in the office market, due to a proliferation of older, less attractive office buildings, according to Elliott.
Office space in the United States was also far more generous per person than in Europe and Asia, he said.
Research released last week by another UK property firm, Savills, found that US cities were most likely to have the most excess office space over the next decade, along with San Francisco, New York and Los Angeles tops the global list, followed by Chicago, Houston and Washington DC.
London, Berlin, Madrid and Hong Kong are also expected to have a large amount of excess office space.
Savills pointed to San Francisco as the most extreme example of the changes taking place in the office market.
Before the pandemic, the Californian city was one of the most difficult places in the United States to find offices, with a vacancy rate of just 9.5%. Today, 30% of its office space is vacant or due to come back on the market next year, a 30-year high.
Savills identified a broad East-West divide with demand for office space in Asia-Pacific supported by limited supply, younger populations, expanding service economies and cultural factors, unlike the slowdown in America. European cities were in the middle of the pack, with supply and demand dynamics roughly in balance.
It's not about offices emptying out simply because some cities are seeing lower levels of return to work post-pandemic, said Kelcie Sellers, research associate at Savills. It is about how long-term economic, demographic and development trends interact with work patterns.
Sources
2/ https://www.cnn.com/2023/06/06/business/global-companies-office-space-cuts/index.html
The mention sources can contact us to remove/changing this article
What Are The Main Benefits Of Comparing Car Insurance Quotes Online
LOS ANGELES, CA / ACCESSWIRE / June 24, 2020, / Compare-autoinsurance.Org has launched a new blog post that presents the main benefits of comparing multiple car insurance quotes. For more info and free online quotes, please visit https://compare-autoinsurance.Org/the-advantages-of-comparing-prices-with-car-insurance-quotes-online/ The modern society has numerous technological advantages. One important advantage is the speed at which information is sent and received. With the help of the internet, the shopping habits of many persons have drastically changed. The car insurance industry hasn't remained untouched by these changes. On the internet, drivers can compare insurance prices and find out which sellers have the best offers. View photos The advantages of comparing online car insurance quotes are the following: Online quotes can be obtained from anywhere and at any time. Unlike physical insurance agencies, websites don't have a specific schedule and they are available at any time. Drivers that have busy working schedules, can compare quotes from anywhere and at any time, even at midnight. Multiple choices. Almost all insurance providers, no matter if they are well-known brands or just local insurers, have an online presence. Online quotes will allow policyholders the chance to discover multiple insurance companies and check their prices. Drivers are no longer required to get quotes from just a few known insurance companies. Also, local and regional insurers can provide lower insurance rates for the same services. Accurate insurance estimates. Online quotes can only be accurate if the customers provide accurate and real info about their car models and driving history. Lying about past driving incidents can make the price estimates to be lower, but when dealing with an insurance company lying to them is useless. Usually, insurance companies will do research about a potential customer before granting him coverage. Online quotes can be sorted easily. Although drivers are recommended to not choose a policy just based on its price, drivers can easily sort quotes by insurance price. Using brokerage websites will allow drivers to get quotes from multiple insurers, thus making the comparison faster and easier. For additional info, money-saving tips, and free car insurance quotes, visit https://compare-autoinsurance.Org/ Compare-autoinsurance.Org is an online provider of life, home, health, and auto insurance quotes. This website is unique because it does not simply stick to one kind of insurance provider, but brings the clients the best deals from many different online insurance carriers. In this way, clients have access to offers from multiple carriers all in one place: this website. On this site, customers have access to quotes for insurance plans from various agencies, such as local or nationwide agencies, brand names insurance companies, etc. "Online quotes can easily help drivers obtain better car insurance deals. All they have to do is to complete an online form with accurate and real info, then compare prices", said Russell Rabichev, Marketing Director of Internet Marketing Company. CONTACT: Company Name: Internet Marketing CompanyPerson for contact Name: Gurgu CPhone Number: (818) 359-3898Email: [email protected]: https://compare-autoinsurance.Org/ SOURCE: Compare-autoinsurance.Org View source version on accesswire.Com:https://www.Accesswire.Com/595055/What-Are-The-Main-Benefits-Of-Comparing-Car-Insurance-Quotes-Online View photos
to request, modification Contact us at Here or [email protected]