US sees reprieve from smoky haze, but wildfires in Canada still rage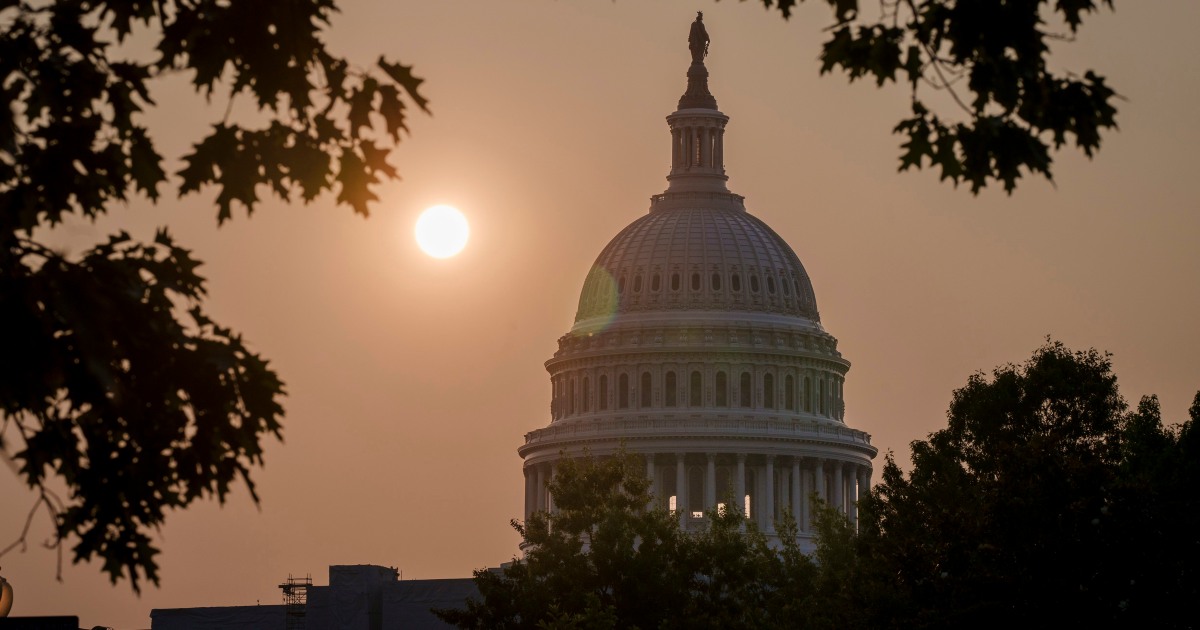 Skies over parts of the eastern United States were beginning to clear on Friday, giving residents a reprieve after more than two days of acrid air and orange haze. But hundreds of ferocious wildfires were still raging across Canada, meaning more smoke could roll across the United States in the coming days.
The fires in Canada, which stretch from British Columbia to Nova Scotia, have forced tens of thousands of people from their homes, scorched millions of acres and vividly exposed the brutal realities of the global climate change.
In Canada, 422 fires were burning as of Friday afternoon, with 228 deemed to be out of control. More than 120 active fires were devastating Quebec on Friday, according to fire authorities.
In the eastern United States, where smoke has cast a sickly pall over urban skylines and the return of face masks has conjured up memories of the early days of the Covid-19 pandemic, conditions were slowly improving on Friday, but meteorologists warned that the air quality in many major cities was still dangerous.
"Smoke from wildfires in Canada continues to be carried south by winds into the United States, resulting in moderate to unhealthy air quality in parts of the northeast, central 'Atlantic, Ohio Valley and Midwest Friday,' the National Weather Service said in an update. . "An improvement is expected this weekend."
Daily life in the northeastern United States was showing signs of normalcy. Baseball games and other outdoor events began to fill weekend calendars, and throngs of tourists and office workers could be seen on the streets of Manhattan, which earlier this week had been awash in a strange orange mist.
New York, a city of more than 8 million people, had been considered to have the worst air quality in the world this week, but as of Friday morning it ranked 15th on a list by tracking service IQAir.com.
The air quality alerts covered most of New York state, as well as Connecticut, New Jersey, all of Pennsylvania and Indiana, and parts of Ohio and Michigan, according to the National Weather Service.
"Before the weekend begins, near-surface wildfire smoke associated with the Canadian fires is expected to continue to plague regions from the Great Lakes to the mid-Atlantic with reduced air quality," said the weather service said when discussing the forecast on Friday.
However, he said that while a northwesterly flow around a low pressure system over the northeast would "continue the flow of smoke over the region", it should "slacken and eventually move towards a westerly direction on Saturday".
Smoke modeling visualizations from the National Oceanic and Atmospheric Administration and BlueSky Canada show haze flowing into the Atlantic Ocean on Saturday and Sunday.
More air quality coverage
New York City Mayor Eric Adams had warned vulnerable New Yorkers to stay indoors and everyone to limit their time outdoors amid the smoke. The weather service said an air quality alert extended through Friday for much of the region.
Other cities, including Philadelphia and Washington, DC, were also affected. Flights have also been delayed or canceled due to the conditions.
Philadelphia schools were to operate remotely on Friday out of an abundance of caution, the city's school district said.
New York public school students who were scheduled to attend classes on Friday were also transferred remotely, although a previously scheduled "office day" meant some students would not have attended classes on Friday anyway.
President Joe Biden and leaders of other countries have sent or pledged to send firefighters or other aid to Canada.
Weather radars showed light rain falling over parts of Quebec on Friday. Still, the fire danger will remain high, and in some areas extreme, for the next five days, even as conditions have improved.
The province eased some forestry restrictions and road closures on Friday as more firefighting resources were affected.
Wildfires could burn for much of the summer in Canada.
The long-range forecast of fire weather conditions in Canada predicts an above average to well above average risk of fire weather conditions in most Canadian provinces throughout the summer. Quebec's risk drops to average in September.
Those fires are still burning and they will continue to burn beyond the next few days, said Peter DeCarlo, associate professor of environmental health and engineering at Johns Hopkins University, during a video briefing Friday. Whether we see impacts here in Baltimore or along the east coast has a lot to do with where the wind is blowing at any given time.
Daniel Arkin
Phil Health
Evan Bush
Chantal Da Silva and Denise Chow contributed to it.
Sources
2/ https://www.nbcnews.com/news/us-news/another-day-unhealthy-air-forecast-due-canada-wildfire-smoke-rcna88500
The mention sources can contact us to remove/changing this article
What Are The Main Benefits Of Comparing Car Insurance Quotes Online
LOS ANGELES, CA / ACCESSWIRE / June 24, 2020, / Compare-autoinsurance.Org has launched a new blog post that presents the main benefits of comparing multiple car insurance quotes. For more info and free online quotes, please visit https://compare-autoinsurance.Org/the-advantages-of-comparing-prices-with-car-insurance-quotes-online/ The modern society has numerous technological advantages. One important advantage is the speed at which information is sent and received. With the help of the internet, the shopping habits of many persons have drastically changed. The car insurance industry hasn't remained untouched by these changes. On the internet, drivers can compare insurance prices and find out which sellers have the best offers. View photos The advantages of comparing online car insurance quotes are the following: Online quotes can be obtained from anywhere and at any time. Unlike physical insurance agencies, websites don't have a specific schedule and they are available at any time. Drivers that have busy working schedules, can compare quotes from anywhere and at any time, even at midnight. Multiple choices. Almost all insurance providers, no matter if they are well-known brands or just local insurers, have an online presence. Online quotes will allow policyholders the chance to discover multiple insurance companies and check their prices. Drivers are no longer required to get quotes from just a few known insurance companies. Also, local and regional insurers can provide lower insurance rates for the same services. Accurate insurance estimates. Online quotes can only be accurate if the customers provide accurate and real info about their car models and driving history. Lying about past driving incidents can make the price estimates to be lower, but when dealing with an insurance company lying to them is useless. Usually, insurance companies will do research about a potential customer before granting him coverage. Online quotes can be sorted easily. Although drivers are recommended to not choose a policy just based on its price, drivers can easily sort quotes by insurance price. Using brokerage websites will allow drivers to get quotes from multiple insurers, thus making the comparison faster and easier. For additional info, money-saving tips, and free car insurance quotes, visit https://compare-autoinsurance.Org/ Compare-autoinsurance.Org is an online provider of life, home, health, and auto insurance quotes. This website is unique because it does not simply stick to one kind of insurance provider, but brings the clients the best deals from many different online insurance carriers. In this way, clients have access to offers from multiple carriers all in one place: this website. On this site, customers have access to quotes for insurance plans from various agencies, such as local or nationwide agencies, brand names insurance companies, etc. "Online quotes can easily help drivers obtain better car insurance deals. All they have to do is to complete an online form with accurate and real info, then compare prices", said Russell Rabichev, Marketing Director of Internet Marketing Company. CONTACT: Company Name: Internet Marketing CompanyPerson for contact Name: Gurgu CPhone Number: (818) 359-3898Email: [email protected]: https://compare-autoinsurance.Org/ SOURCE: Compare-autoinsurance.Org View source version on accesswire.Com:https://www.Accesswire.Com/595055/What-Are-The-Main-Benefits-Of-Comparing-Car-Insurance-Quotes-Online View photos
to request, modification Contact us at Here or [email protected]