United States sees unprecedented coronavirus spread, says White House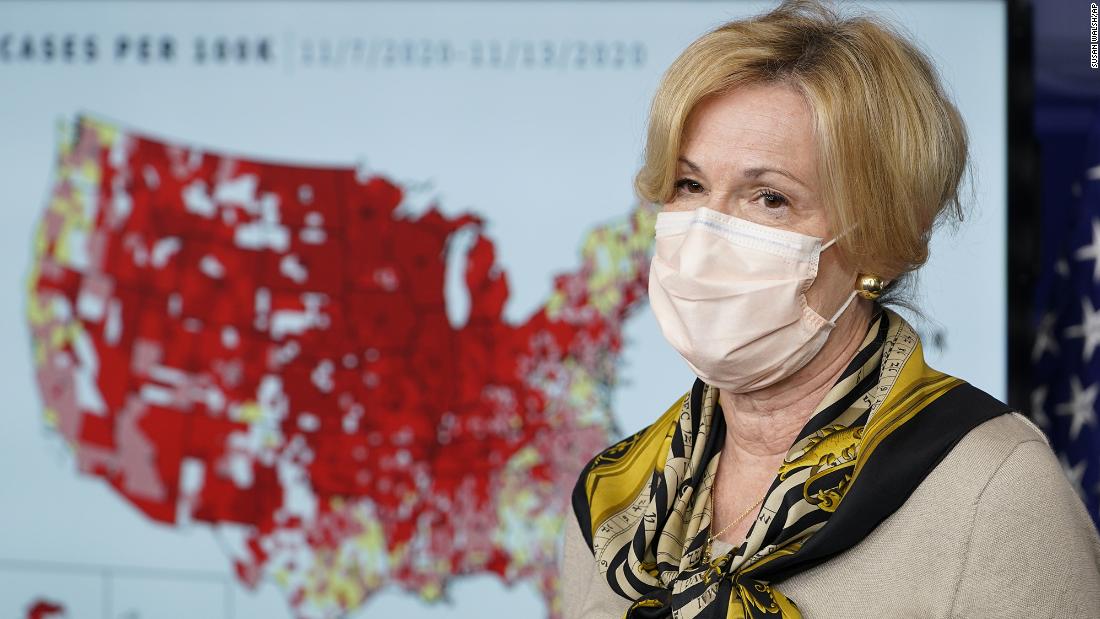 Still, task force members spoke out against the idea of ​​nationwide school lockdowns or closures and hoped a vaccine would be available soon to help protect Americans.
She showed a series of graphs showing that the current increase in cases is sharper and steeper than at any time during the pandemic.
"It's more cases, faster, than what we've seen before," Birx said. "You can see the increase in the positivity of the test to around 10%," she added. This is the number of people tested who receive a positive diagnosis.
Record after record
Birx displayed a map flooded with red, showing the number of daily hospitalizations, which now regularly exceeds 70,000.
The United States hit a new record for daily diagnoses reported Thursday, with 182,601 new cases reported as of 9 p.m., according to Johns Hopkins University.
"We know what to do and we ask every American to do these things today," she added. It starts with wearing masks, but also staying away and limiting gatherings, she said.
The virus is spread even when people are not showing symptoms, Birx noted. "It is because of this asymptomatic spread that we are asking people to wear a mask indoors," she said. Birx also said that "reducing gatherings of friends and family where people congregate and unknowingly spread the virus," will help slow the spread.
Earlier on Thursday, the Centers for Disease Control and Prevention asked Americans not to travel on Thanksgiving.
But other members of the task force said they would not support a national lockdown.
"President Trump wanted me to make it clear that our task force, this administration and our president, do not support another national lockdown. And we do not support the closure of schools," Vice President Mike Pence said during the meeting.
CDC director Dr Robert Redfield agreed and said, without citing the research, that studies have shown the virus does not spread in schools.
"Today we have gathered a lot of data over the past two to three months to confirm that K-12 schools can and can safely operate with face-to-face learning. Redfield said.
Several CDC spokespersons said they could not immediately identify what data Redfield was talking about.
"The infections that we identified in schools, when assessed, were not acquired in schools. They were in fact acquired in the community and in the household, "Redfield said.
Informal meetings and the silent transmission of the virus from people who don't even know they are infected are a big part of the problem, Redfield said.
Families become too comfortable
"These are small family gatherings, where people feel more comfortable, they take off their face masks and they get together. It's a silent epidemic," he said.
"One of the safest places for children to be is to stay in school. It's really important to keep track of the data, to make sure that we don't make emotional decisions about what to close and what not to close, and I'm here to make it clear, the data strongly supports that kindergarten to grade 12 schools and institutes of higher learning are really not where we have our challenges, "Redfield added.
The big hope, members of the task force agreed, is a vaccine.
The coronavirus vaccines under development by Moderna and Pfizer have shown 95% effectiveness in preventing symptomatic infections and Pfizer is expected to file an emergency use authorization application with the Food and Drug Administration on Friday.
"This is extraordinary," National Institute of Allergy and Infectious Disease director Dr Anthony Fauci said during the briefing. "It's almost on par with what we see with measles (vaccine), which is 98% effective."
If approved, task force members said the vaccines would be rolled out quickly.
'Help is on the way'
"We tell you that help is on the way," Fauci said.
But he said that means people must now increase their use of masks, avoid gatherings and stay away from others.
"If you're leading a battle and the cavalry is on the way, you don't stop firing until the cavalry gets here," Fauci said.
"This means that we must effectively double the public health measures as we wait for this help to come, which will be soon," Fauci said. "If we do that, we can hold it off until the vaccine arrives."
What Are The Main Benefits Of Comparing Car Insurance Quotes Online
LOS ANGELES, CA / ACCESSWIRE / June 24, 2020, / Compare-autoinsurance.Org has launched a new blog post that presents the main benefits of comparing multiple car insurance quotes. For more info and free online quotes, please visit https://compare-autoinsurance.Org/the-advantages-of-comparing-prices-with-car-insurance-quotes-online/ The modern society has numerous technological advantages. One important advantage is the speed at which information is sent and received. With the help of the internet, the shopping habits of many persons have drastically changed. The car insurance industry hasn't remained untouched by these changes. On the internet, drivers can compare insurance prices and find out which sellers have the best offers. View photos The advantages of comparing online car insurance quotes are the following: Online quotes can be obtained from anywhere and at any time. Unlike physical insurance agencies, websites don't have a specific schedule and they are available at any time. Drivers that have busy working schedules, can compare quotes from anywhere and at any time, even at midnight. Multiple choices. Almost all insurance providers, no matter if they are well-known brands or just local insurers, have an online presence. Online quotes will allow policyholders the chance to discover multiple insurance companies and check their prices. Drivers are no longer required to get quotes from just a few known insurance companies. Also, local and regional insurers can provide lower insurance rates for the same services. Accurate insurance estimates. Online quotes can only be accurate if the customers provide accurate and real info about their car models and driving history. Lying about past driving incidents can make the price estimates to be lower, but when dealing with an insurance company lying to them is useless. Usually, insurance companies will do research about a potential customer before granting him coverage. Online quotes can be sorted easily. Although drivers are recommended to not choose a policy just based on its price, drivers can easily sort quotes by insurance price. Using brokerage websites will allow drivers to get quotes from multiple insurers, thus making the comparison faster and easier. For additional info, money-saving tips, and free car insurance quotes, visit https://compare-autoinsurance.Org/ Compare-autoinsurance.Org is an online provider of life, home, health, and auto insurance quotes. This website is unique because it does not simply stick to one kind of insurance provider, but brings the clients the best deals from many different online insurance carriers. In this way, clients have access to offers from multiple carriers all in one place: this website. On this site, customers have access to quotes for insurance plans from various agencies, such as local or nationwide agencies, brand names insurance companies, etc. "Online quotes can easily help drivers obtain better car insurance deals. All they have to do is to complete an online form with accurate and real info, then compare prices", said Russell Rabichev, Marketing Director of Internet Marketing Company. CONTACT: Company Name: Internet Marketing CompanyPerson for contact Name: Gurgu CPhone Number: (818) 359-3898Email: [email protected]: https://compare-autoinsurance.Org/ SOURCE: Compare-autoinsurance.Org View source version on accesswire.Com:https://www.Accesswire.Com/595055/What-Are-The-Main-Benefits-Of-Comparing-Car-Insurance-Quotes-Online View photos
picture credit
to request, modification Contact us at Here or [email protected]