Insecure buildings exacerbate the impact of the Izmir earthquake in western Turkey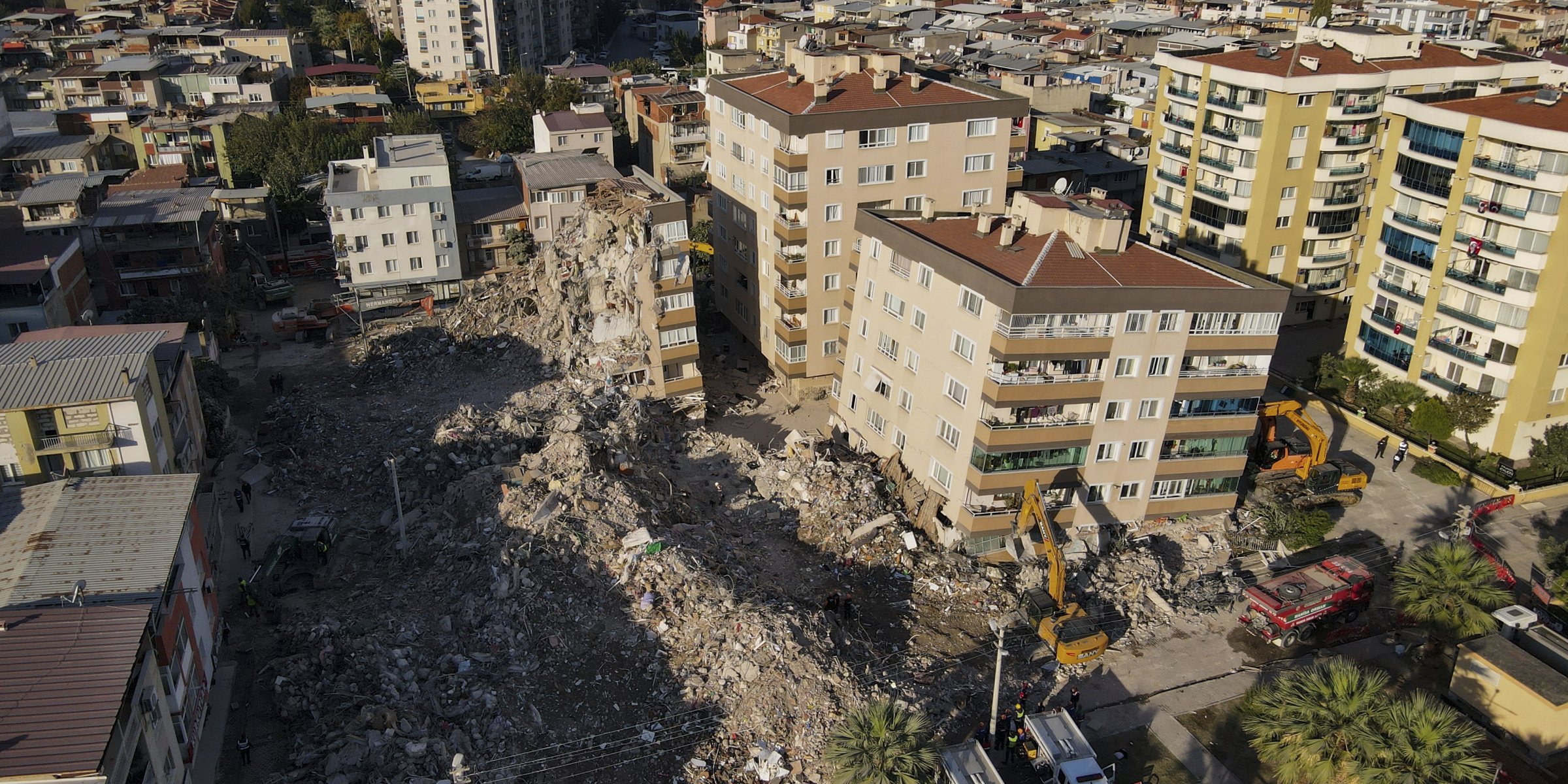 As construction investigations and inspections of buildings that collapsed during the Izmir earthquake continue, the new findings show vital building safety violations that led to deaths in the disaster.
In the aftermath of a 6.6-magnitude earthquake that struck the western province of Izmir last Friday, authorities are investigating the shortcomings of buildings that collapsed in the disaster. Nine suspects were referred to court on Thursday in connection with the landslides, among them building contractors and engineers responsible for inspecting construction.
Pictures of residential buildings that were turned into rubble next to dwellings that remained intact or only cracked, raised questions about their condition before the disaster, which killed 114 people.
Nine of those arrested will be interrogated for failing to play their role during the construction of the collapsed buildings. Most of the collapsed buildings were built more than two decades ago before regulations mandating more stable construction came into effect in the aftermath of the deadly 1999 earthquake in northwestern Turkey. All of those killed in the earthquake were in nine buildings in the Berkeley area, which either collapsed completely or partially. Police detained construction contractors and building owners and engineers. The contractor and his son, who were injured in the earthquake, will be arrested after they recover.
Researchers' reports after the earthquake cite "deficiencies" in collapsed structures and dangerous ground conditions. Some buildings were constructed in areas that were once groves and marshes. Investigators have interviewed 90 people so far as witnesses and plaintiffs. A report by Al-Sabah newspaper, published on Thursday, highlighted false modifications to buildings that put residents' safety at risk. In the Yilmaz residential building where nine people were killed in the earthquake, seven stores were merged on the first floor and cut a column supporting the roof to expand a supermarket. In another building where 11 people died, the basement floor was modified to such an extent that it was left vulnerable to flooding. In the Imrah apartment building, a less powerful earthquake in 2005 caused cracks, but they were covered. In another residential building, the location of the building entrance has changed after a long period of construction. At the Doganlar Building, the 2018 inspection revealed safety hazards. In the Rizabi Building, where 34 people were killed, the collapse was blamed on poor materials used in the construction.
Four experts from Gazi University in the capital, Ankara, visited the earthquake zone on November 2 and released a report on their findings on Thursday. The report explains that the reason the earthquake affected the most was in Berkeley, more than 70 kilometers (43 miles) from the epicenter, the ground was "soft", the buildings not earthquake-resistant and the poor quality of cement. Used in construction. According to the report, none of the buildings had an adequate basement that would have limited damage. The report also indicated that the region is known for its fault lines that can cause tremors of this magnitude. Experts found that the rising level of groundwater in Berkeley led builders to create only "artificial" foundations for buildings. "Instead of the proper swaying movement seen in the buildings built on a solid foundation, the buildings suffered from immediate collapse," the report said. However, the primary factor in crashes is the low quality of cement, according to experts. The report stated that "the cement quality in most of the severely damaged and collapsed buildings was poor." Besides the cement quality, building standards that would ensure disaster tolerance during construction have not been implemented. The unauthorized modification of buildings also exacerbated the damage.
Errol Kaya's comments confirm the results. Kaya was a construction worker on one of the collapsed buildings in the Parish apartment complex. Speaking to Hurriyet newspaper, Kaya, who now lives near the building, said the site where the barish and other buildings were constructed was a mandarin orchard 30 years ago. We were aware that the building would not be safe. The ground was shaking even before we started building. They used very poor quality materials, and the building contractors warned us. Kaya said. He said that the construction of the building is often exchanged between different subcontractors. "I knew that the first serious earthquake would destroy her on Earth," Kaya said. These buildings used to be owned by members of a construction cooperative but most of them did not reside here and sold them to others. More people have come to live here in recent years as the land has become valuable again after the construction of tall buildings in neighboring neighborhoods.
New housing
On Thursday, President Recep Tayyip Erdogan announced plans to build at least 1.5 million housing units in Izmir over the next five years. Speaking at a meeting of the ruling Justice and Development Party (AKP), Erdogan said that the country currently has 1,000 container units in stock and is using those in the Aegean province to temporarily shelter last week's earthquake victims. "We will settle our citizens in those containers," Erdogan said, while construction begins to replace the destroyed homes. He said that nationwide there are at least 6.7 million housing units that need to be renovated, adding that the area hit by last Friday's earthquake is a wetland. "We have now allocated an area of ​​1.4 million square meters (15 million square feet) for agriculture and forestry to build houses (for the victims of Izmir)," he added.
Erdogan stressed that the Ministry of Environment and Urban Planning is currently taking all measures to ensure safety during natural disasters, adding: "We do not want to have any problems with (construction) institutions. The necessary surveys are being conducted for institutions (in the region). Accomplished."
"We will continue to work day and night to prepare our country for natural disasters, especially earthquakes," he stressed.
.


What Are The Main Benefits Of Comparing Car Insurance Quotes Online
LOS ANGELES, CA / ACCESSWIRE / June 24, 2020, / Compare-autoinsurance.Org has launched a new blog post that presents the main benefits of comparing multiple car insurance quotes. For more info and free online quotes, please visit https://compare-autoinsurance.Org/the-advantages-of-comparing-prices-with-car-insurance-quotes-online/ The modern society has numerous technological advantages. One important advantage is the speed at which information is sent and received. With the help of the internet, the shopping habits of many persons have drastically changed. The car insurance industry hasn't remained untouched by these changes. On the internet, drivers can compare insurance prices and find out which sellers have the best offers. View photos The advantages of comparing online car insurance quotes are the following: Online quotes can be obtained from anywhere and at any time. Unlike physical insurance agencies, websites don't have a specific schedule and they are available at any time. Drivers that have busy working schedules, can compare quotes from anywhere and at any time, even at midnight. Multiple choices. Almost all insurance providers, no matter if they are well-known brands or just local insurers, have an online presence. Online quotes will allow policyholders the chance to discover multiple insurance companies and check their prices. Drivers are no longer required to get quotes from just a few known insurance companies. Also, local and regional insurers can provide lower insurance rates for the same services. Accurate insurance estimates. Online quotes can only be accurate if the customers provide accurate and real info about their car models and driving history. Lying about past driving incidents can make the price estimates to be lower, but when dealing with an insurance company lying to them is useless. Usually, insurance companies will do research about a potential customer before granting him coverage. Online quotes can be sorted easily. Although drivers are recommended to not choose a policy just based on its price, drivers can easily sort quotes by insurance price. Using brokerage websites will allow drivers to get quotes from multiple insurers, thus making the comparison faster and easier. For additional info, money-saving tips, and free car insurance quotes, visit https://compare-autoinsurance.Org/ Compare-autoinsurance.Org is an online provider of life, home, health, and auto insurance quotes. This website is unique because it does not simply stick to one kind of insurance provider, but brings the clients the best deals from many different online insurance carriers. In this way, clients have access to offers from multiple carriers all in one place: this website. On this site, customers have access to quotes for insurance plans from various agencies, such as local or nationwide agencies, brand names insurance companies, etc. "Online quotes can easily help drivers obtain better car insurance deals. All they have to do is to complete an online form with accurate and real info, then compare prices", said Russell Rabichev, Marketing Director of Internet Marketing Company. CONTACT: Company Name: Internet Marketing CompanyPerson for contact Name: Gurgu CPhone Number: (818) 359-3898Email: [email protected]: https://compare-autoinsurance.Org/ SOURCE: Compare-autoinsurance.Org View source version on accesswire.Com:https://www.Accesswire.Com/595055/What-Are-The-Main-Benefits-Of-Comparing-Car-Insurance-Quotes-Online View photos
Picture Credit!
to request, modification Contact us at Here or [email protected]