Calls for endometriosis clinic expansion as research reveals major gaps
More than 50,000 people with endometriosis have helped map the impact of the condition around the country, as the federal opposition calls on the government to expand its new pelvic pain clinics.
Key points:
New research has mapped the impact of endometriosis across Australia
50,000 people with the condition were surveyed
The federal opposition is calling on the government to expand the number of endometriosis clinics
A review from the Australian Coalition for Endometriosis (ACE) found major gaps in services and support around the nation, with many patients being forced to travel hours from home to get care.
The federal opposition is calling on the government to expand its trial of endometriosis and pelvic pain treatment clinics to deal with the lack of options in some areas of the country.
Endometriosis is caused by tissue — similar to that which lines the uterus — growing outside the uterus.
It affects around one in nine Australian women and people assigned female at birth and can cause excruciating period pain along with a host of other symptoms like nausea, bloating, fertility issues, lower back pain and more.
Struggling to get treatment
Rachael, a university student from Tambellup, has had to contend with these symptoms since she was a teenager, but now she's forced to drive herself hours to access treatment.
"I first started having issues when I got my first period when I was about 10 to 11 years old and then I suffered through all of my high school years and never had any answers," she said.
She finally got diagnosed 10 years after her symptoms started, but with specialists four hours away in Perth, she can't actually get there as much as health professionals say she should.
"I have to go through a women's health physio every two months. It should be monthly but I can't travel to Perth once a month."
"When I add everything up — with medications, health and everything — it's costing me about $15,000 a year, without any extra costs added on, like loss of work."
Review demonstrates lack of knowledge
The ACE review showed that there are major differences across the country around endometriosis education and treatment access.
Underpinned by a survey of 50,000 people with endometriosis, it showed that, like Rachael, many others in WA are having difficulty accessing care.
And that problem goes across state borders, over half of Tasmanian respondents said their periods disrupted their usual daily activities, with almost a third missing school or work because of it.
In the Northern Territory, 51 per cent of respondents said the same.
Chair of ACE Jessica Taylor said the results illustrate the lack of services across particular areas.
"We heard an enormous and overwhelming response from people who are living with endometriosis, like those in WA who just cannot access care in a way or in a place that is close to them," she said. 
She said findings like 57 per cent of patients in the ACT experiencing bladder and bowel pain — significantly higher than all other states and territories — show lack of education is also a problem.
"This is why we need a national approach, there are national programs that are run out of states and territories but we need to extend them even more."
Loading Instagram content
Ms Taylor, who has adenomyosis (when tissue grows in the muscular wall of the uterus) and endometriosis herself, said patients are also contending with expensive treatment costs and not being taken seriously.
"Endometriosis patients report being invalidated, humiliated, sent home from emergency departments without treatments and accessing the specialised doctors can be so difficult with really long wait times."
For patients like Rachael that meant it took a decade for her to be diagnosed.
"I went into the emergency [department] probably about five to six times across two weeks and I got pregnancy tests," she said. 
"Every time I went in, they did some scans and when I went back to the doctor, I was told I had probably just pulled something in my abdomen.
"I went and approached a doctor about it and I was just told to make sure I have kids early, so I walked away from that not knowing what to do or where to go."
Like ACE, she wants more education for doctors and the wider community.
"[We should be] bringing it into schools so young girls don't have to suffer the way I did and be told its all in their head … [and we need] more funding to continue the start of what's taken quite a long time, to help everyone realise and provide more support," she said. 
Opposition calls for more clinics
Rachael lives an hour and a half away from an endometriosis and pelvic pain centre opened as part of the federal government's trial of 20 clinics.
"But there is only one women's health physio at that clinic and she is completely booked out and cannot offer services once a month."
During the 2022 election campaign, both Labor and the Coalition promised to open 16 of the new clinics.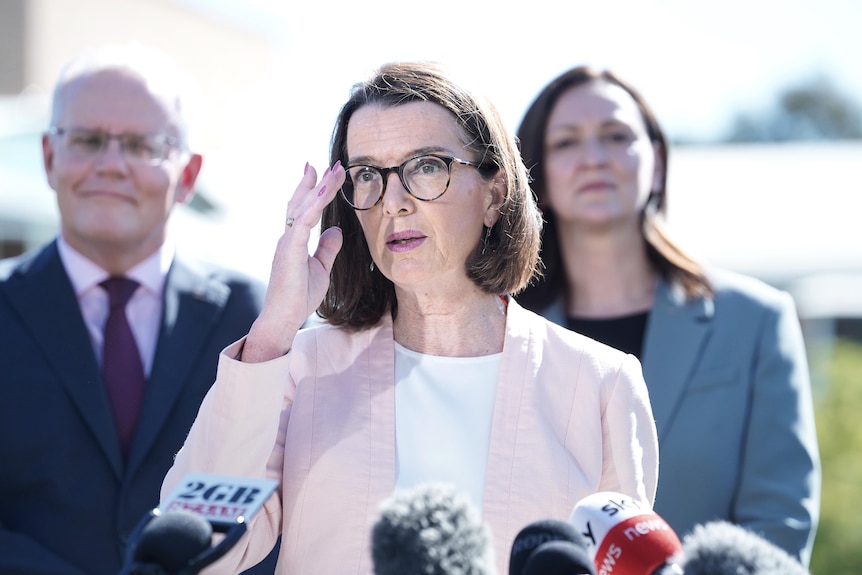 After winning government, Labor increased that to 20 which have since been opened as part of a trial program.
But Shadow Minister for Health Anne Ruston said it's time to expand that number further.
"There is no clinic in Western Sydney, despite the fact that 10 per cent of Australia's population live in Western Sydney."
Senator Ruston is from South Australia, where one clinic is currently operating as part of the trial, two hours away from the state's capital in the town of Kardinia.
"There is no pain management clinic being allocated for Adelaide, the greater metropolitan area of Adelaide, which we think is a glaring omission in the roll out of these clinics," she said. 
"I'm questioning the decision making process about where these clinics were located."
In a statement, Assistant Minister for Health Ged Kearney — who is responsible for women's health — said the government is currently evaluating where to put more clinics.
"Too many women suffer for years with what we know can be debilitating conditions, they deserve to have their concerns be taken seriously with better access to specialised care," she said. 
"We know these clinics are an important primary care service for women with endometriosis and pelvic pain, and the government continues to work closely with Primary Health Networks on the implementation of this package, including the evaluation of the clinics into the future."
Sources
2/ https://www.abc.net.au/news/2023-08-21/calls-for-endometriosis-clinic-expansion-research-gaps/102749290
The mention sources can contact us to remove/changing this article
What Are The Main Benefits Of Comparing Car Insurance Quotes Online
LOS ANGELES, CA / ACCESSWIRE / June 24, 2020, / Compare-autoinsurance.Org has launched a new blog post that presents the main benefits of comparing multiple car insurance quotes. For more info and free online quotes, please visit https://compare-autoinsurance.Org/the-advantages-of-comparing-prices-with-car-insurance-quotes-online/ The modern society has numerous technological advantages. One important advantage is the speed at which information is sent and received. With the help of the internet, the shopping habits of many persons have drastically changed. The car insurance industry hasn't remained untouched by these changes. On the internet, drivers can compare insurance prices and find out which sellers have the best offers. View photos The advantages of comparing online car insurance quotes are the following: Online quotes can be obtained from anywhere and at any time. Unlike physical insurance agencies, websites don't have a specific schedule and they are available at any time. Drivers that have busy working schedules, can compare quotes from anywhere and at any time, even at midnight. Multiple choices. Almost all insurance providers, no matter if they are well-known brands or just local insurers, have an online presence. Online quotes will allow policyholders the chance to discover multiple insurance companies and check their prices. Drivers are no longer required to get quotes from just a few known insurance companies. Also, local and regional insurers can provide lower insurance rates for the same services. Accurate insurance estimates. Online quotes can only be accurate if the customers provide accurate and real info about their car models and driving history. Lying about past driving incidents can make the price estimates to be lower, but when dealing with an insurance company lying to them is useless. Usually, insurance companies will do research about a potential customer before granting him coverage. Online quotes can be sorted easily. Although drivers are recommended to not choose a policy just based on its price, drivers can easily sort quotes by insurance price. Using brokerage websites will allow drivers to get quotes from multiple insurers, thus making the comparison faster and easier. For additional info, money-saving tips, and free car insurance quotes, visit https://compare-autoinsurance.Org/ Compare-autoinsurance.Org is an online provider of life, home, health, and auto insurance quotes. This website is unique because it does not simply stick to one kind of insurance provider, but brings the clients the best deals from many different online insurance carriers. In this way, clients have access to offers from multiple carriers all in one place: this website. On this site, customers have access to quotes for insurance plans from various agencies, such as local or nationwide agencies, brand names insurance companies, etc. "Online quotes can easily help drivers obtain better car insurance deals. All they have to do is to complete an online form with accurate and real info, then compare prices", said Russell Rabichev, Marketing Director of Internet Marketing Company. CONTACT: Company Name: Internet Marketing CompanyPerson for contact Name: Gurgu CPhone Number: (818) 359-3898Email: [email protected]: https://compare-autoinsurance.Org/ SOURCE: Compare-autoinsurance.Org View source version on accesswire.Com:https://www.Accesswire.Com/595055/What-Are-The-Main-Benefits-Of-Comparing-Car-Insurance-Quotes-Online View photos
to request, modification Contact us at Here or [email protected]